What's better when it comes to visiting Kruger National Park? Self-drive ... or guided safari?
What's better when it comes to visiting Kruger National Park? Self-drive ... or guided safari?
Every now and again, you get to be a 'guest' in your own company. And what better way to do this than on a Kruger safari – with Simon Vegter, the 'famous' barefoot guide. For me, it was a first – every other time I've visited the Kruger National Park, it's been on a self-drive option. This was my first 'guided, fully-catered Kruger Safari' – three days, two nights, courtesy of Wild Wings Safaris.
And I got to get some answers to the question so often asked: is it better to visit Kruger on your own – or with a guided safari? While I think this is ultimately a personal preference, I'd like to share some of my findings with you.

6 Things I found heaps better about the guided safari
1. Getting there
I always think the journey to somewhere is half the fun, and this was very pleasant. Instead of driving and keeping an eye on the road, it's great to be able to relax, sit back and enjoy the passing scenery. We had two 'pit stops' en-route – at a spotlessly clean rest stop and shopping mall respectively, more than enough time to stretch our legs, visit the bathroom and grab some drinks and snacks along the way. Likewise, it was a very easy and relaxed trip homewards.
2. Game driving
There's just something different and more authentically African safari about game viewing in an open safari vehicle. For starters, you're up high – way higher than a normal sedan car – so your visibility is that much better. Then you can feel the wind on your face as you drive about looking for wildlife. You also feel more connected somehow. You're so much more aware of the sights, sounds and smells around you.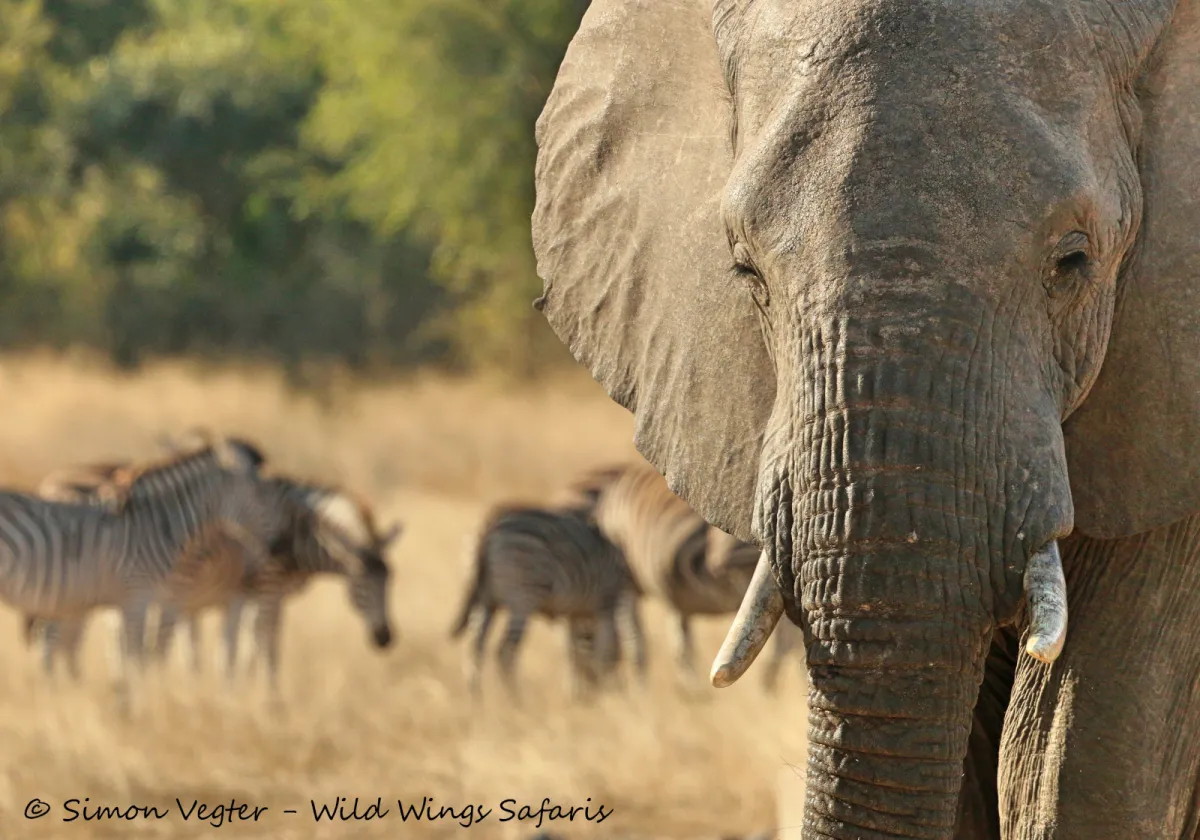 For example, it was impala rutting (mating) season, and almost every time we stopped to view something, you could hear them grunting and snorting through the bushveld - sounding more like huge and hungry predators than the dainty, sleek antelope they normally are. On the back of an open safari vehicle, it was like sitting in your own surround-sound bush theatre.
On another occasion, we had to reverse and stay to the side of the road to allow a rather large bull elephant to pass by who was in musth (period of vastly raised hormone levels – testosterone up by as much as 60%!). The tell-tale signs are the wet secretions down the sides of his face, the frequent drizzling of urine and the accompanying strong, musky scent. I have smelled this before from the open window of a car – but nowhere near as powerful as that which we could smell from the open safari vehicle. Wow!
3. Easy meals
Especially as a parent, used to planning and preparing meals for my family, it's a real treat not to have to plan meals and buy ingredients prior to the trip. And it's very relaxing to have meals made for you. Tasty and varied brunches and dinners were prepared for us by our guide, Simon, who's a dab hand at rustling up a stir-fry in a few minutes and rounding it off with decadent dessert – all brought along on the trip (i.e. we never had to shop for food and supplies).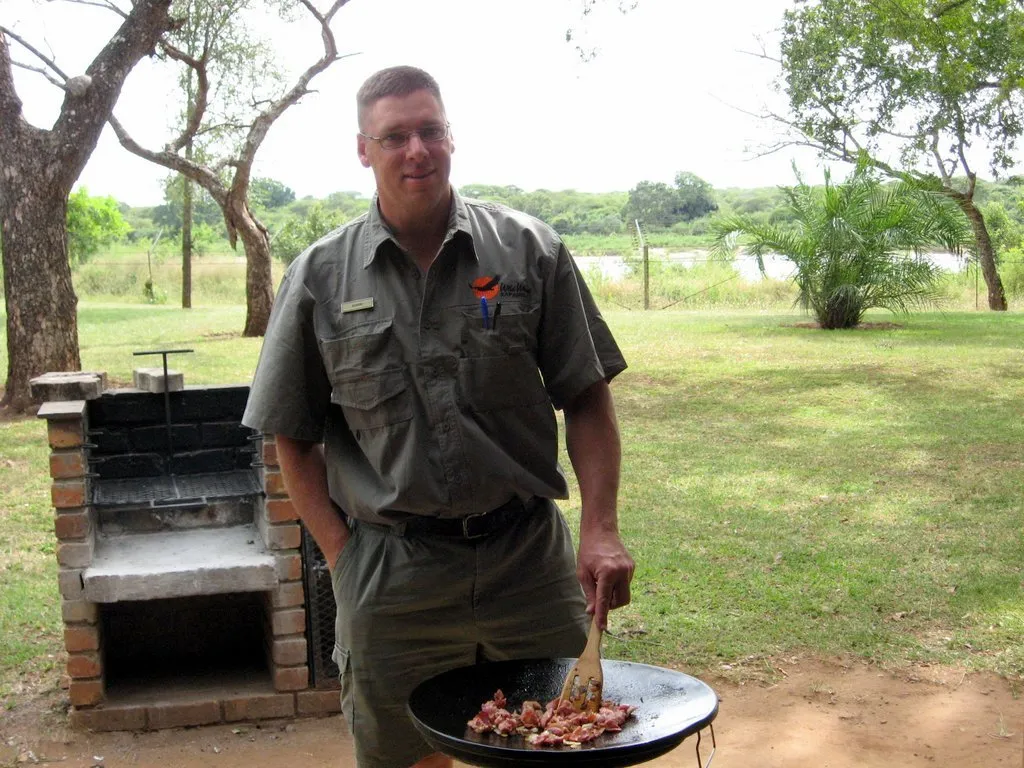 Although I offered to help Simon with the meals, about all he'd let me do was help with the dishes - a task he usually performs in his usual, no-fuss way.
4. Insider info
Let's just face it – I've never, ever, ever, ever seen as many birds, animals or reptiles in any of my previous self-drive visits to Kruger National Park as I did on this safari. An experienced guide like Simon (who's been a safari guide for some twelve years – yet is still as excited and enthusiastic as if it was his first trip!) just has a wealth of knowledge and is privy to all the secret hideouts, behaviour and quirks of most of the animals and birds on our 'wishlist'.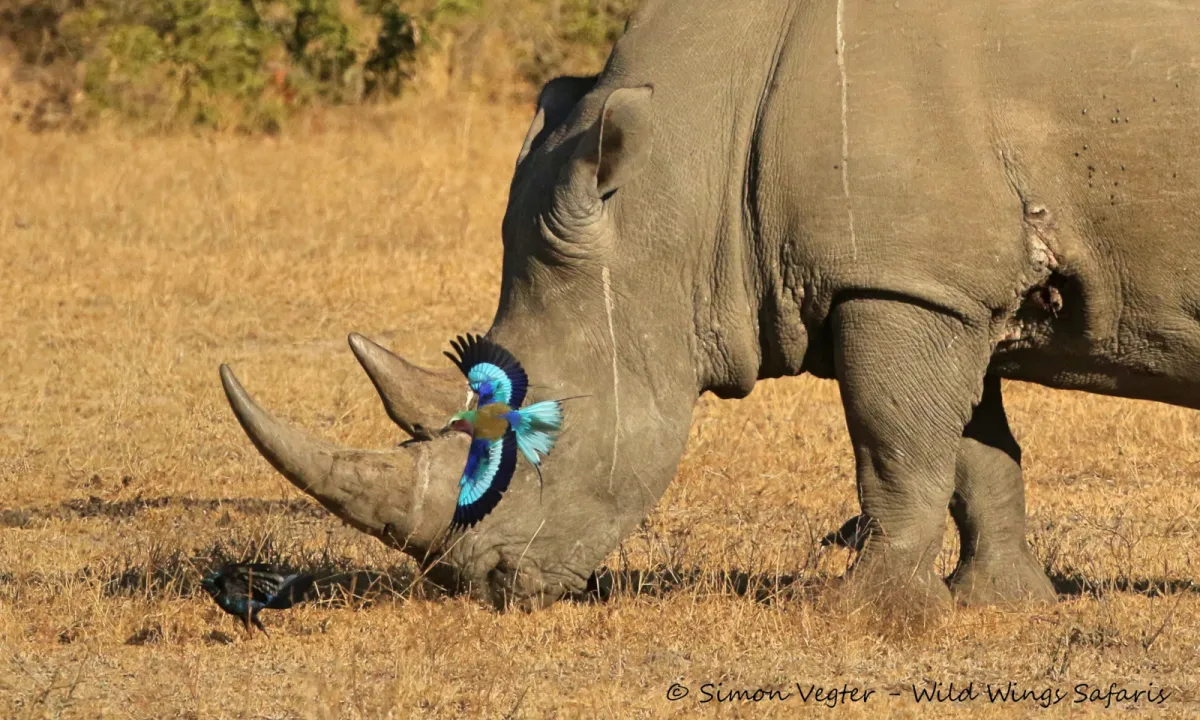 He can identify areas where rhinos usually hang out (we saw 12 rhinos in three days! – singly and in pairs), knows likely leopard lairs, has a good idea where lions are bound to be, and even found us two puff adder snakes to order on the way back to camp. We were also lucky enough to have two cheetah sightings – one a group of four fresh from their kill.
He also seems great friends with all the other guides and Kruger staff, who seem more than willing to share their latest sightings and information with him.
5. Photographic opportunities
I wouldn't even profess to be an amateur photographer – but I did manage to get some really super 'happy snaps'. Again, you've got the added advantage of being up high on the vehicle, and there are no windows or frames to contend with. Simon is also an experienced and passionate birder and wildlife photographer so he intuitively tries to get the best vantage point for you, then turns the vehicle off to steady your chances of getting a good photograph.
6. A living bush 'encyclopaedia'
An experienced, knowledgeable and personable guide is the secret ingredient for any successful safari. Simon's patiently answering questions and explaining finer details of animal behaviour (surely sometimes again and again), sharing insights and animal quips and bushveld lore makes for an unforgettable safari experience.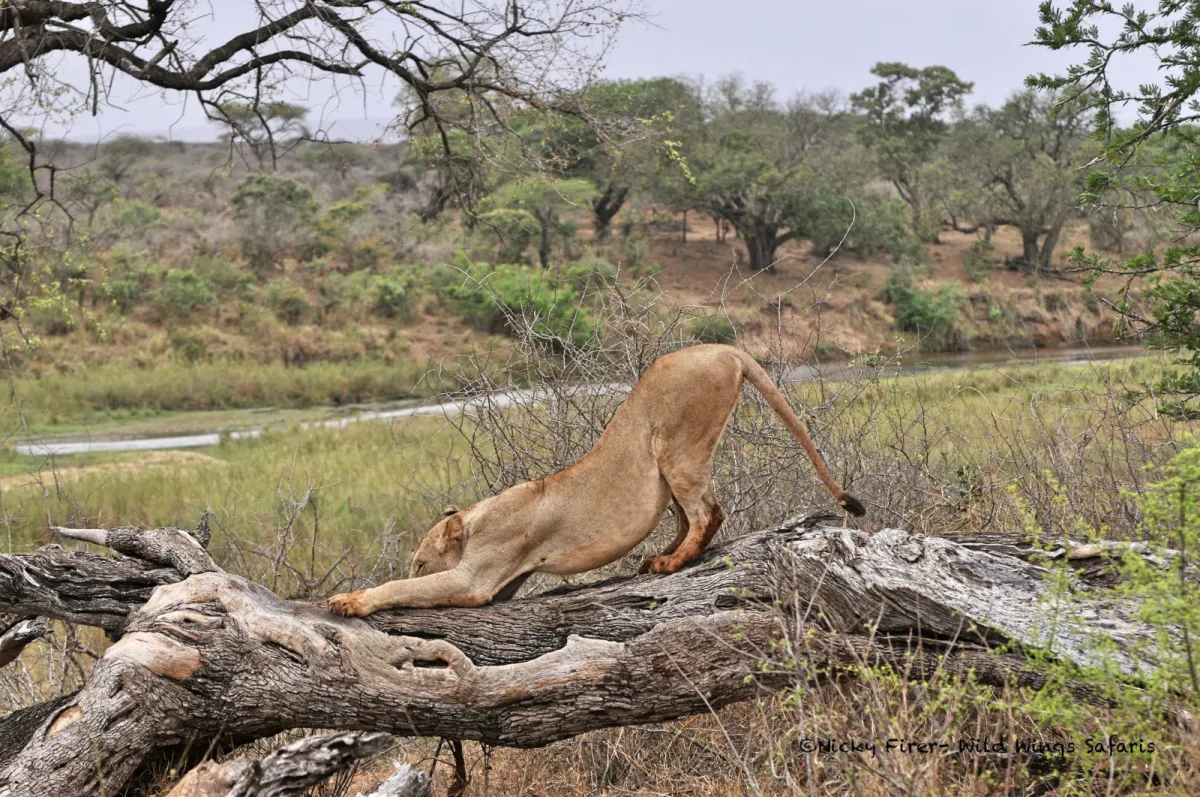 There's not much access to Google in the bush – so it's wonderful to have an 'online' guide with you who can answer your questions – no matter how trite or trivial; like why do zebras have stripes, and when do owls sleep?

What are the things I prefer about self-drive
1. Being able to enjoy what you do best
On a safari, you are somewhat confined to or dependent upon the tastes of the group as a whole – it is a democracy, after all. For example, if you're only interested in birds and the rest of the group is just after getting as many sightings of the Big 5 as they can, you could be in for a disappointing time.
2. Go at Your Own Pace
Especially as we had a three-day safari (I don't think this would have been evident with a four-day safari), there was a definite sense of urgency to get as many sightings as possible in as short a time as possible. You're always on the move, in search of that elusive sighting, whereas if you were on your own, or had more time, there'd perhaps be time enough to linger at a waterhole for a while – or even just sit and watch the crazy antics of rutting impala for a little bit longer …
3. Group dynamics
This depends on the others in your group. Obviously, you'd feel more at home with a group of friends or family and would relax more. With a group, there are other elements to consider, e.g. language barriers, personality dynamics and so on.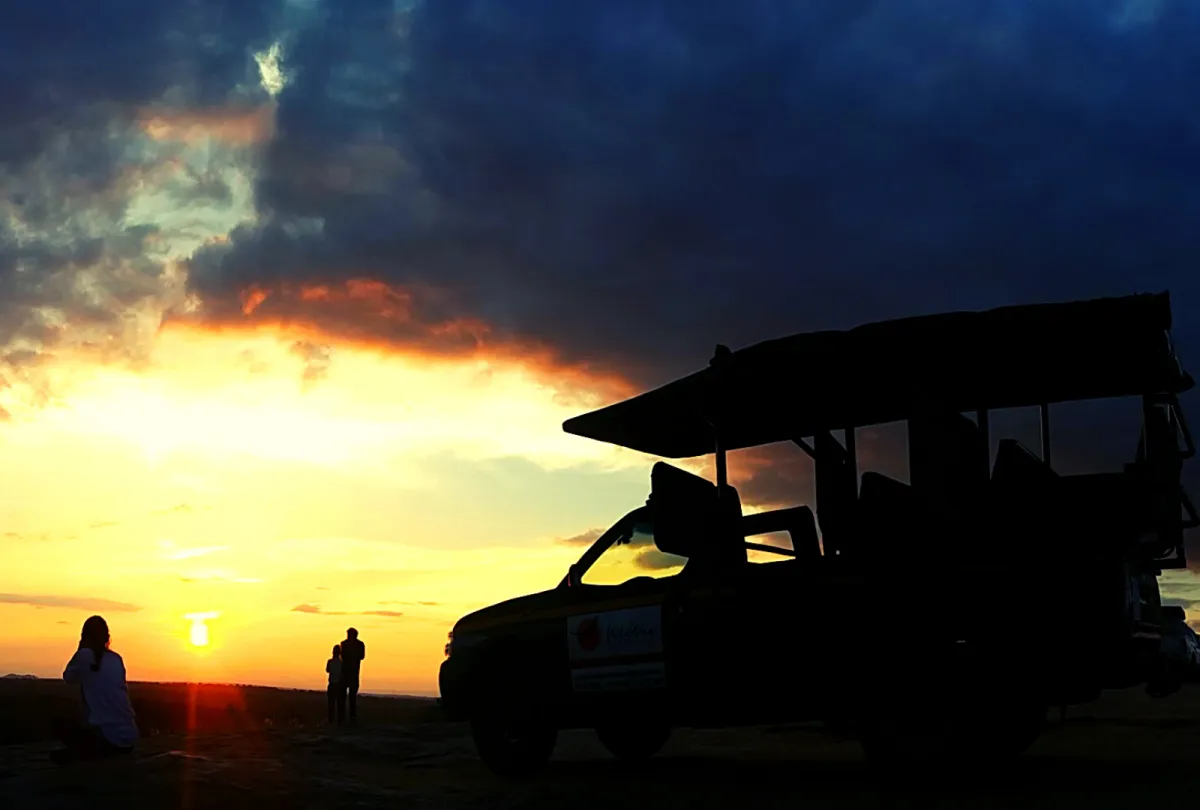 Personally, I like to unwind after a day's travelling around a campfire and discuss and dissect the day's viewings. My fellow companions had travelled across the globe and were suffering from jet lag, so preferred early nights to recover. I enjoy the nightlife in Kruger, sitting around the campfire and listening to the sounds of lions roaring, the whooping and cackling of hyenas, the grunting of hippos … taking a torch and going around the perimeter fence to see what unexpected visitors you can see … the brightest stars that seem so close you could almost reach out and grab one …
But one thing I can thoroughly recommend is … You HAVE to visit Kruger National Park. Even if you only get there once in your lifetime. It's a precious corner of the world – a vast, sprawling wildlife conservation area where you can experience nature and wildlife up close and personal. Unrehearsed. Untamed. Unexpected. Unbeatable!
And as Simon so rightly says: "No two safaris are ever the same …"
Have you ever been to Kruger? Which do you prefer? Self-drive or guided? Please share your thoughts and experiences in the comments below.
You may also want to look at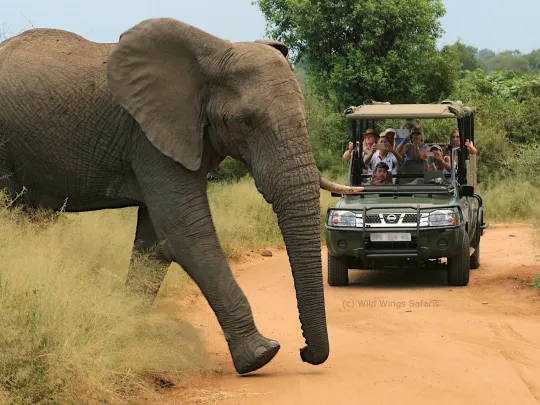 Our popular 3-day Kruger Park safari is designed for those who want a quick and affordable way to see the Kruger National Park in the company of an expert guide, but are really short on time. This 3-day Kruger Park safari is sometimes called our Kruger Quick Safari. We offer regular scheduled departures from Johannesburg or Nelspruit. Custom departure dates and private departures can be arranged on request. Book early to avoid disappointment!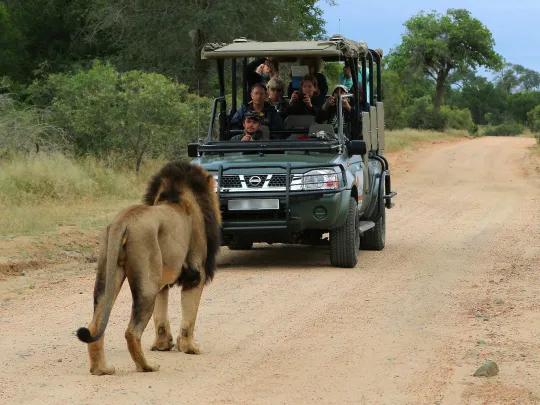 The 4-day Budget Kruger Park Safari is easy on your budget and big on game viewing. This small group, fully-guided safari in Kruger National Park overnights inside the park with scheduled departures from Johannesburg or Nelspruit. Custom departure dates may be arranged (additional cost applies). Book early to avoid disappointment!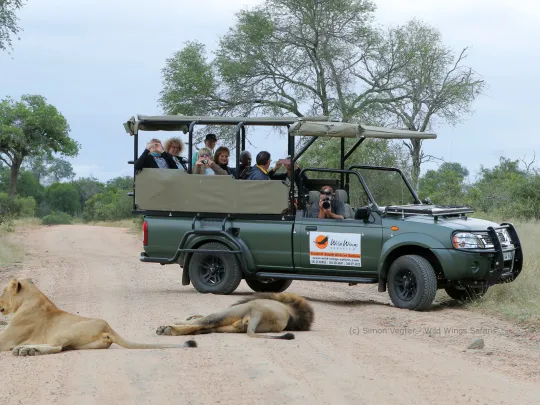 The popular 5-Day Best of Kruger Safari is a 4-night/5-day safari in the Kruger National Park offering open vehicle game drives with an experienced safari guide. Includes a night drive and guided bush walk. Spend two nights each at two different camps, in different areas of Kruger Park, giving you the best game-viewing opportunities. Book early to avoid disappointment!
About the author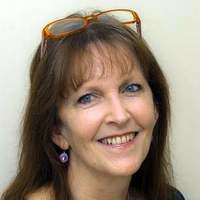 Alison
A 'word smith' or copywriter with over 25 years experience, love travelling, wildlife and conservation; fascinated by alternative energy, alternative building and alternative health. Consummate reader and traveller, both internationally and southern Africa. Have two remarkable daughters that continue to amaze and teach me daily. Consider myself privileged to live on the best continent on the planet.