Best Places To See Rhinos, Leopards, Cheetahs or Wild Dogs
Best Places To See Rhinos, Leopards, Cheetahs or Wild Dogs
Bit of a strange title but we get this kind of question often. Many people have a special interest in one or more specific kinds of animal when on safari. A wish-list. For many first time visitors to Africa, the Big Five are at the top of their list - buffalo, elephant, lion, leopard and rhino. They are called the Big Five because they were traditionally considered the five most dangerous animals to hunt on foot. Most people love to see Africa's super predators, the big cats (lions, leopards and cheetahs), followed closely by the endangered African wild dog or painted dog. For many return visitors, their priority might be to see a specific animal they have not seen yet. Perhaps the beautiful cheetah eluded you on your African safari, and you return with the specific hope to see a cheetah in the wild. Or wild dog. The question is, where are you most likely to see them?
For this list, I've decided to focus on four specific animals that are usually hard to find in many popular safari areas. Animals like elephants and lions are often on people's wish lists but they are reasonably common in most of Southern Africa's top safari areas, so I've left them out.
Rhinos
Poaching has taken its toll on rhino populations and in many popular safari destinations across Africa, both white rhinos and black rhinos are either absent or extremely rare. With a few exceptions, you are unlikely to see rhinos while on safari in Botswana. Zimbabwe, Zambia, and most of Tanzania. They do occur sporadically in all of these countries, and have recently been reintroduced in certain areas where they had become extinct, but the chances of spotting them are slim. For the best chance to see rhinos, you need to head to South Africa.
For many years, rhinos were a rare sight even in South Africa, but during the 80's and 90's the rhino population increased significantly, due to successful rhino conservation projects pioneered in northern Kwazulu-Natal province. Today, due to the ongoing poaching crisis, rhino populations are no longer growing and rhino sightings are becoming a more and more special. Still, the areas where you are most likely to see rhino are South Africa's Kruger National Park and surrounding private game reserves, as well as various game reserves in northern Kwazulu-Natal, such as Hluhluwe-Umfolozi, Mkuze and Phinda, as well as the greater Isimangaliso Wetland area. Various other reserves around South Africa also have rhino and you can see them at Madikwe, Pilanesberg, the Waterberg, Greater Addo and surrounding private reserves in the Eastern Cape, amongst others.
In terms of sheer numbers, the southern Kruger National Park remains the top destination to spot rhino, and it is very likely that you will encounter at least one, and probably more than one of these magnificent beasts during an average 3-day Kruger National Park safari.
Leopards
Leopards are known to be shy and elusive cats, and are notoriously hard to see in the wild, at most game reserves. When visiting new reserves or lodges, one cannot always get an accurate idea of what the game viewing is like from just one or two drives, so if my stay is limited to one night I usually ask the rangers how often they tend to see certain kinds of animals on game drive. For leopards, the answer usually ranges from "never" to "once a month" in some reserves, to "once or twice a week" at some of the better destinations.
However, there are some game reserves in Africa where leopard sightings are so common that one can honestly say, with few exceptions, that leopards are seen there every day, or at least on 6 days out of 7. My personal record is 8 different individual leopards during one 3-hour game drive! The destination? The Sabi Sand Game Reserve in South Africa, adjacent to the Kruger National Park. The secret here is a combination of things. Firstly, the Sabi Sand is ideal leopard terrority with a naturally high population of leopards. Combine this with having lots of expert guides and trackers out on game drive each day, who stay in radio contact and call in whenever they've spotted a leopard (see what I did there?) They even call in fresh leopard tracks, and being able to drive off road means that the trackers can effectively track and follow these beautiful cats through the bush, offering guests unequalled opportunities to observe and photograph these magnificent animals from up close.
A close second after the Sabi Sand must be Zambia's South Luangwa National Park, where leopard sightings are also often a daily occurence. Again, it is not uncommon to have several different leopard sightings on the same day, especially in the central region close to the main gate and Mfuwe Lodge. Lastly, a special mention goes to the greater Serengeti-Mara ecosystem, especially the Mara region in Kenya and the central Seronera area in Tanzania. The chances of spotting leopards here are quite good due to the open landscape, large numbers of vehicles and high concentration of leopards. Like most cats, they enjoy climbing things and can often be found in trees. In open country like the Serengeti, the trained eye can easily spot leopards from a distance while they're lying in a tree.
Cheetahs
For many people, the cheetah is the most beautiful and graceful of Africa's big cats. They are also the most endangered and hardest to find, unless you know where to go.
Cheetahs can be found in many of Africa's game reserves, but they are not always easy to find. Since they prefer open areas, a good place to start are open landscapes such as the Serengeti in Tanzania, or Botswana's Central Kalahari region. But some smaller game reserves also provide consistently good cheetah sightings, such as Phinda Game Reserve is northern Kwazulu-Natal province in South Africa. The Kruger National Park has plenty of cheetahs but due to the huge size of the reserve it is by no means guaranteed that you will see them - in fact you can consider yourself lucky if you find cheetah. Our recommendation is to visit Phinda Game Reserve or the Serengeti if you want a high chance of seeing cheetahs in the wild.
Wild Dogs
The African wild dog (also known as the hunting dog or painted dog) is one of the most successful predators in
Africa. They hunt in packs with incredible speed and stamina, and are known to cover large distances while pursuing their prey. They require large tracts of bush to hunt and thrive, and much of their natural habitat has been destroyed by human settlement and agriculture. Today, wild dogs are an endangered species and a very special sighting on safari. So where can you go if you want to see wild dogs?
Wild dogs occur in many of Africa's big game reserves, but there are certain areas that are known to offer good chances of finding them, especially during the denning season (winter months). Among the best are the Kwando region in Botswana, where local packs of wild dogs regularly den close to camps like Kwando Lebala or Kwando Lagoon. Another excellent option is Madikwe Game Reserve in South Africa's Northwest province, which is a malaria-free game reserve with a variety of quality lodges to choose from.
Madikwe is known for regular sightings of wild dogs, but these animals do move around a lot, so as with the other animals mentioned above, sightings are by no means guaranteed.
These are just some of the areas to consider if you are keen to see rhinos, leopards, cheetahs or wild dogs. It is not an exhaustive list. If you know of other destinations that may consistently provide regular sightings of these species, please add them in the comments. What animals are your favourite to see on safari?
About the author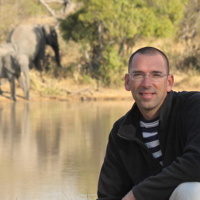 Onne
Onne Vegter is the managing director of Wild Wings Safaris. He has a deep love for Africa's people, wildlife and natural heritage. Onne has travelled to most of Africa's top safari destinations and his writing is based on years of personal experience in the safari industry. Follow him on Twitter at @OnneVegter.