10 Lodges With The Best Waterhole Views
10 Lodges With The Best Waterhole Views
There is nothing quite like sitting quietly watching as the animals of Africa come down to a waterhole to drink. So what better position for a safari lodge than to overlook an active waterhole? Ever-changing and giving a good insight into the hierarchy of the bush, it allows for some incredible photo ops, too. Baby elephants frolicking at the water's edge, impala drinking nervously, while a lion watches from below a nearby bush. A kudu arrives, its ears flicking and nostrils testing the air for danger. A giraffe bends down impossibly to sip from the waterhole. Priceless! At these ten lodges, you've got a superb view of the waterhole.
1. Chitwa Chitwa, South Africa
Chitwa Chitwa is a luxury lodge in the Sabi Sand Private Game Reserve, Greater Kruger National Park. The lodge has six enormous suites, each with a deck overlooking the lake to which a wealth of wildlife flocks to drink.
The Sabi Sand area is known for its big cat sightings, especially the elusive leopard. After going on a game drive to spot the Big Five and other wildlife, come home to your private suite and relax on the deck (or in your private plunge pool) with a G&T while Africa's beasts come down to the lake for their own refreshments.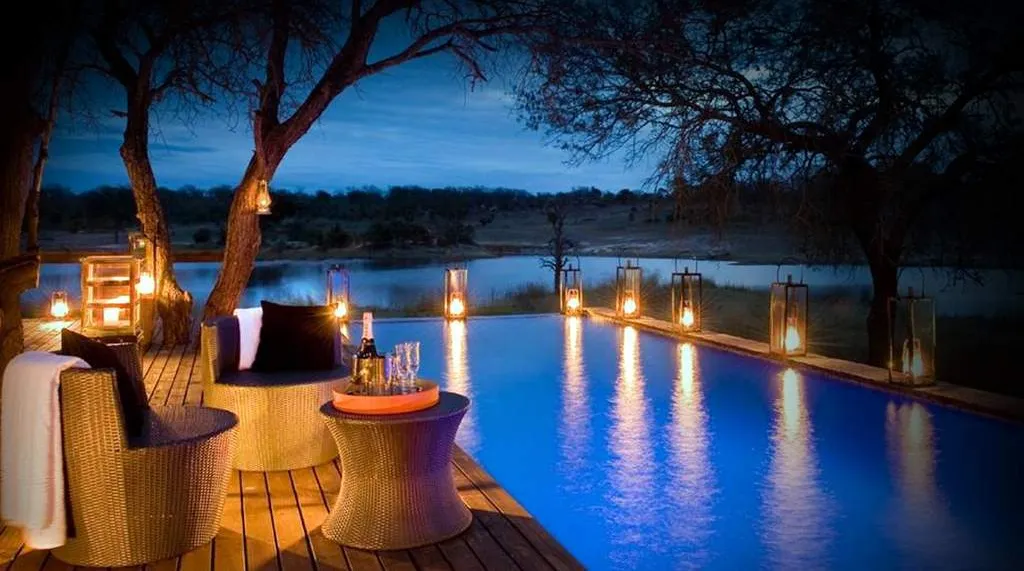 Alternatively, if you're wanting a bit of (human) company, hang out on the main deck, shaded by Knobthorn trees. Scattered with comfy daybeds next to a rim-flow pool, the deck directly overlooks the water, too. There's always something to look at, from the resident croc to the family of hippo and if you're lucky, you might see one of the predators that come down to this waterhole on a regular basis. Breakfasts and lunches are often served on the deck, so don't fret about missing anything while enjoying the scrumptious food served at this top-notch lodge.
2. The Hide, Zimbabwe
If watching elephant come down to the waterhole to drink while you have a bath in your private outdoor bath is your thing, The Hide is the place for you. Situated in the world-renowned Hwange National Park, The Hide consists of the main lodge and ten luxury thatched tents, all facing the pan and waterhole and offering spectacular wildlife viewing from your own deck.
An added bonus at The Hide are the actual hides themselves – right on the waterhole and almost at eye level with the water, one of them camouflaged to look like a termite mound, the other a new underground hide offering game-viewing as you've never seen before. Up-close-and-personal is a term made up with this place in mind. It's a photographer's dream.
3. Camp Shawu, South Africa
Situated in the south-eastern Kruger National Park, Camp Shawu offers a fantastic safari experience on a private concession in Kruger, uncluttered by hordes of other tourists. With only five tented chalets, each one with a private deck overlooking the Mpanamana Dam, you don't even need to leave the camp to enjoy viewing a huge range of Africa's wild animals as they come down to drink, especially in the dry season.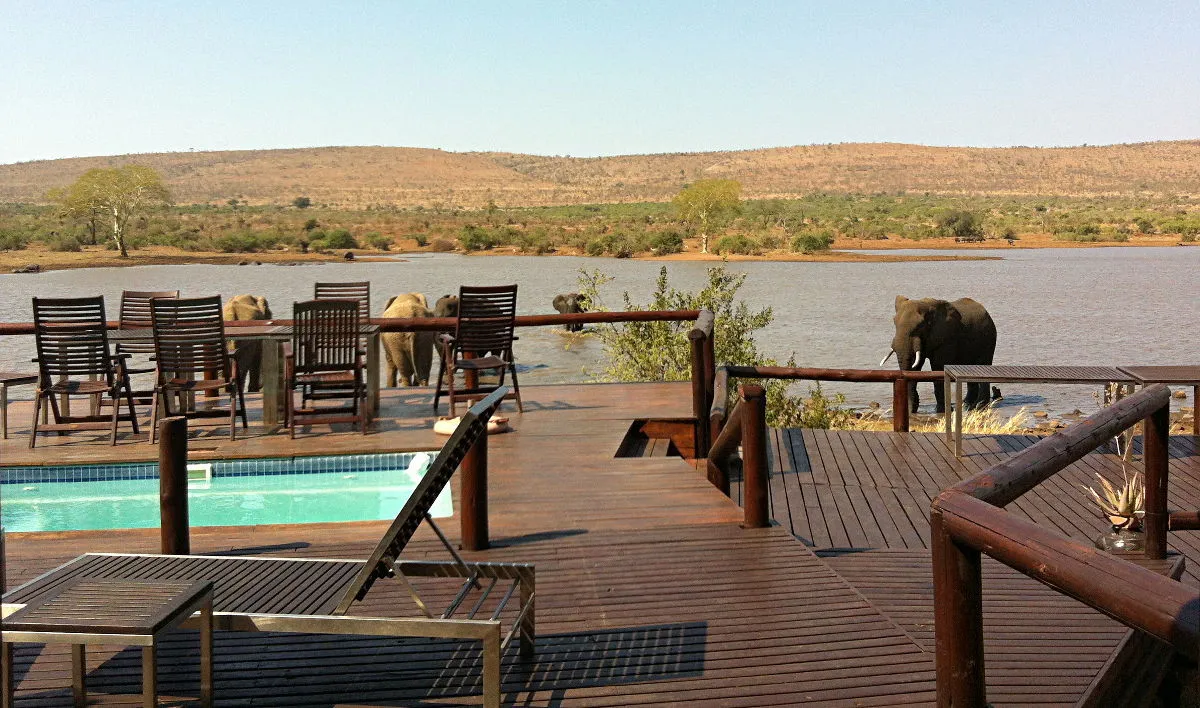 Named after the Shawu bull – one of the renowned Magnificent Seven elephant – who had the largest tusks recorded in South Africa, and roamed the valley for 60 years, you're bound to see a whole bunch of his descendants coming to frolic in the dam in front of the lodge.
Hippos live in the dam (so keep your swimming to the plunge pool) and there is a local pride of lion that are seen regularly. That's beside the leopard, elephant, buffalo, a variety of species of antelope, zebra, rhino, cheetah, and crocodiles who call the area home. And, of course, a huge number of bird species.
4. Puku Ridge, Zambia
Up on a koppie in South Luangwa National Park lies Puku Ridge Camp. Due to its position on the hillside, the camp offers spectacular views over the floodplain in front of it. It's been designed to have as little impact as possible on the beautiful natural surroundings, so rest assured that this camp with a view has a small carbon footprint.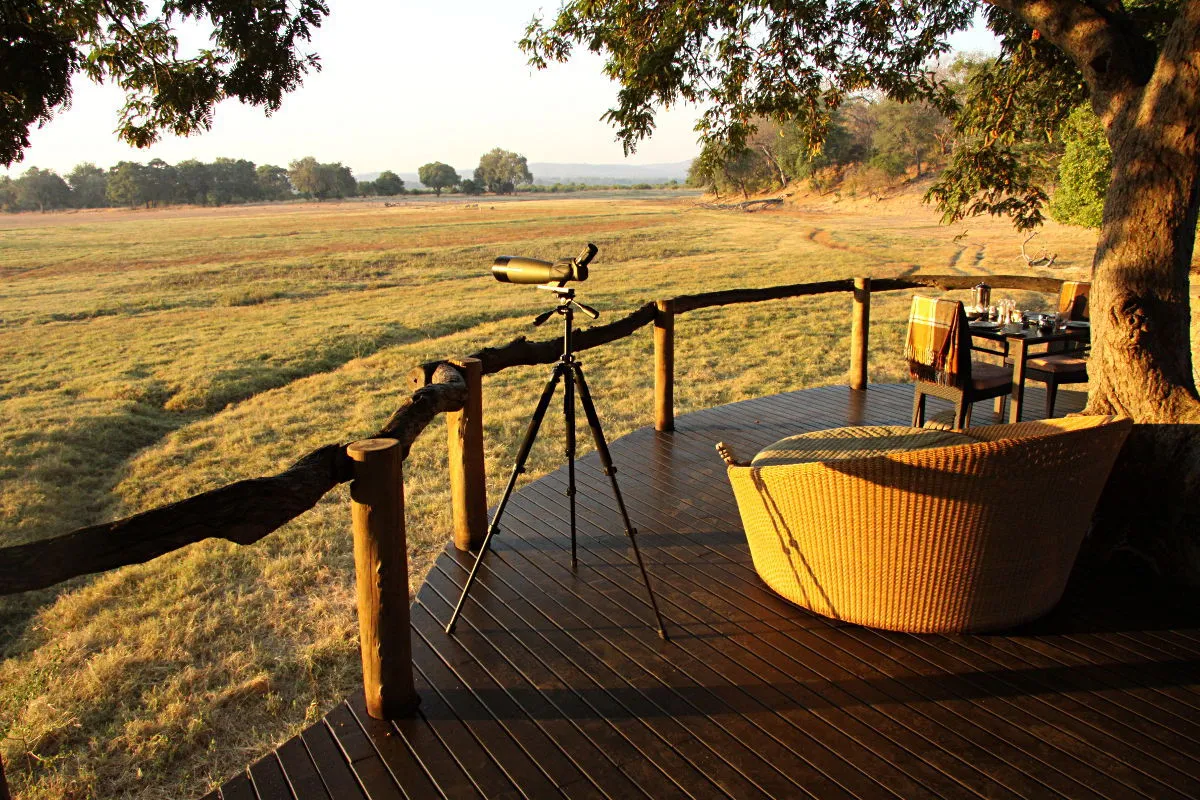 With seven luxurious, en-suite safari tents, each with their own viewing deck overlooking the plains, you can relax on your deck (or in your bath) and watch as herds of elephant, zebra, lion and leopard amble across the plain and go down to the waterhole to drink.
5. The Ark, Kenya
Situated high in the mountains of the lush Aberdare National Park, this hotel is modelled on Noah's Ark and is built on a waterhole and salt lick. It's quirky and fun, taking the whole 'boat' theme to the nth degree and referring to your stay as a 'voyage'.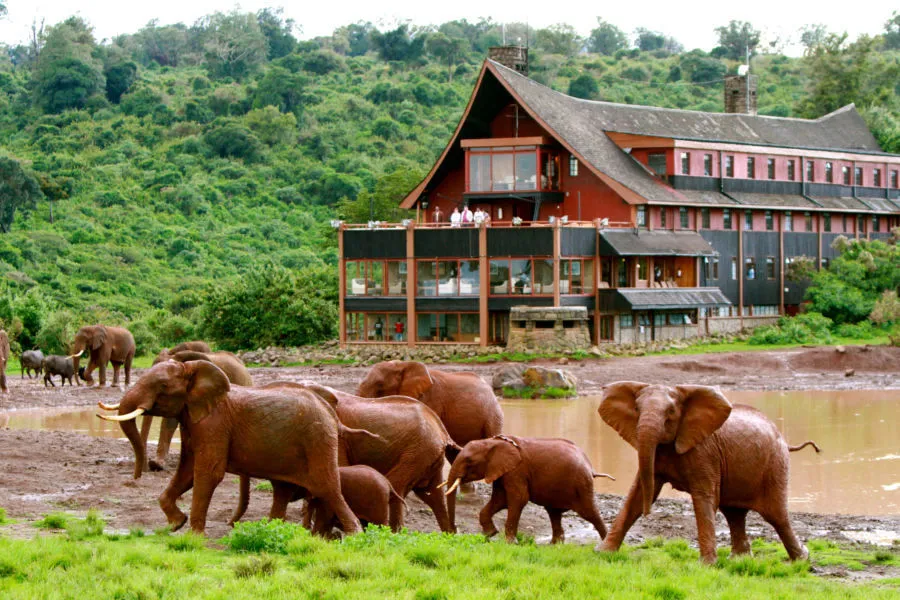 From a wildlife point-of-view, you can't get closer than this. There are viewing decks on each level, including one on the ground level which allows for eye-to-eye photography. Spend the morning on a game drive, lunch at the Aberdare Country Club and then come back to The Ark for tea, the feeding of the birds on The Ark Bridge and a topical interactive talk before dinner, all overlooking the waterhole as elephant, buck and rhino come down to drink.
You don't even need to worry about missing a good sighting if you're overcome by tiredness – the night watch will let you know by ringing a bell that chimes in your room: one for elephant, two for rhino, three for cats, and four for an unusual sighting. Fling on your dressing gown and slippers and trundle off to the viewing deck to see Africa's nocturnal creatures doing their thing.
6. Kanga Camp, Zimbabwe
Kanga Camp is situated on Mana Pools's Kanga Pan. It's about an hours' drive 'inland' from the well-known Lower Zambezi riverside camps and requires fly-in, being in a more remote and undeveloped area.
The bonus of its location is two-fold: you get the true in-the-bush African experience – there are only six tents here and, most fantastically, Kanga Pan is the only year-long water-source within a vast area. This means that during the dry season, from about June to October, the waterhole teems with wildlife from elephant to antelope to lion and wild dog.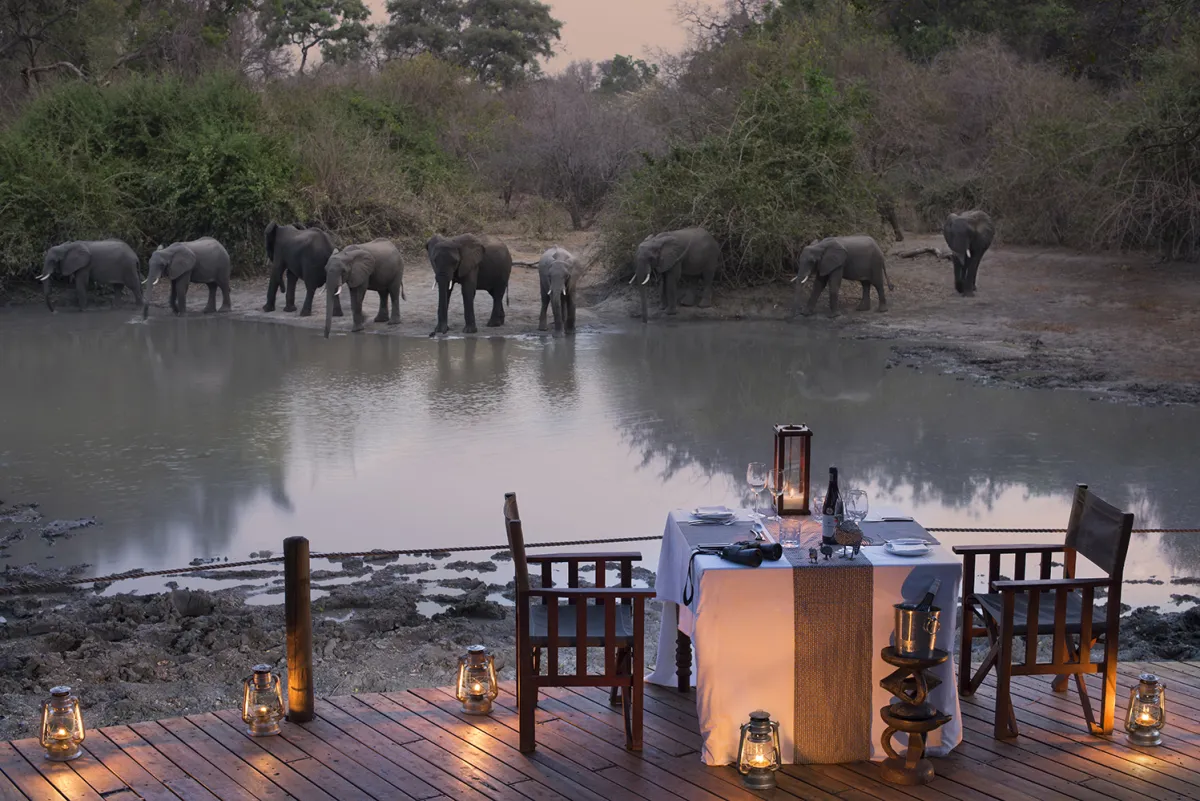 The tents are en-suite, Meru-style, with outside showers, so you can enjoy a shower while watching the elephant do the same. Some tents have better views of the pan than others.
A central lounge/dining area also offers incredible views over the waterhole and a splash pool. There are daily open vehicle game drives of course, but this is the kind of place where game viewing doesn't have to include any drives at all. The wildlife action is all, literally, on your doorstep, and the reception area is plastered with photos of many incredible sightings that happened right in front of the camp.
7. Tau Game Lodge, South Africa
Situated in the North-West Province of South Africa in the private (and malaria-free) Madikwe Game Reserve, Tau Game Lodge is made up of thirty thatched chalets arranged around a waterhole in the north-western corner of Madikwe. It is an easy 4-hour drive or 45-minute flight from Johannesburg. Each chalet has its own viewing deck, as does the central lodge.
Meaning 'The Place of the Lion', Tau offers the visitor the chance to see Africa's wildlife on safari drives, as well as from the camp. Sip a chilled wine on the raised deck, watching the animals come down to the waterhole to quench their own thirst!
Tau is great for families with children, and if you're looking for a wedding venue with a waterhole view – Tau can accommodate up to 60 people and animal guests at the waterhole stay free.
8. Little Makalolo, Zimbabwe
Hwange National Park is known worldwide for its huge numbers of elephant. Situated in the heart of Hwange, on a waterhole that those elephant love, is Little Makalolo Camp.
With a central dining/lounging area, small plunge pool and a deck in the shade of a huge Mopane tree overlooking the waterhole, this camp, with only six tents, offers a private and remote safari experience in one of the best game viewing areas of Hwange National Park.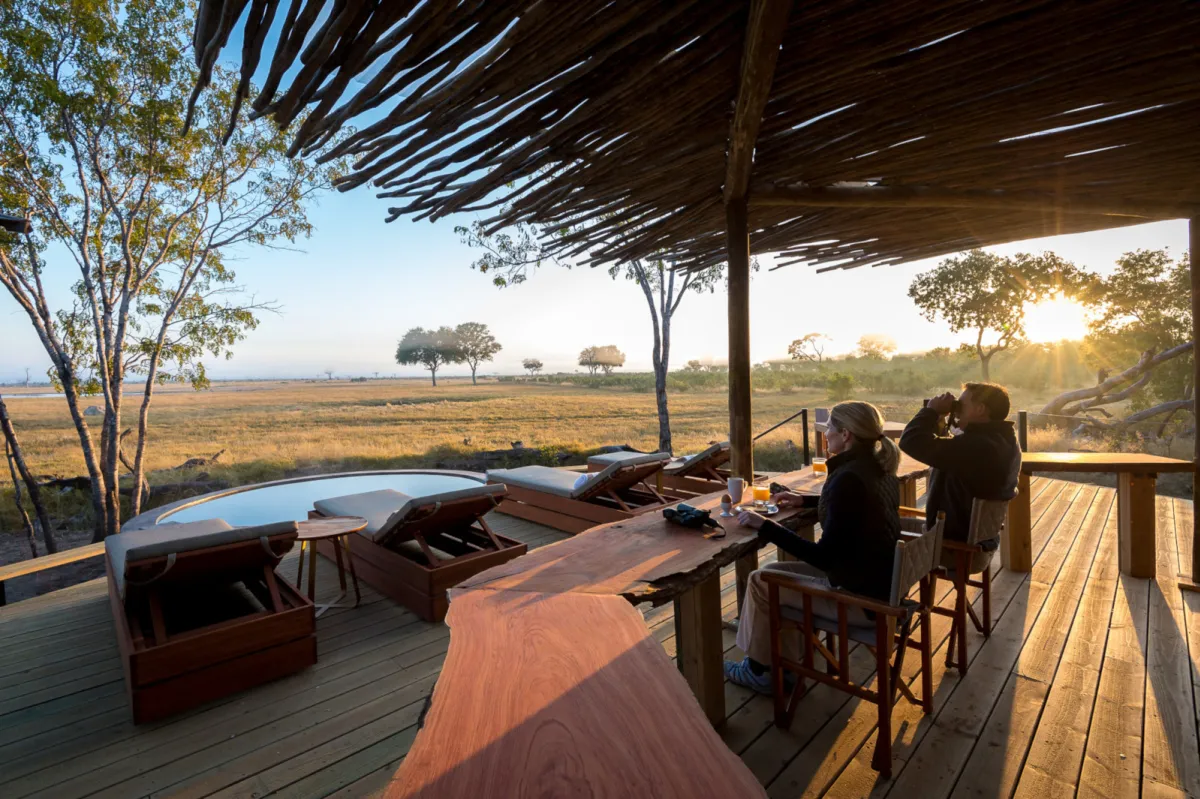 Right on the waterhole is a log pile hide. Spend some hours sitting quietly in the hide and you'll come within metres of the passing parade of wild animals. Beware of the trumpeting elephant spraying water! This is the perfect spot to get close-up photos of Africa's favourite beasts.
Its nearby sister camp, Davison's Camp, deserves a mention as well as it also overlooks an active waterhole but does not have a hide directly at the waterhole like "Little Mak" does. But both camps offer the exceptional levels of service, hosting, guiding, food and game viewing that Wilderness Safaris is known for.
9. Gomo Gomo, South Africa
The private Klaserie Game Reserve forms part of the Greater Kruger National Park, an area of over 20,000 sq km of unfenced bush, which allows the free movement of wildlife.
It is here that Gomo Gomo Game Lodge lies, on a beautiful waterhole, which is often used by passing elephant as a showering spot and a drinking place for a huge array of other wild animals and birds. Eat your breakfast and lunch in the open dining room which has a view over the waterhole, or lounge on the deck and see what animals are passing by.
Gomo Gomo is extremely well priced and offers thatched one-bedroom and two-bedroom chalets, with air-conditioning.
10. Arathusa Lodge, South Africa
Situated on a large waterhole, Arathusa Safari Lodge is a thatched lodge with nine standard rooms around the main lodge, and four luxury rooms (with plunge pools) situated a short walk away, offering more privacy. The main lodge is open plan and offers uninterrupted views of the waterhole from the bar deck, rim-flow pool as well as the breakfast deck right at the water's edge.
Situated in the northern Sabi Sand Game Reserve, Arathusa offers exceptional game viewing. Night drives, bush walks, and the ability to go off-road while tracking Africa's big cats all combine to create an unforgettable wildlife experience. You can spend the afternoon hours between game drives relaxing quietly on the deck reading a book and watching the animals come down to drink. Even in the rainy season, there is usually something interesting to see, from hippos to the large variety of birds.

Have we missed one?
There are many safari lodges with awesome waterhole views. If you know of a great safari camp with a fantastic waterhole view, please let us know in the comment section.
About the author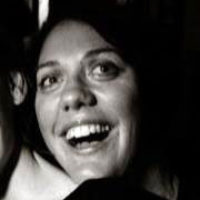 Briony Chisholm
Briony Chisholm has been travelling the back roads of South Africa for as long as she can remember – she's from one of those families. The safari writing, however, only started a couple of years' ago, and she loves it. She can even tell you the difference between safari vehicles now. Briony lives in Cape Town from where she does much armchair travelling and as much real travelling as she can fit in.