Windhoek Travel Guide
Windhoek Travel Guide
The city of Windhoek, Namibia's capital, lies in a wide valley surrounded by the Khomas Highland, Auas mountains and Eros mountains at the epicentre of this desert country. The country's only fully-fledged city, Windhoek is the heart of modern Namibia – the cultural, economic, political, social and travel hub where it all happens. This small, yet, cosmopolitan city is a clean and friendly destination, with enough of a buzz to make it exciting, without being too chaotic. The city centre around Independence Avenue is compact and can easily be explored on foot, making for enjoyable and laid-back sightseeing.
Highlights
The urban heart of Namibia, its only true city, hosts diverse cultures and Namibia's major institutions and organisations
Colonial German architectural, culinary, historical and cultural infusion in a modern and vibrant African city
Main travel hub and international airport, providing access to top Namibian destinations, from Etosha to the Namib Desert
A laid-back city destination that is well-maintained, safe and walkable, known for its friendly people and clean streets
A good variety of accommodation options, cuisine, nightlife, attractions, car rental companies, shops and amenities
Strong European influences still flavour Windhoek, with sprinklings of German colonial architecture, sidewalk cafes and western cuisine adding to the distinctive character of this pleasant African city. It's the major gateway to Namibia, providing an ideal springboard and stopover from which to explore this unique and fascinating country. The city holds an interesting blend of old and new, African and European, offering visitors an engaging mix of cultures, cuisines and sights. Windhoek is the best place to experience a snippet of nightlife, a dollop of modern bustle and a pocketful of world-class amenities and creature comforts. Although not a major tourist destination in itself, Windhoek is well worth exploring for a few days as it offers the most diverse, sophisticated and lively urban environment in Namibia.
Things to do and see in Windhoek
Spend your days strolling through the pleasant streets spotting old German buildings, forts, monuments and churches, along with new high-rise structures and luxury hotels. Visit the museums and art galleries, relax at European-style cafes and shop for arts and crafts at the open-air market, Post Street Mall, or for precious stones at The House of Gems. At night, a variety of excellent restaurants, bars, beer houses, nightclubs, and theatres offer hearty food, good times and entertainment – the most active nightlife to be found in Namibia. This is, after all, where the famous Windhoek beer is brewed, so let your hair down and have some fun.
Visit Tintenpalast (Palace of Ink) – an apt name for the parliamentary buildings of Namibia where reams of paperwork are processed. Built from local materials in about 1912, this historic building once housed the headquarters of the German colonial government, but today it houses the National Assembly.
Visit Windhoek's landmark Christuskirche (Christ Church) – a German Lutheran church that combines neo-gothic and art nouveau elements in an odd fairytale-like structure, built from local sandstone in about 1896.
Stop in at Alte Feste (Old Fortress) – the oldest building in Windhoek, dating to about 1890. The Old Fortress was formerly used as the headquarters of the schutztruppe (German colonial troops) and with a modern twist, it now houses the National Museum of Namibia, chronicling the country's journey to independence. The museum also hosts a display of rock-art and the bronze Reiterdenkmal (Rider's Memorial) erected in 1912, stands in the open-air exhibition area.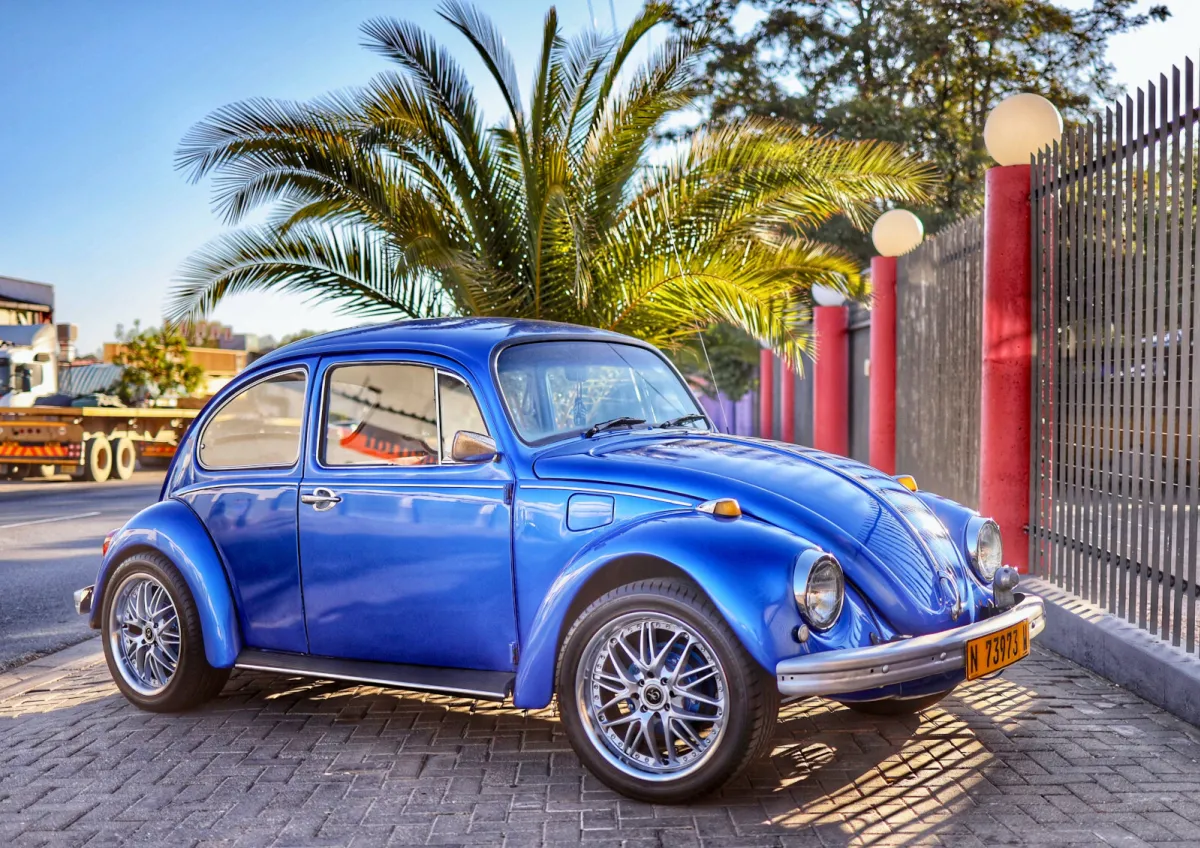 Revisit history at the Owela Museum – hosting cultural, archaeological, ethnographic and natural history displays, accompanied by detailed information and an enlightening feature on the San.
Pop in at the Trans-Namib Transport Museum – the old Cape Dutch-style railway building of Windhoek, circa 1912, showing Namibia's railway and transportation history.
Stroll around in Zoo Park, look out for German architectural highlights, including the Turnhalle Building, Gathemann's Complex, the Old Magistrate's Court and Kaiserliche Realschule.
Tour Katutura – the engineered residential zone designated for black people during South African rule, now turned into a dynamic neighbourhood, lying to the north of the city centre.
A bit of Windhoek history
According to written records, Windhoek's history started in 1840 when a South African captain, Jonker Afrikaner, built a stone church and settled near one of the water sources in the area. By the 1870s, the settlement had fallen into ruin after a succession of battles between ethnic groups and missionaries. Windhoek was officially established some decades later (in 1890) when a colonial German garrison, led by Major Curt von Francois, started construction of the Alte Feste (Old Fort) in what was then South West Africa.
The schutztruppe (protective troops) chose Windhoek as their outpost, because of its strategic location between warring Namas in the south and Hereros in the north and because of the springs in the area. These are only two noteworthy periods in the complicated and fascinating history of Windhoek, and Namibia as a whole – a history that entails far more complexity and conflict than its prominent German era belies.
In 1990, following a violent civil war, Windhoek was declared the capital of newly-independent Namibia, free of South African rule. Today the ever-growing city is home to about 342,000, a bustling economy and an excellent infrastructure that is attracting strong investment.
The best time to visit Windhoek
Although considered a year-round destination, Windhoek receives most of its rainfall (average of 360 mm per year) in summer, mainly between January and March. The wet summer months are not the best time for sightseeing, with high levels of humidity and temperatures soaring from 28°C to 31°C. That said, Windhoek sits at 1,650 metres above sea level, in a semi-arid region. The most popular time to visit Windhoek is between May and October when temperatures simmer down a bit and chances of rain are lower (the same peak season applies for game-viewing destinations in Namibia). During winter, the days are mild to warm and the nights are cold, but temperatures seldom fall below zero.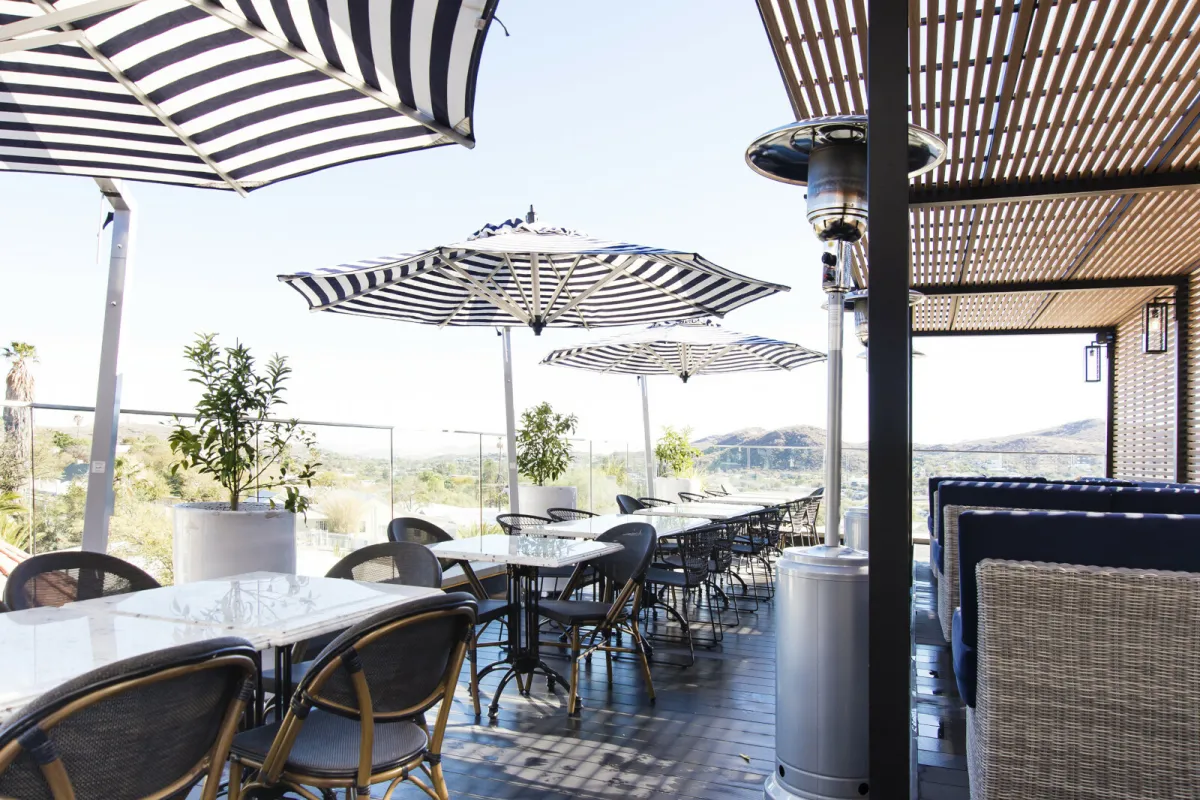 Getting there
By air - The easiest way to get to Windhoek is to fly to Hosea Kutako International Airport, about 40 km outside of the city. Regular international flights connect Windhoek with Johannesburg and Cape Town in South Africa, Frankfurt in Germany, Maun in Botswana, Victoria Falls in Zimbabwe and Luanda in Angola. Chartered and scheduled domestic flights are routed via the Eros Airport, 5 km from the city, linking Windhoek with destinations like Swakopmund, Etosha, Rundu and Katima Mulilo.
By road - The B1 runs north-south and the B2 east-west via Windhoek, providing links to destinations across the country; the best-known being: Etosha to the north, Swakopmund to the west and the Namib Desert and Fish River Canyon to the south, with Botswana accessible to the east. Renting a car for self-drive safaris is a popular option with travellers. Just remember to fill up the fuel tank and take plenty of water for the long roads.
Other options - There are also train, bus and minibus taxi services to and from Windhoek, with the most popular route running between the capital and Swakopmund. Some of the longest drives for those looking for an endurance challenge include minibus taxi rides from Cape Town or coach bus trips from Johannesburg or Livingstone in Zambia.
You may also want to look at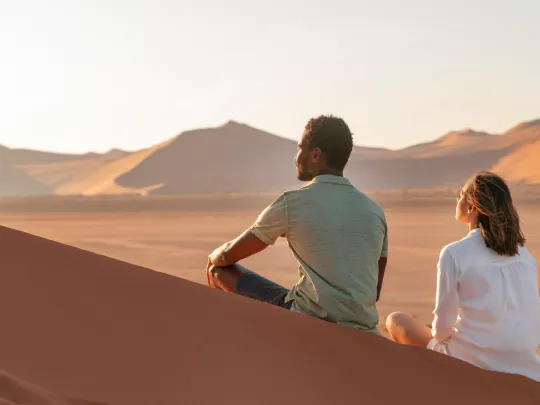 This seven-day luxury fly-in safari explores some of Namibia's most iconic safari destinations – the distinctive ochre dunes of Sossusvlei, the rugged, desolate landscape of Damaraland and the Kaokoveld where you're likely to spot the legendary desert-adapted elephant and Etosha, Namibia's ancient national park. Flying over this vast country, you'll also get an insight into its fascinating detail and incredible landscapes.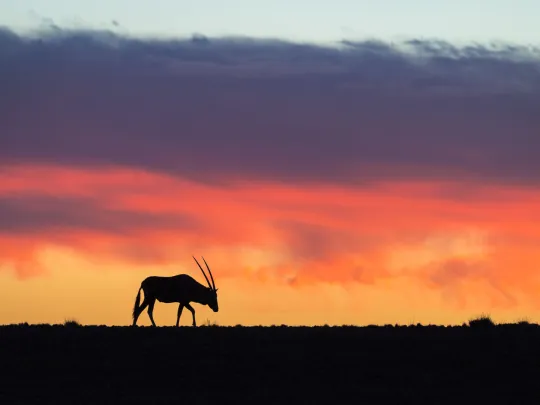 Explore some of Namibia's most iconic destinations in the company of a highly experienced personal guide. Our 10-Day Best of Namibia Safari takes you from the towering red dunes of Sossusvlei and lonely stretches of beach along the Skeleton Coast to the quaint seaside town of Swakopmund and Damaraland with its startling geographical features. We round our trip off with a safari in Etosha National Park with its ancient salt pan in search of Namibia's famous desert-adapted elephants and lions.