Kavango & Zambezi Region Travel Guide
Kavango & Zambezi Region Travel Guide
With four perennial rivers, this is arguably one of Namibia's most verdant areas and is renowned for its top game-viewing opportunities. You'll have every chance to see elephant, lion, buffalo, cheetah, giraffe and many varieties of antelope. It's also a popular fishing destination and a bird lover's paradise with over 600 species, including some rare endemic birds.
Highlights
One of Namibia's greenest, most lush areas with rivers, waterfalls and wetlands
Renowned for excellent game viewing, fishing and birding
Large herds of elephant
Wide expanses of river frontage, perfect for viewing game and fishing
Rivers teem with hippo and crocodiles
Home to four National Parks (Mamili, Mudumu, Mahango and Bwabwata)
Many areas are easily accessible by 2WD
Generally more affordable lodges and game viewing on a par with Botswana
Perhaps one of the best 'secret safari' destinations, the Kavango/Zambezi Region has an abundance of wildlife, water and birds, yet is one of the lesser-known African safari destinations. It's far more lush and green than the rest of Namibia as it has four perennial waterways running through it – the Kwando, Linyanti, Chobe and the mighty Zambezi, for which it's named.
The area has its fair share of luxury bush camps and waterfront lodges with lush vegetation and vast wetlands. You'll be able to explore the rivers by makoro and flat-bottomed motorboats, watch the wildlife come down to drink or enjoy some of the excellent fishing — sporty tiger fish, silver barbel, catfish, African pike and bream — the area is known for.
Superb game-viewing area
This 450 km strip of land jutting out to the east of the Kavango region has four national parks where you can view game. It offers something for everybody, with Bwabwata and Mahango Game Parks to the west and Mamili and Madumu to the east. Some parts are easily reached by 2WD vehicles – such as Popa Falls and Mahango Game Reserve, whereas the more remote eastern areas would require 4WD.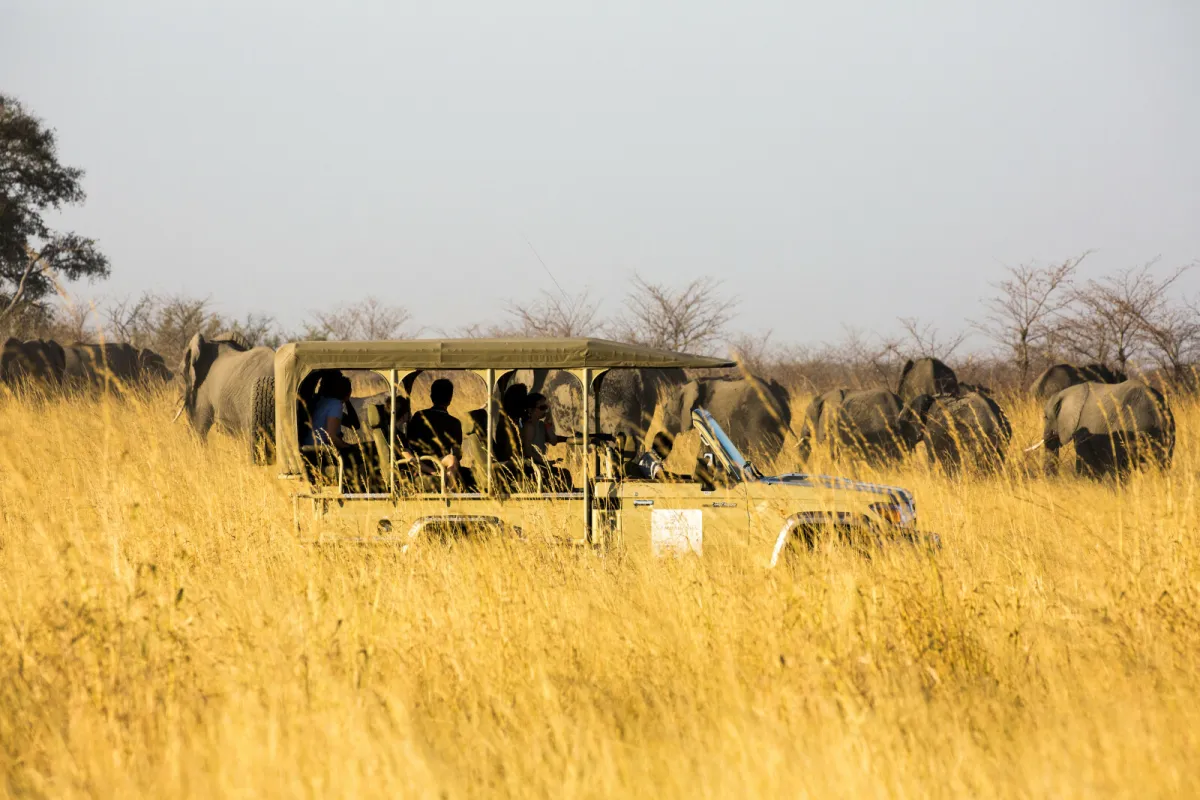 With plentiful water in the region, there is an incredible wealth and diversity of wildlife: birds (some 600 species), four of the Big Five (unfortunately, no rhino) and an incredible variety of flora. You may also be lucky enough to spot some of the rarer species like roan and sable antelope in Mahango. In the wetter areas, you'll be able to see sitatunga and red lechwe. Other animals you're likely to see besides huge herds of elephants and buffalo are kudu, impala, oribi, zebra and wild dog. If you're a keen birder, look out for the rare racket-tailed roller and Schalow's turaco among other prolific species such as fish eagle, kingfisher and hornbill.
Excellent value
There are some excellent safari lodges in the area, offering the same game-viewing excellence and experiences as you'd be likely to find in the neighbouring Okavango Delta, but at much more affordable rates. Many of the lodges are situated on the waterfront where you can enjoy wildlife on your doorstep and drift off to sleep at night to the sounds of grunting hippo.
Proximity to three neighbouring countries
The Zambezi or Caprivi area is an easy add-on to safari itineraries which include Zambia, Botswana which it borders, as well as nearby Zimbabwe. If you plan to visit Zimbabwe after your stay in Caprivi, you can either cross over into Zambia from Katima Mulilo and travel on to Livingstone and Victoria Falls or you can cross the border at Ngoma Bridge into Botswana, which is a mere 70 km from the Zimbabwean border.
Climate
The Caprivi Strip, where the Zambezi Region is situated, is a tropical area. Temperatures can be extremely high, especially in mid-summer. The rainy season extends from December to March in this wettest region of Namibia. Game viewing is best during the drier winter months when the vegetation is less dense. During the dry season, the islands towards the south-eastern Okavango border can be reached by road but after the rains 80% of the area becomes flooded, cutting roads off from the mainland.
You may also want to look at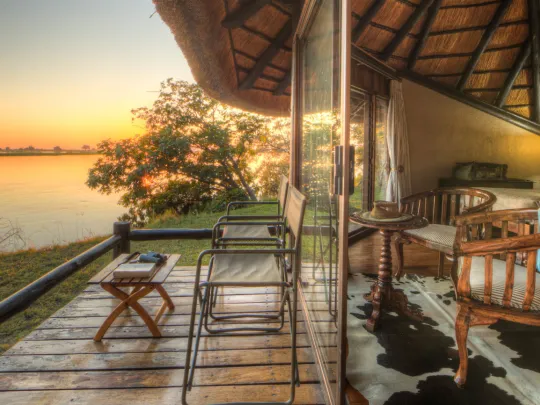 Chobe Savanna Lodge is a luxury establishment overlooking the Chobe River in Namibia's Eastern Caprivi. The lodge offers spectacular views of the Chobe River and the vast floodplains of the Chobe National Park's Puku Flats, with its abundance of wildlife.