Ruaha River Lodge
Ruaha River Lodge
Ruaha River Lodge is spectacularly situated overlooking the Ruaha River, one of the lifeblood drinking sources for the abundant game, especially during the dry season. Ruaha National Park, known for its prolific elephant population and large prides of lion, offers visitors incredible scenery and the safari experience of a lifetime.
Highlights
Superbly situated with views over the river
Game viewing from the deck
Located within Ruaha National Park with its large prides of lions
Knowledgeable, experienced local guides
Few camps in Ruaha National Park make for an uncrowded safari experience
Sundowners on the river bank or bush breakfasts can be arranged
Fly camping for a true wild Africa experience
Spacious chalets
Budget-friendly
Ruaha River Lodge is made up of two main areas and 24 stone-and-thatch chalets or bandas spread along the bank of the river. They are well spaced apart to allow a feeling of privacy and they are extremely spacious, with twin, double or triple rooms, a sitting area and writing desk. Stone floors and gauze windows allow the cool breeze to flow through.
At the back of each chalet is a large, open-plan en-suite bathroom with twin vanities and solar-heated showers. Out front is the crowning glory; a large veranda with breathtaking views out over the game rich plains.
Main lodge area
There are two lounge and dining areas at Ruaha River Lodge, allowing you to not notice the relatively large size of the lodge. One is next to the river, a large open-sided thatched area with polished red floors and comfortable couches from which to watch the game come down to drink.
Set up on top of the kopje is the second lounge and dining space, commanding incredible views across Ruaha. It's a heavenly spot for relaxing and enjoying the view. There is a small shop on the premises.
Game viewing activities
Guided game drives are offered by the lodge. These most often take the form of early morning and late afternoon drives, when the animals are most active, but full day game drives can also be arranged.
Ruaha National Park is known for its diversity of game as the park contains both Zambian miombo habitats and Kenyan savannah. It is one of the few places where lesser and greater kudu are both found. A huge elephant and predator population, many antelope species, giraffe, zebra and the rare African Wild Dog are just some of the game that calls Ruaha home.
Getting there
By car - Ruaha River Lodge is just over 600 km from Dar es Salaam, a drive which takes approximately nine hours.
By air - Daily scheduled flights are offered from Dar es Salaam and Zanzibar. Msembe Airstrip is about a half-hour drive to the lodge.
Our take on Ruaha River Lodge
This relatively large lodge, with its wonderful riverside position, is comfortable and friendly. It offers great game viewing, both from the deck and within Ruaha National Park and is an ideal dry season safari spot.
© Images courtesy of photographer Niels van Gijn.
Includes
Accommodation and all meals
Shared, guided morning and afternoon game drives (or full day) in open 4x4 safari vehicles
Tea and coffee
Laundry
Airstrip transfers
Excludes
Walking safaris
Park entry fees
Bar drinks
Gratuities
Travel insurance and medical evacuation
Items of a personal nature
You may also want to look at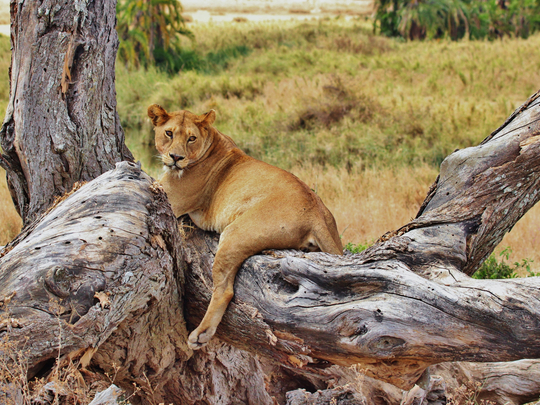 Welcome to untamed Africa! Tanzania's Southern Circuit has all the remoteness you could ask for. It's an uncrowded, unspoilt and unhurried safari experience that you'll be hard-pressed to experience elsewhere. Enjoy the top destinations of Ruaha, Katavi and Selous before rounding the trip off with 5 days at an exclusive tropical island paradise.
In the heart of Tanzania where the Zambezi miombo woodlands meet the Tanzanian/Kenyan savannahs, lies Ruaha National Park. This vast park, with its few camps, offers visitors an uncrowded glimpse of untouched Africa, with its huge diversity of game, birds and landscapes. It's an area known for its incredible animal sightings, including large herds of elephant and plenty of predators.