Giraffe Manor
Giraffe Manor
Giraffe Manor is one of Nairobi's best-known lodges. Full of character and steeped in history, its ivy-clad buildings are set in 12 acres of private land and are surrounded by 140 acres of indigenous forest. Reminiscent of its 1930s "Out of Africa" heydays, it is named for its resident herd of Rothschild giraffe that often pop in for a visit.
Highlights
Easy access to Nairobi's international and domestic airports
10 luxurious historical rooms
Built in the 1930s, it retains its traditional grandeur and character
Lush green gardens, sunny terraces and charming courtyards
Famous for its resident herd of Rothschild giraffe
Part of the AFEW sanctuary to protect these endangered animals
Giraffe Manor provides easy access to Nairobi's Jomo Kenyatta International Airport (NBO) and its domestic airport, Wilson Airport (WIL), which connects to all safari destinations. Besides its grand exterior and elegant interiors, it's famous for its lively residents – a herd of inquisitive Rothschild giraffe.
Luxury, characterful rooms
An exclusive boutique hotel, Giraffe Manor echoes 1930s grandeur, right down to its art deco furnishings and four-poster beds. It has ten superior rooms, each individually styled and named for historical personalities, such as Finch Hatton. All the rooms are en-suite and some are suitable for families and wheelchair users. The Karen Blixen Suite is a large, two-bedroom family suite with adjacent lounge and fireplace.
Activities
A short stroll across the lawns takes you to the AFEW Giraffe Centre where you can learn about these beautiful endangered creatures and take a guided walk around the sanctuary. The Manor can arrange a variety of optional local excursions for you.
Sight-seeing around the Langata area
Sheldrick Wildlife Trust where you can meet, feed and sponsor baby elephants
Karen Blixen Museum, dedicated to this famous Danish explorer and writer
Kazuri Beads which sells locally-made jewellery
The acclaimed Matbronze Art Gallery and Foundry
The innovative crafts complex, Marula Studios
Social responsibility
Giraffe Manor was built in 1932 by Sir David Duncan and modelled on a Scottish hunting lodge. It became the property of Jock and Betty Leslie-Melville in 1974, a few years after Kenya's Independence. Seeing that the Rothschild Giraffe was under serious threat, Jock and Betty made it their life's work to provide a sanctuary for these beautiful creatures. AFEW (African Fund for Endangered Wildlife) was born at Giraffe Manor, which was initially their family home, later becoming a boutique hotel and sanctuary in 1984.
Getting there
Giraffe Manor is 20 minutes from Jomo Kenyatta International, and 18 minutes from Wilson domestic airport. Airport shuttles can be arranged.
Our take on Giraffe Manor
Where else in the world are you able to share your breakfast with a giraffe? Or feed a giraffe from your window? Giraffe Manor certainly provides for this and many other interesting interactions with these beautiful creatures. It's a great place from which to start or end any Kenyan safari. It's an utterly unique experience with superb hospitality and loads of historical and conservational interest.
Giraffe Manor closes during the month of May.
Includes
Airport transfers
Transportation around the Karen & Langata area (within the check-in and check-out times)
All accommodation and meals
House wines, soft drinks, beers and spirits
Laundry
WiFi
Entrance to the AFEW Giraffe Centre
VAT
Excludes
Champagne, luxury spirits, selected wines
Gratuities
Health insurance
Massage treatments
Personal effects

You may also want to look at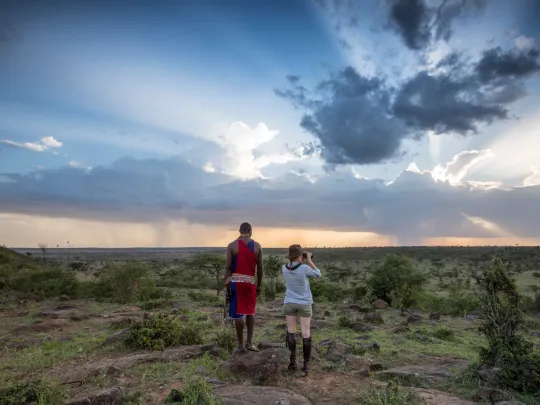 Our 7 Day Kenyan Adventure Safari Tour introduces you to the wilder side of Kenya on an affordable budget. Explore Laikipia Plateau's sweeping plains on foot, where the last of Kenya's African wild dogs have found refuge. Discover why the Masai Mara's lush grasslands, acacia woodlands, rolling savannahs and abundance of wildlife make it one of Africa's most iconic safari destinations. In season, witness one of the world's natural wonders, the Great Migration, where one and a half million wildebeest, zebra and antelope leave the Serengeti for the Masai Mara.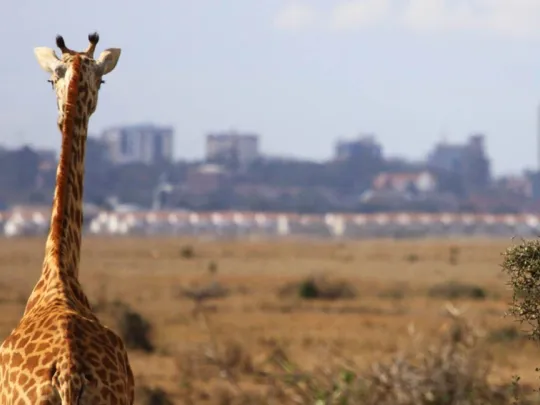 Nairobi is usually your gateway into Kenya. While most safari visitors spend one night in the city on their way to or from their wildlife experience, Nairobi has great lodges and unique boutique hotels. The city is bursting with life from informal Maasai Markets lining the streets selling handmade arts and crafts to local tailors who can finish a beautifully made, bargain-friendly safari suit in 24 hours. Nairobi National Park with its dense concentration of black rhino is no more than 7 km from Nairobi's city centre.