Perfectly positioned on a rise overlooking a perennial waterhole, Camp Hwange is professionally run by one of Zimbabwe's leading safari guides and offers an excellent safari experience filled with fascinating bush lore and a wealth of safari stories. Informal, yet with all the creature comforts, Camp Hwange offers the added benefits of a private concession from day and night game drives and off-road driving to walking safaris with an experienced ranger.
Highlights
Set on a rise overlooking a year-round, well-frequented waterhole
Owned and run by one of Zimbabwe's top safari guides
Understated luxury with an emphasis on superb safari guiding
Eight airy thatched chalets with canvas and meshwork sides
An open-air campfire at the heart of camp where friends are made and stories are shared
Varied surroundings, from teak forests to grassy plains, offer a wide range of game-viewing opportunities
Day and night game drives
Guided bush walks
Off-the-grid, solar-powered, authentic bush escape
Committed to keeping its carbon footprint to a minimum, Camp Hwange is an off-the-grid, solar-powered classic safari camp located on a private concession in the north of Zimbabwe's Hwange National Park.
Waterhole-facing chalets
Camp Hwange has eight spacious, waterhole-facing, luxury chalets. Each thatched chalet has an en-suite bathroom with a walk-in shower, hand basin and flush toilet. Seven chalets can accommodate two guests each in twin or kingsize beds, depending on preference, and one chalet can accommodate a family or small group of four. Children younger than 14 years of age can be accommodated in their parents' chalet on a sleeper couch. Each chalet has a private viewing deck of the perennial waterhole.
Excellent safari guiding
Owned and run by David Carson, a highly qualified, pro-Zim guide with years of experience, your game drives at Camp Hwange will provide intimate insights into the African bush and its many inhabitants. As it's on a private concession in the northern reach of Zimbabwe's Hwange National Park, Camp Hwange is able to offer day and night game drives and bush walks with superb, professional safari guides. With only six guests per safari vehicle permitted, your game-viewing experience is guaranteed to be intimate and personal.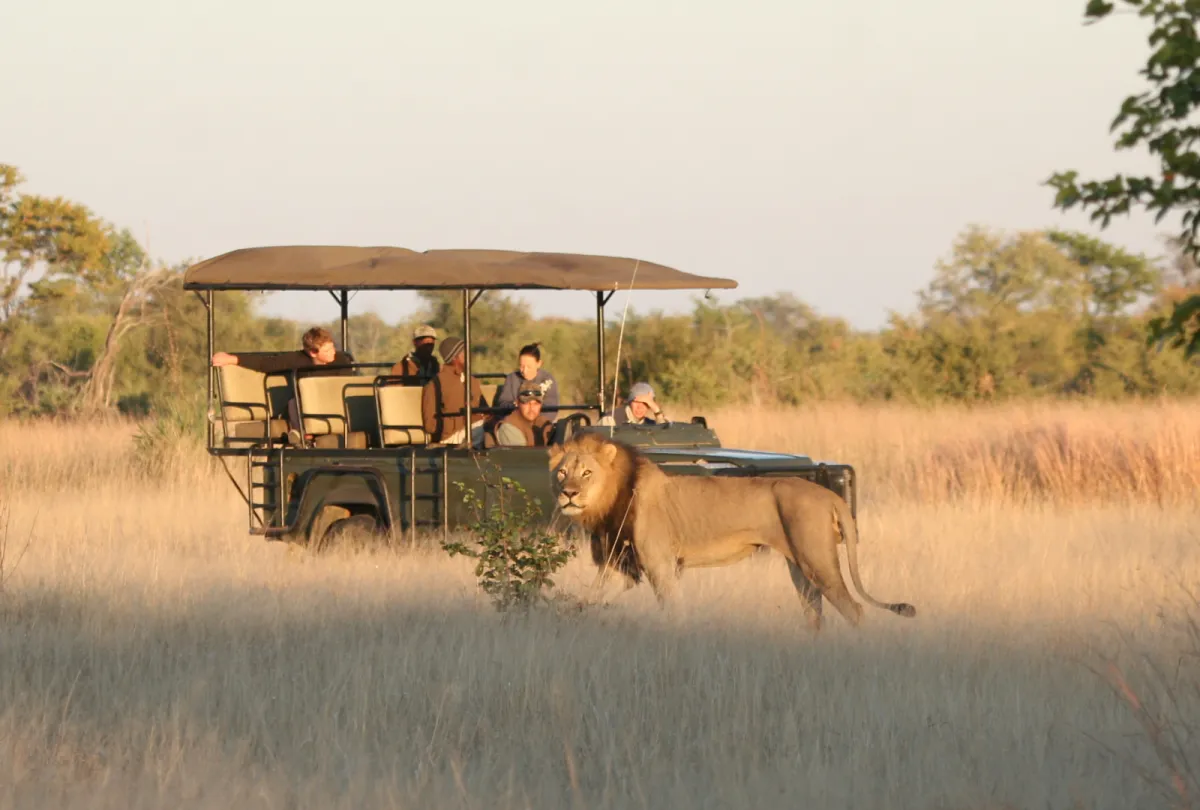 Its unusual surroundings, which range from teak and mopane forests to wide-open grasslands, are home to a fascinating variety of game and birds. Wildlife sightings of plains predators like African wild dogs and cheetahs, massive herds of elephants and buffalo, large plains game like sable and roan and the shy, nocturnal species like serval and black-backed jackal are not uncommon.
Main lodge
Camp Hwange has a spacious, comfortable lounge and dining area overlooking the waterhole but much of camp life revolves around the open-air campfire. Guests meet there at dawn for early-morning coffee and then gather again at dusk to mull over the day's activities and sightings. It's also where guests go to enjoy the quiet and occasional noises of wild animals drinking at the nearby waterhole during the day and to stargaze at night. Delicious meals at Camp Hwange are freshly prepared and vary from bush breakfasts to packed lunches to alfresco dinners under millions of stars at night.
Getting there
Camp Hwange is approximately 180 km from Victoria Falls by road. There's also a fly-in option from Victoria Falls to Sinamatella Airstrip which is about a 40 km drive away from Camp Hwange. From the south, it's also possible to drive up from Hwange National Park's Main Camp, some 80 km away. Please ask us about transfers.
Our take on Camp Hwange
The staff and owners of Camp Hwange really seem to go out of their way to make sure you enjoy your stay and they are passionate about sharing their wealth of experience and knowledge with their guests. If you prefer authentic and informal classic safari camp accommodation over simple luxury then Camp Hwange is definitely for you!
Includes
Full board
All drinks
All game-viewing activities (day and night game drives and walking safaris)
Laundry
Flying doctor
VAT
Excludes
All transfers to and from Camp Hwange
Conservation park fees
National Parks Fees
Air charters
Premium imported brands and champagne
Gratuities and items of a personal nature
Medical insurance
You may also want to look at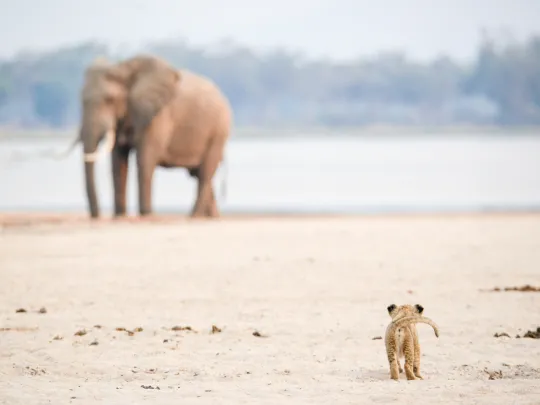 This 9-Day Best of Zimbabwe Safari includes three of the most popular destinations in Zimbabwe: Victoria Falls, a 7th Wonder of the Natural World and renowned adventure capital; Hwange National Park, the jewel of Zimbabwe and its largest national park, home to large herds of elephants and healthy wild dog populations; and Mana Pools, World Heritage Site and pristine wilderness. Explore Mana on foot and by boat along its myriad waterways teeming with wildlife.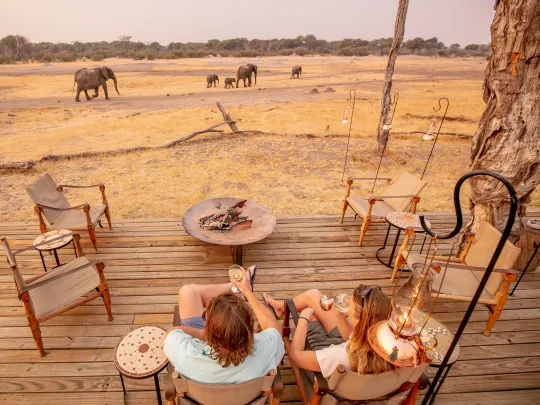 Our 10 Day Zimbabwe Adventure Safari explores three of Zimbabwe's top game viewing destinations - on foot, by safari vehicle and on water. From wildlife-rich Hwange National Park and Matusadona National Park on the shores of Lake Kariba to unspoilt Mana Pools, this authentic safari is big on adventure and game viewing.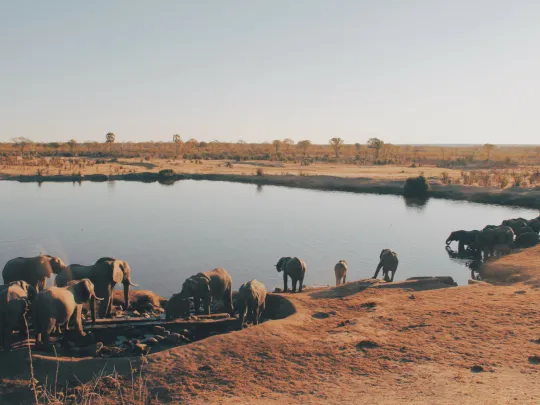 Hwange National Park is Zimbabwe's largest and most popular game reserve; arguably the best safari destination in Zimbabwe. There is a wide variety of habitats and vegetation types, including dry Kalahari-type bushveld, mopane shrubland, acacia savanna, huge open grasslands, vast wetlands and teak forests. This diversity attracts a variety of wildlife, making Hwange an excellent choice for an African safari. It's also close to Victoria Falls and the two destinations can easily be combined in one safari itinerary.