Accommodation in Fish River Canyon
Accommodation in Fish River Canyon
The Fish River Canyon is the longest canyon in Africa and the second most-visited attraction in Namibia. Up to 550 metres deep in places, it is a gigantic crevice cutting deep into the dry, stony and arid surrounds.
There are just a few excellent lodges in and around the sparcely populated Fish River Canyon area and the Ai-Ais hot springs resort is at the canyon's lower end. The Fish River Canyon hiking trail is one of the more popular - and arduous - in Southern Africa, usually taking five days to complete.
The climate here is generally mild with temperatures varying 5 - 30° C with little humidity although there can be occasional flash floods and severe wind storms.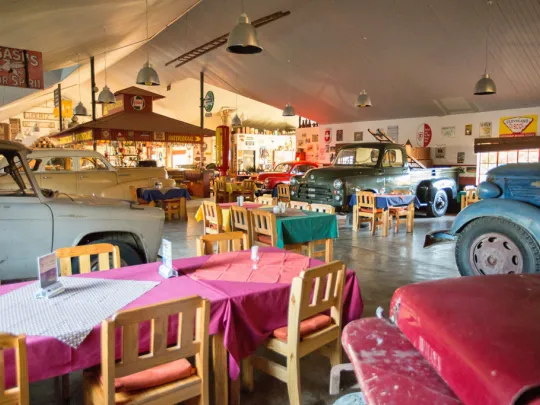 Quirky personality and a sense of bygone times give Canyon Roadhouse its special charm. The roadhouse-style lodge is located 25km from the impressive Fish River Canyon, arguably the second-largest canyon in the world. This unique spot is praised for its friendly staff and creative flair and it offers a fun, laid-back stay in remote southern Namibia. The 24 spacious, en-suite rooms are set around courtyards featuring the unusual flora of this arid region, and the main restaurant brims with vintage decor that adds to its old-world appeal.