South Africa is amazing and we hope to return soon!
South Africa is amazing and we hope to return soon!
Dear Madi,
We thoroughly enjoyed our trip. We are very happy we spent time in both Kruger and Klaserie. "Same, same but different" is the best way to describe our experience between the two reserves. They were different but both magnificent. Following staying at the large camp in Kruger, we appreciated staying at the more intimate Gomo Gomo. We loved the 'sundowner' at Klaserie - one evening we were enjoying gin and tonics when we saw a giraffe in the sunset! It was like stepping into a National Geographic photo.


Our guides at both locations were amazing. They were both so passionate about their work. At Kruger, we had an amazing experience of seeing a leopard sleeping in a tree - it is beyond me how Simon saw the leopard! Simon was also very into the birds and always took time to point them out and give information about the birds. The birds are magnificent and underrated so we enjoyed his information.


Our driver Mandla was fabulous. We learnt so much about South Africa speaking with him. He did everything possible to ensure we saw what we could and had a wonderful day. He knew a place to stop down the road from the entrance to God's Window where we were able to enjoy a spectacular view through the side window. He pointed out so many things along the way and explained their role in South Africa, i.e. pine trees, macadamia nuts. Our day ended with a deeper understanding of South Africa. Hippo Hollow was a wonderful end to our trip. As we did not need to leave until 14h00 to go to the airport, we were able to have a late checkout and relax overlooking the waterhole. The staff was so warm and helpful. The restaurant was fantastic.


Our driver to Kruger Airport, Johan, went above and beyond to assist us. There was a lot of confusion about where to get the shuttle to Eswatini (even if we were at the correct airport, unbeknown to us, there is also a small airport in Kruger Park.) He stayed with us until we spoke with the agency in Mbabane and confirmed we were at the correct location. He also gave us directions on how to get a taxi back to Nelspruit if necessary.
When we were planning our trip, at first I was hesitant to plan a safari as I had gone on safari years ago in Kenya. I now cannot believe I even considered not going! We appreciated all the information that you provided us prior to departure. It was great to have a day-by-day overview of our itinerary. Hope this finds you and yours doing well. South Africa is amazing and we hope to return soon!

From Mary, USA, travelled with us during March 2020
Our experience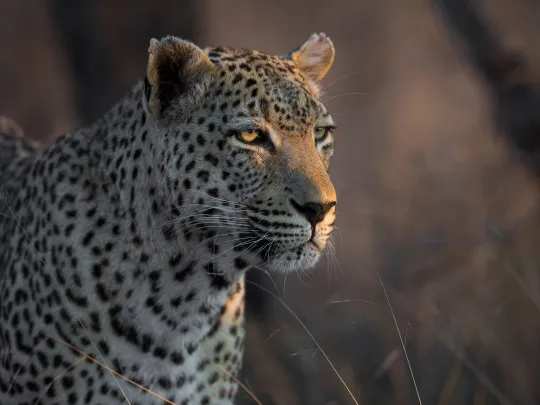 A guided safari in Kruger Park (using the national park camps) is quite different to a safari at a private game lodge. Both have their advantages. This trip idea combines two nights in Kruger, followed by two nights at a private game lodge for you to experience the best of both worlds. All game drives in open vehicles with expert and knowledgeable guides.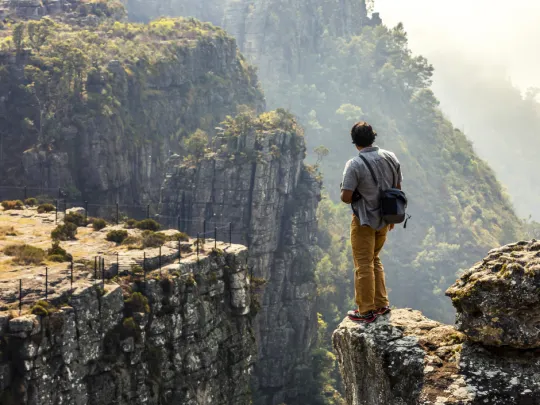 One of South Africa's most scenic areas, the Panorama Route refers to the escarpment in Mpumalanga Province, where the Drakensberg mountains separate the Highveld from the Lowveld to the east. Studded with numerous waterfalls, spectacular viewpoints and geographical phenomena and a breathtaking canyon, it's easy to see why it's such a popular tourist destination.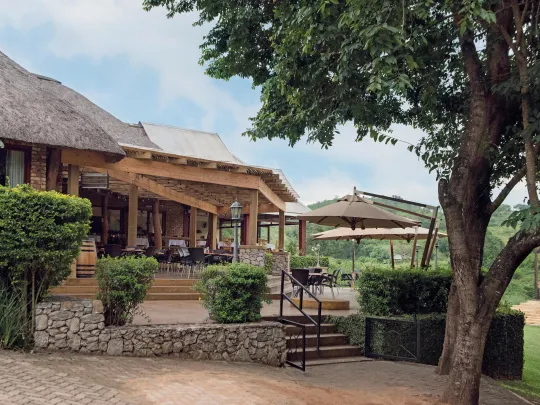 Hippo Hollow Country Estate is conveniently located outside the town of Hazyview and only ten minutes drive away from the world-famous Kruger National Park. Nestled amongst lush indigenous gardens, this Lowveld retreat on the banks of the Sabie River will leave you feeling totally refreshed and relaxed. Hippo Hollow offers en-suite hotel rooms as well as self-catering chalets.