Ask for Simon - He's a Part of Kruger
Ask for Simon - He's a Part of Kruger
I make it simple:
1. Ask for Simon, He's not a human. He's a leopard, a lion, a snake, an antelope, a buffalo, a rhino, a tree ... he's a part of Kruger
2. He's extremely on time
3. He got good eyes and constantly in contact with all rangers and guides to spot animals
4. He stops whenever you ask him to stop and never been grumpy
5. He knows how to manage idiots on safari and make it pleasant for everyone even idiots
6. Too much food, nice food. Don't change too much money for lunch as they say it's not provided. You don't need anything more than what they provide
7. He magically stops the car on the right spot to allow everyone to take a nice shot
8. He's knowledgeable and experienced
9. Brand new cars and you don't experience car breaks
10. Accommodation is way better than what you get in other countries national parks
11. Whoever you are, He's more enthusiasted [sic] than you to find animals
12. He is a great photographer
13. He is generous and gave someone his lens!!!!! to be able to take better photos to enjoy the safari more
14. These comments were written by a professional wildlife tourist/photographer doing this thing for 16 years in 47 countries

From Hashem, Iran, travelled with us during January 2019
Our experience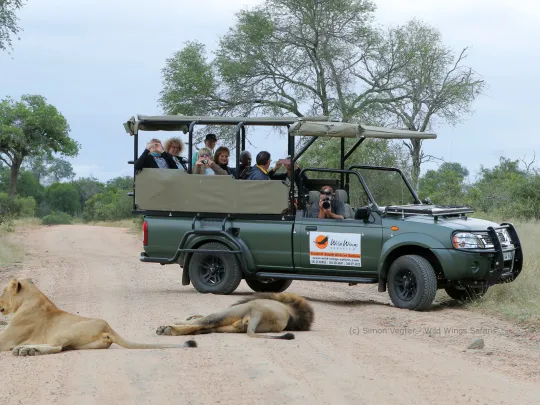 The popular 5-Day Best of Kruger Safari is a 4-night/5-day safari in the Kruger National Park offering open vehicle game drives with an experienced safari guide. Includes a night drive and guided bush walk. Spend two nights each at two different camps, in different areas of Kruger Park, giving you the best game-viewing opportunities. Book early to avoid disappointment!