iSimangaliso: Wetland Paradise
iSimangaliso: Wetland Paradise
With eight interlinking ecosystems, three lake systems, Africa's largest estuarine system and 220 km of pristine coastline, iSimangaliso deserves its place as a World Heritage site. Add to its spectacular scenery, prolific birdlife, The Big Five and more, and it's a dream safari destination!
iSimangaliso means 'miracle and wonder', and it's the perfect name for this spectacular coastal park. Listed as South Africa's first World Heritage Site (in 1999), the iSimangaliso Wetland Park offers the visitor eight interlinking ecosystems, with lakes, hippos, crocs, birds, dunes, swamp forests and miles of unspoilt beaches.
To put it in perspective, our beloved Madiba captured the diversity of the area in his 2002 address, marking the reintroduction of the elephant to the area:
The wetland park must be the only place on the globe where the world's oldest land mammal (the rhinoceros) and the world's biggest land mammal (the elephant) share an ecosystem with the world's oldest fish (the coelacanth) and the world's biggest marine mammal (the whale).
Climate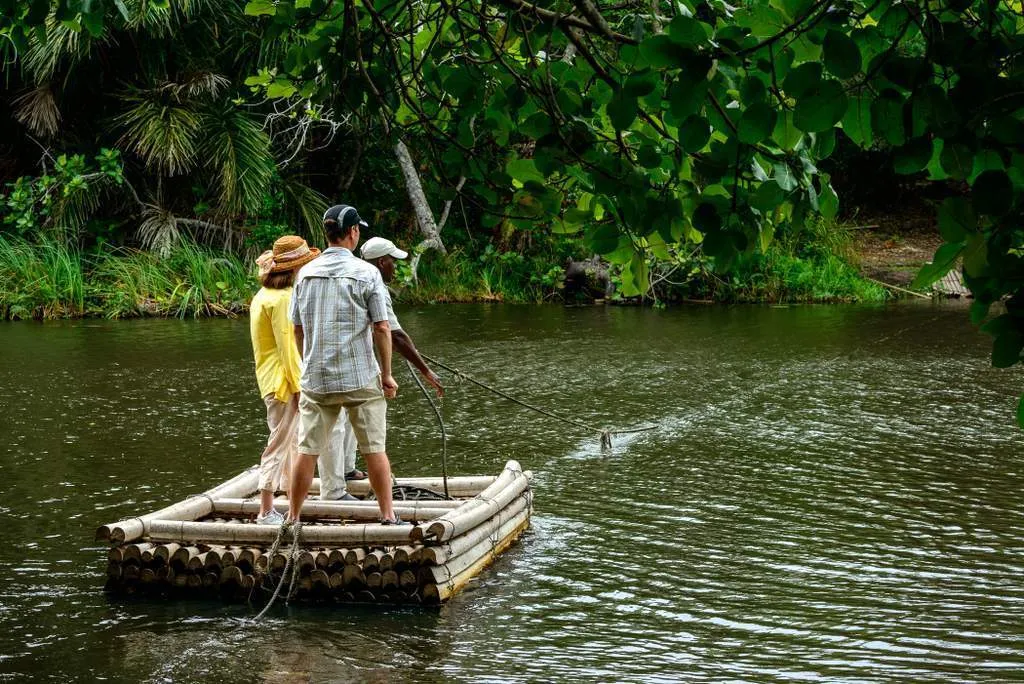 One of the best things about iSimangaliso, is its climate, which is humid and sub-tropical. Day temperatures average in the mid- to high-20's (Celcius), with November to March being the hottest months. Night temperatures seldom dip below the mid-teens. To put it in perspective:

Mid-Winter (July): ave max 23°C (73°F); ave min 18°C (64°F)
Mid-Summer (Jan): ave max 29°C (85°F); ave min 25°C (77°F)
The sea temperature is, frankly, balmy, averaging 28°C (82°F).
Things To Do
Due to its incredibly varied ecosystems, the area also offers a huge number of activities – from game-viewing to fishing (on land and deep sea); walks through the mangrove swamps to scuba diving; horse riding on the beach or through the park to tracking the turtles as they come up to shore to lay their eggs – there is something at iSimingaliso to suit every taste.
Turtles!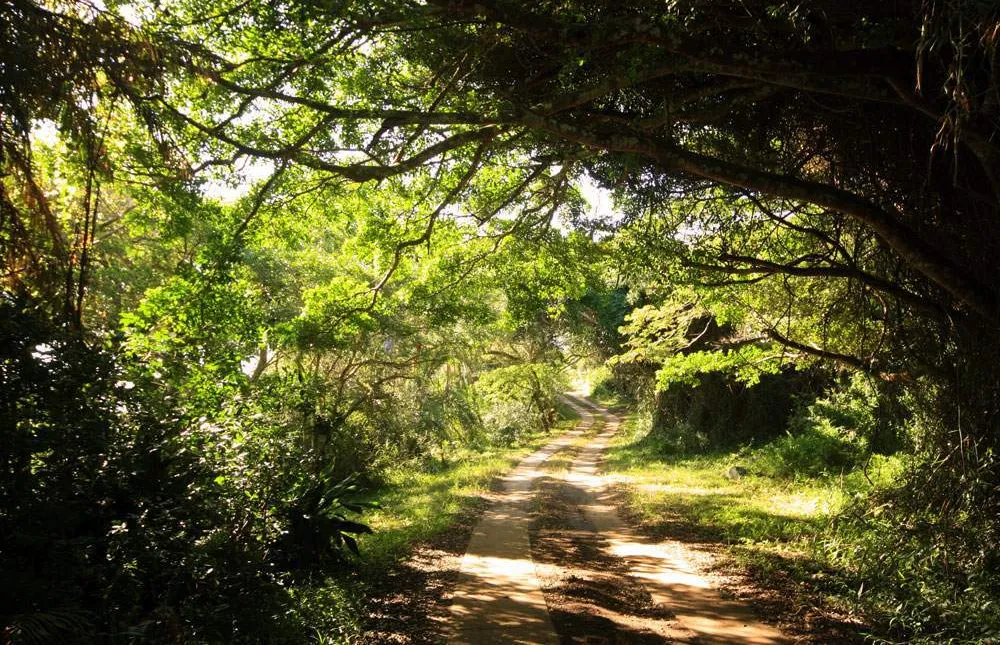 From November to March, a special thing happens: Loggerhead and Leatherback turtles come on shore to lay their eggs above the high tide line. After digging a hole in the sand – about a metre down – they lay 80 to 100 eggs, cover them up carefully and head back to sea.

Between January and March, the babies hatch and make their way under cover of darkness, into the sea. Four in a thousand live to maturity.
A number of tour operators offer 'Turtle Tours' which are conducted carefully, keeping conservation in the foreground. This is the last surviving turtle breeding ground in Africa.
Beach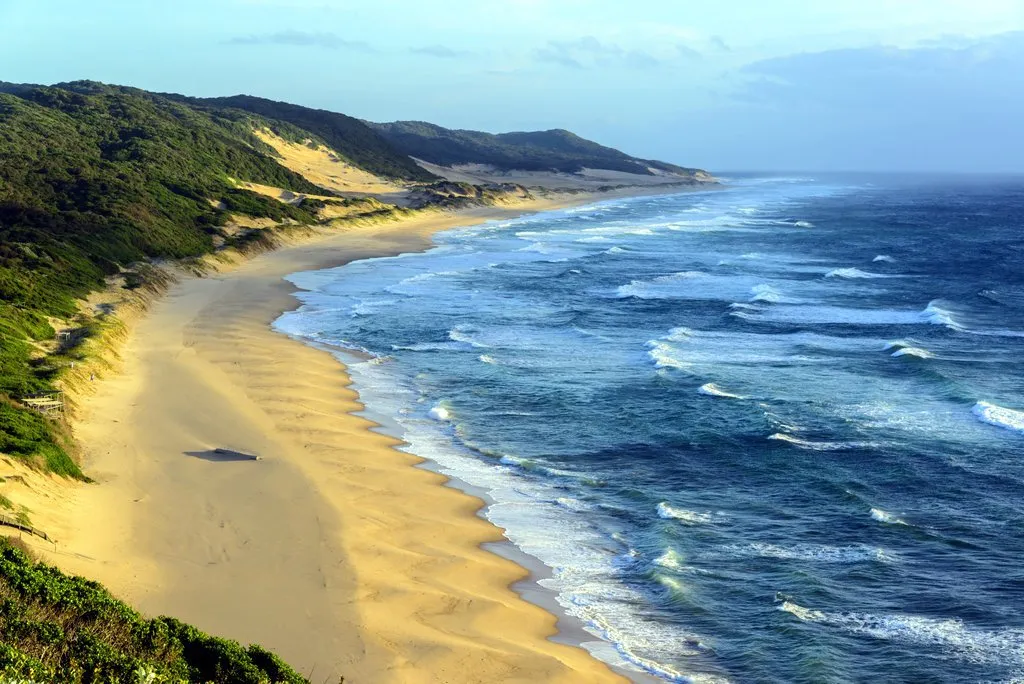 Whether you want to snorkel, scuba dive, fish, amble amongst the rock pools discovering their many delights, or just lie on the beach and read a book, iSimangaliso's 220 km stretch of pristine coastline has the perfect spot for you to do it.

Being a protected area, and a little off the beaten track, means you often only have to share your beach paradise with some seagulls and the dolphins playing in the waves.
There are plenty of off-shore activities, too. Scuba diving, deep sea fishing and whale watching are all offered by operators in the area.
Bird Watching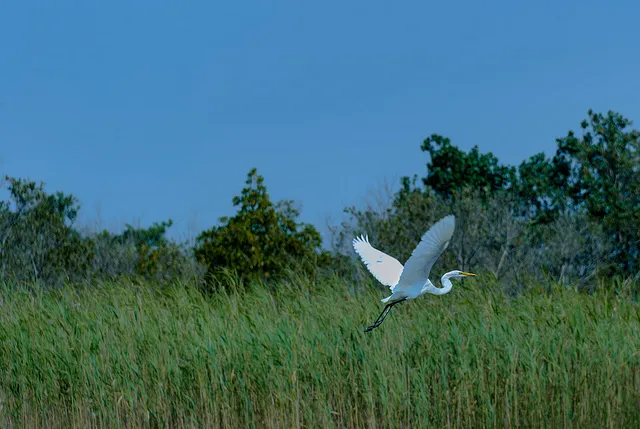 Due to iSimangaliso's varied ecosystems, the range of birds is as diverse. With over 500 recorded bird species, it's a birdwatcher's paradise. There are numerous hides in the area, making it a photographer's haven, too.

The area boasts breeding grounds of at least 48 species, including pelicans, storks and flamingos.
From tiny, bright Kingfishers to flamboyantly pink flamingos and soaring birds of prey, the varied ecosystems provide a home to a diverse range of birds. Set aside a good few hours to sit quietly, listen, and see what you can spot.
Game Drives & Walks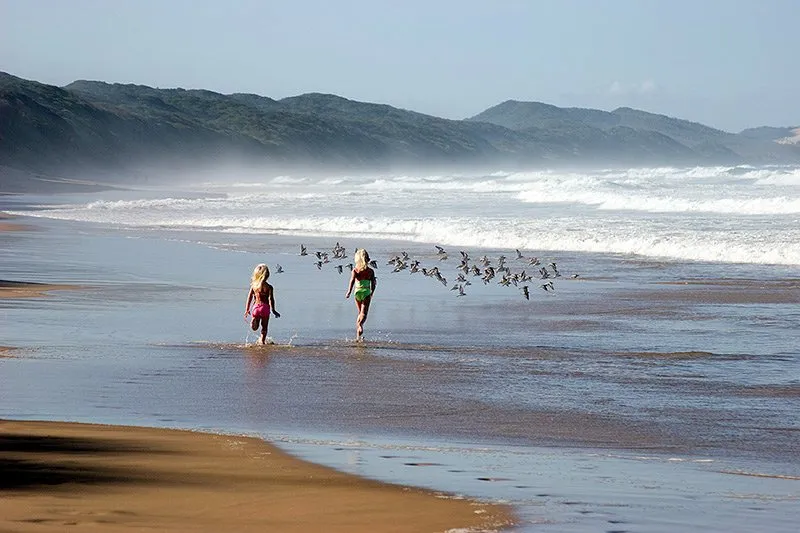 Both guided and self-drive game drives are offered in the park (and a couple of walks, in designated areas).
Again, due to the incredible diversity of the eight ecosystems that make up iSimngaliso, an incredible range of animals is found here.
Giraffe and elephant gather on the Western Shores, hippos are plentiful, especially at Pan and Vlei Loops, leopard and hyena can be seen on (guided) night drives, and lion, wild dogs, cheetah, buffalo, zebra and a range of antelope can be seen in uMkhuze and Phinda.
On (And In) The Water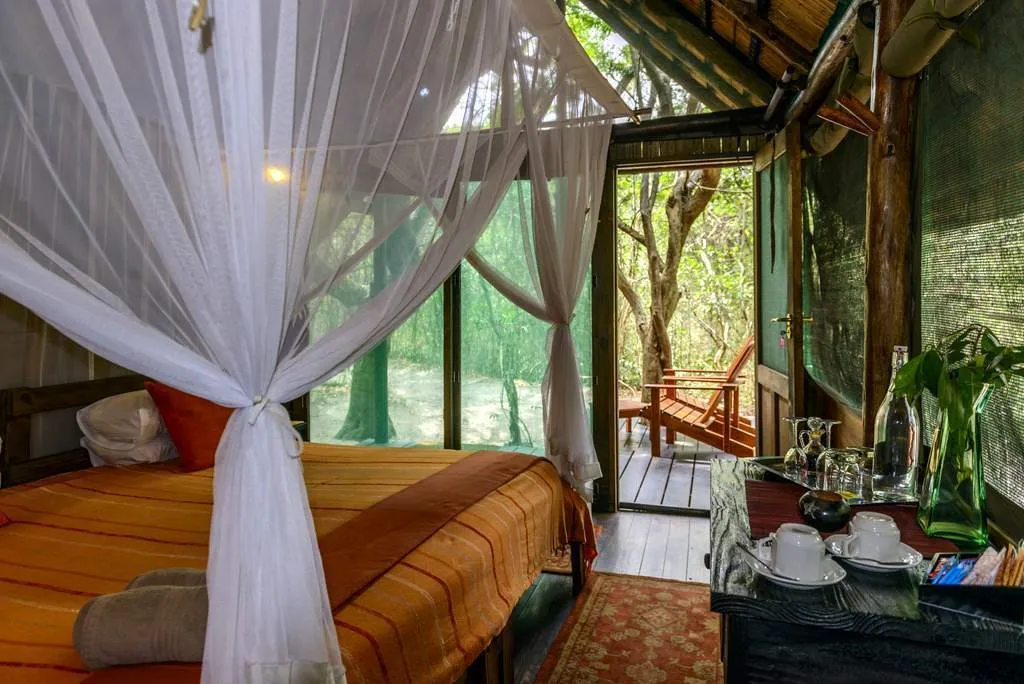 With three major lake systems, Africa's largest estuarine system and 220 km of coastline, it's not surprising that iSimangaliso offers pretty much every water activity the heart could desire.

Snorkelling, scuba diving, whale watching and fishing are favourites on the coast.
On the lakes, kayaking and boat trips are offered by various operators.
Or, just sit quietly near the water and watch the birds, animals, frogs and insects carry on their day-to-day lives.
iSimangaliso Wetland Park Areas
With eight inter-linked ecosystems, the landscape, and creatures who live in them, differ hugely. Here we showcase just some of the areas.
Lake St Lucia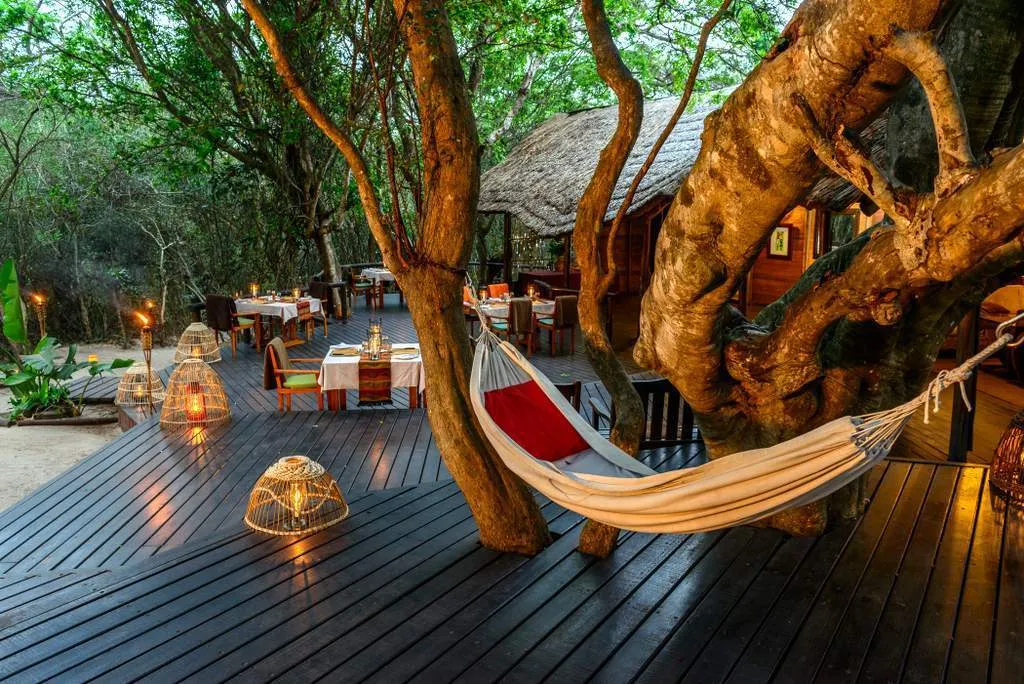 At 80 km in length and 23 km at its widest point, Lake St Lucia is Africa's largest estuarine system. Hippos and crocodiles abound, and there are hundreds of water birds – pelicans, flamingos, waders and ducks, to name just a few.

The area offers a number of nature trails, incredible bird watching opportunities, horse riding, fishing, boat cruises and kayaking.
Cape Vidal, Eastern and Western Shores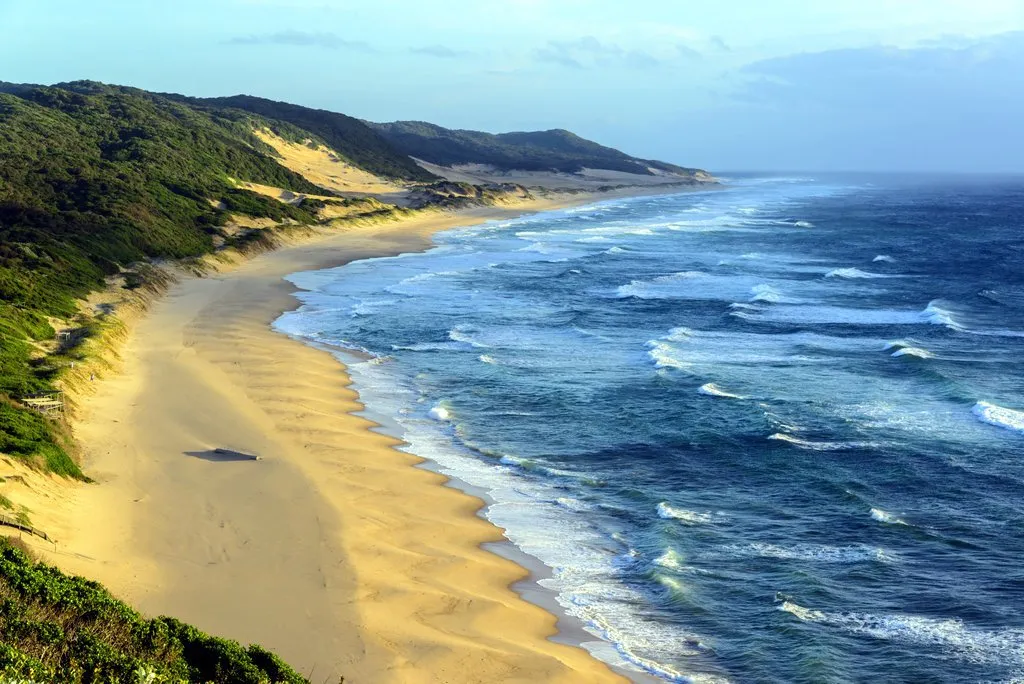 On the coast, east of Lake St Lucia lie miles of pristine beach with shallow rock pools and ledges, perfect for snorkelling, swimming and fishing. There are also a number of roads through the varied bush – grassland, dunes, lakes and dune forest – allowing self-drive game and (breath-taking) landscape viewing.

A little south lies Maphelane, iSimangaliso's highest vegetated sand dune (183 m). This is coastal nature at its finest.
False Bay, on the Western Shores, offers the visitor spectacular views, superb fishing and bird watching, sand forests, thornveld and savannah. At Charter's Creek, the bush is filled with wildlife – elephant, rhino, leopard, giraffe and buffalo call this area home.
Coastal Forest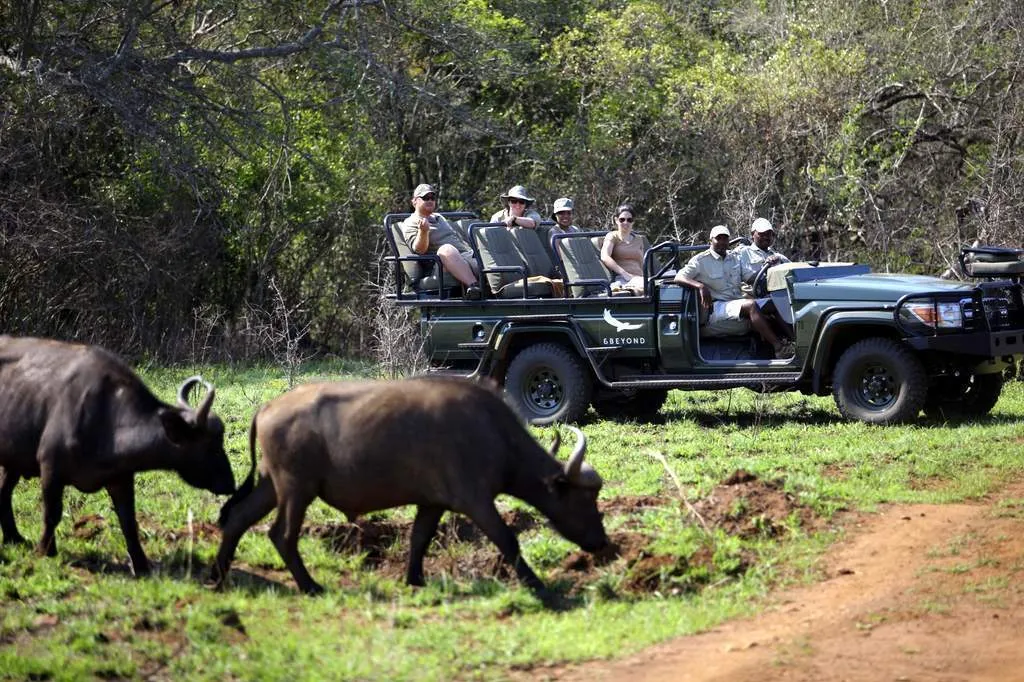 You can't get many more variations of emerald than you'll see in these incredible, thick coastal forests. Reachable only by 4X4, it's easy to believe in fairies driving though this area. Birds abound and look out for little animals in the shady underbrush.

Mabibi, Island Rock, Rocktail Bay and Black Rock are the beaches along this strip. Due to their inaccessibility, these beaches are pristine and, often, completely free of people. They're favourite snorkelling and diving spots.
Places To Stay in iSimangaliso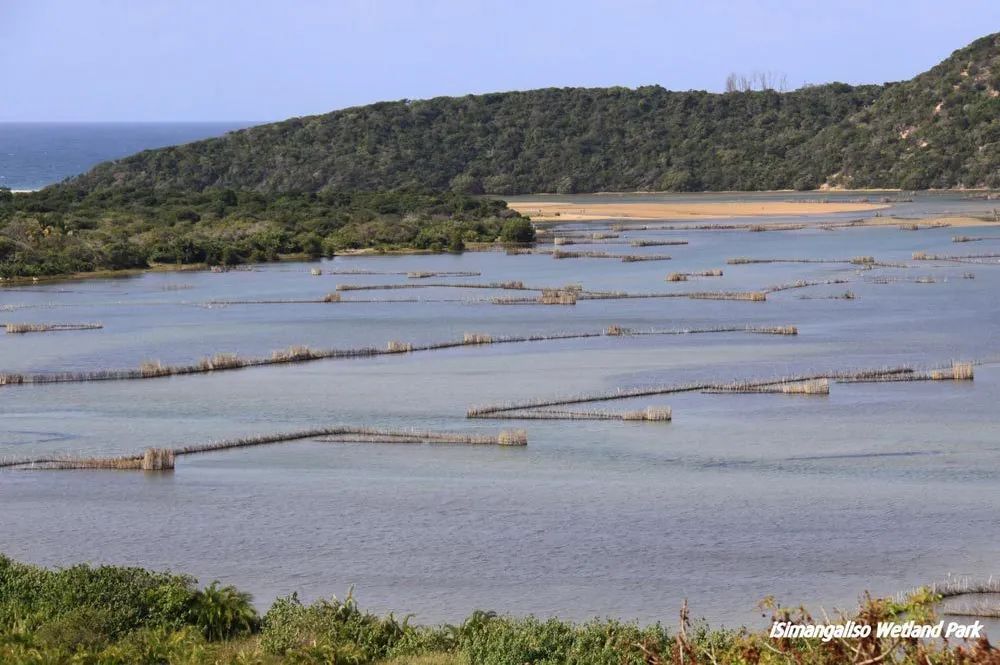 Accommodation in and around iSimangaliso ranges from basic camp sites through to high-end, luxury lodges. Here we list two of our favourite places to stay within iSimangaliso.

Kosi Forest Lodge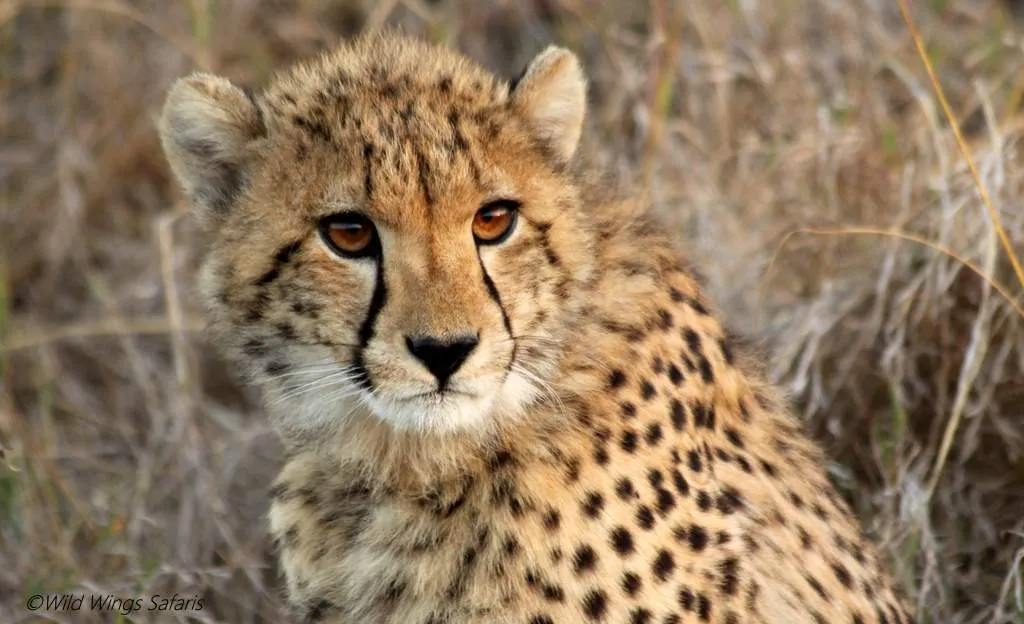 Kosi Forest Lodge is a comfortable, private lodge set in the forest on white beach sand. It is pure romance.

The main lodge, with an enormous Zulu Podberry tree as its centrepiece, boasts a huge deck (with pool), on which most meals are served.
Accommodation is in thatched suites raised off the sand and arranged to ensure privacy. Each suite has its own balcony and is kitted out with mosquito nets and roll-up blinds. It's forest-living at its best.
The best bit: open-air bathrooms enclosed in a reed boma. There really is nothing better than al fresco bathing!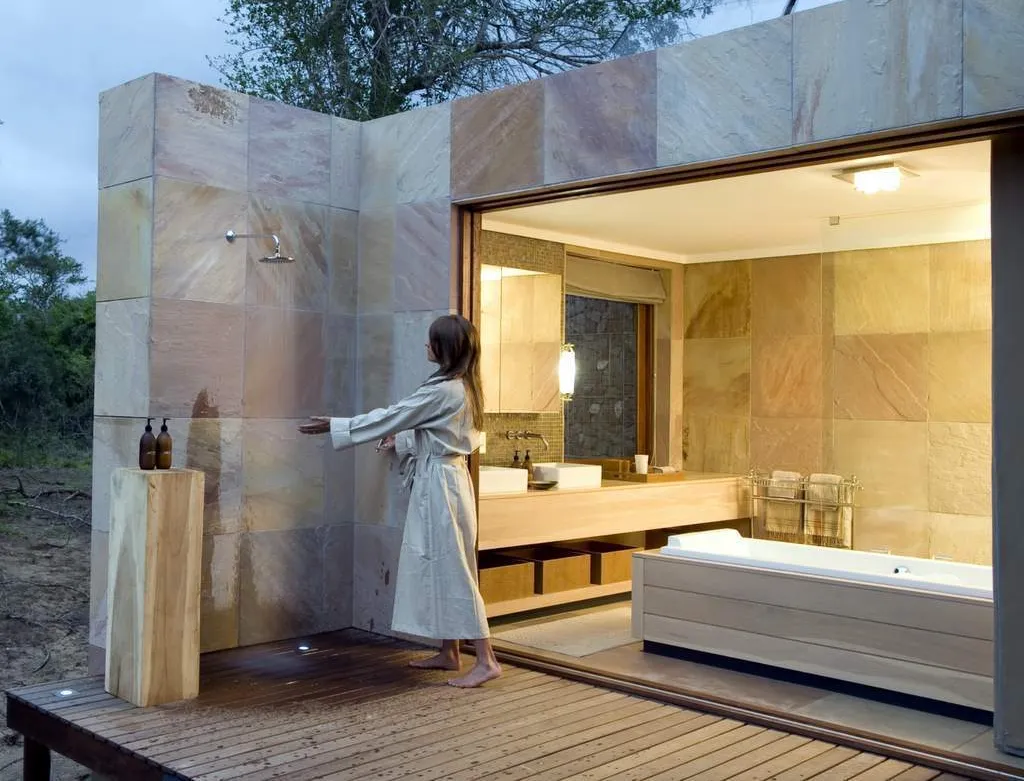 Activities
Activities abound here with guided canoe rides, boat rides, walks through the magical Raffia Palm forest (if you're lucky, you may catch a glimpse of the rare palm-nut vulture) and trips to the beach at Kosi Mouth.
Boat rides can include a visit to the famous Kosi fish traps, a 700-year old fishing tradition.
If you time it right (November to January), you may get to see the turtles coming up to lay their eggs. Leatherback and Loggerhead turtles come to lay their eggs above the high tide line – a very special sighting.
Thonga Beach Lodge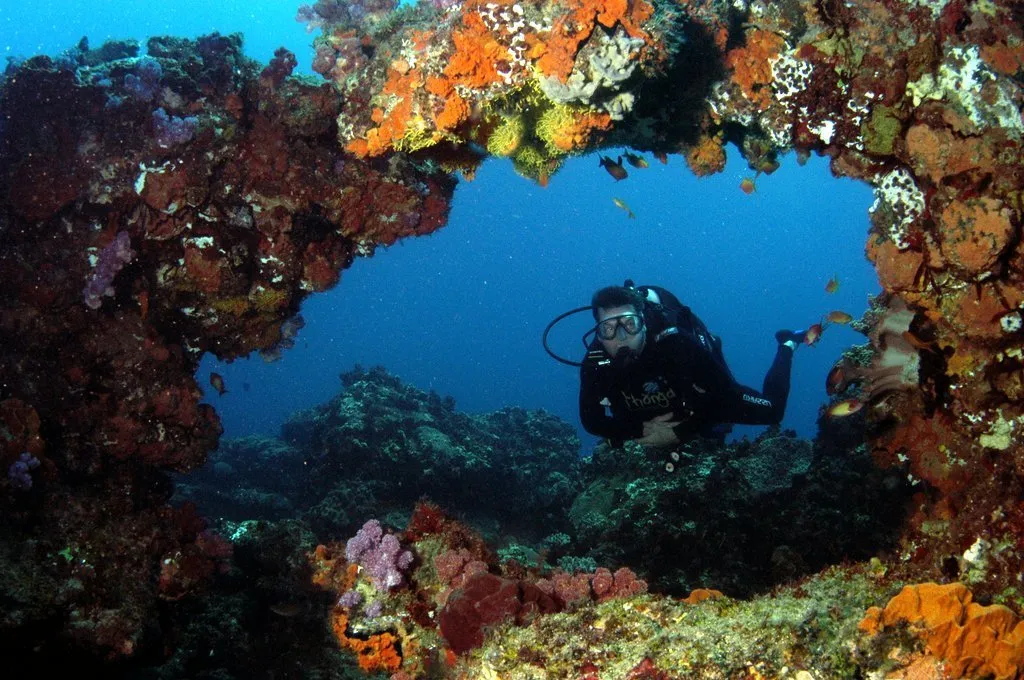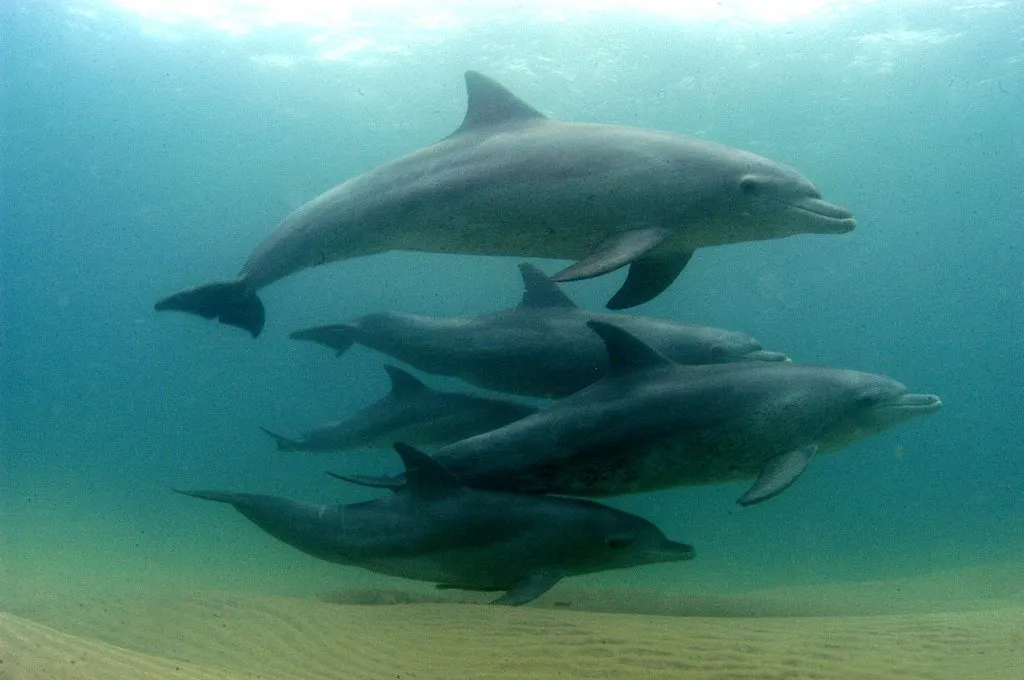 Nestled in the forested dunes above the pristine beach of a secluded bay, Thonga Beach Lodge is a dream holiday destination. With just twelve thatched en-suite rooms (some with sea views, others with forest views), privacy is guaranteed.
The whole lodge is built keeping nature in mind – as little impact on the bush has been made and the buildings blend into the spectacular scenery.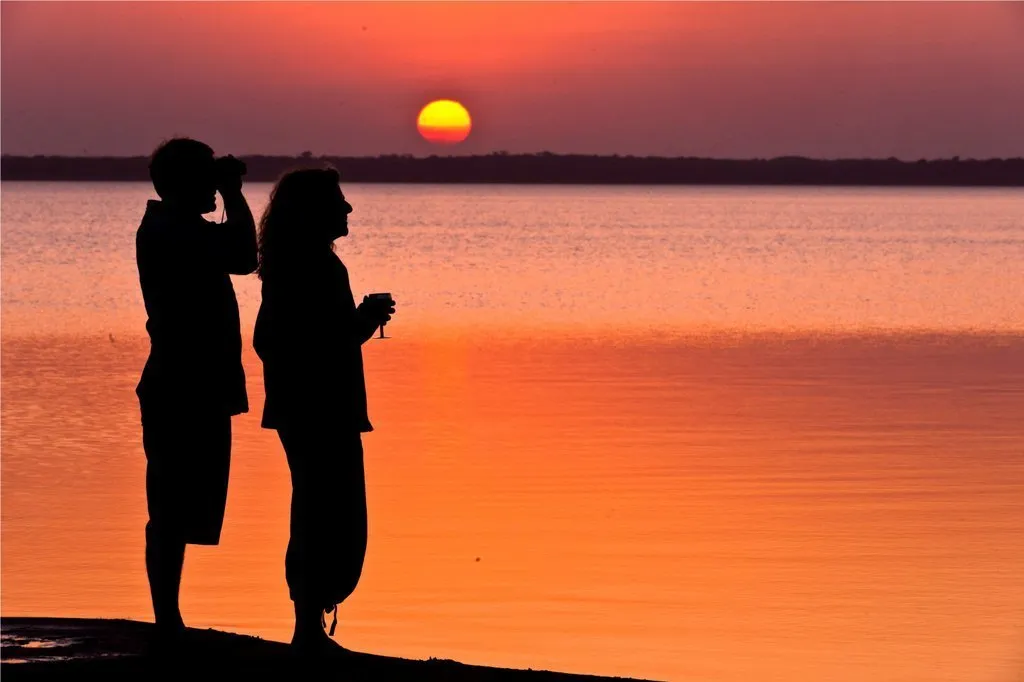 Activities
Just metres from the beach, Tonga Beach Lodge offers a wide array of seaside activities, including paddle skiing, kitesurfing and surfing.
The dive centre offers both refresher and full scuba diving courses. For those just wanting to float about in the warm water looking at the abundant sea life from above, there is snorkelling equipment.
Kayaking on Lake Sibaya (25 minutes away), guided walks through the forest, and visits to the local Tonga community are also offered.
Places to stay in Phinda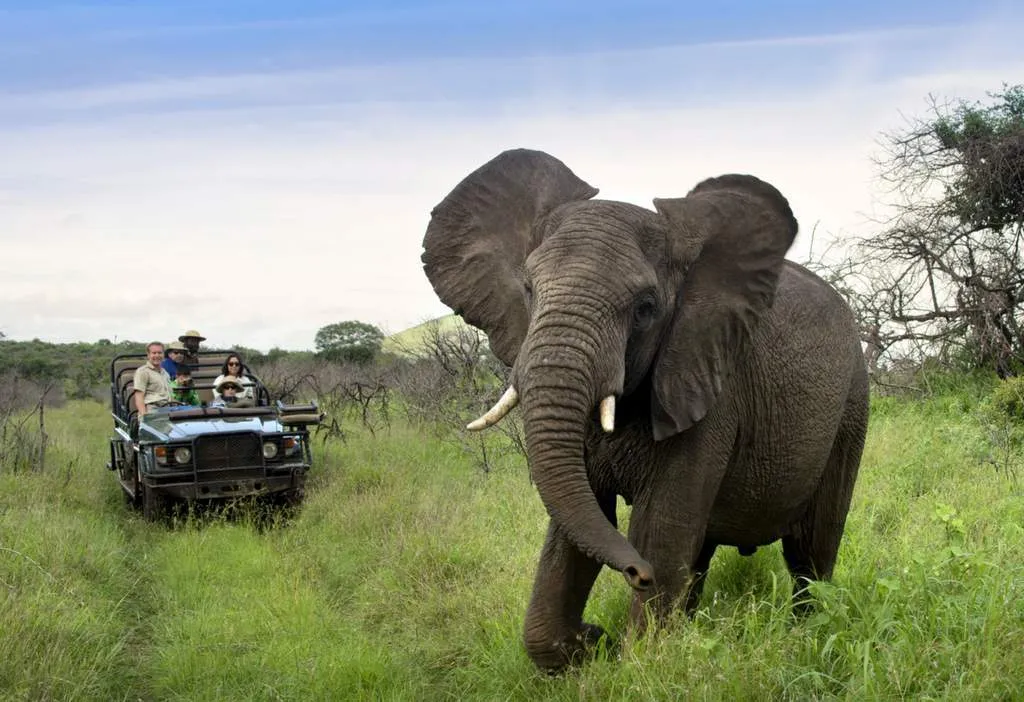 Less than a half hour's drive west of iSimangaliso, lies Phinda. This private nature reserve offers various places to stay – all guaranteeing an exclusive, private safari. That's what makes it special (and the incredible scenery, and the abundant wildlife, and, and …) It's hard to choose, but these are four of our favourite places in the park.

Phinda Rock Lodge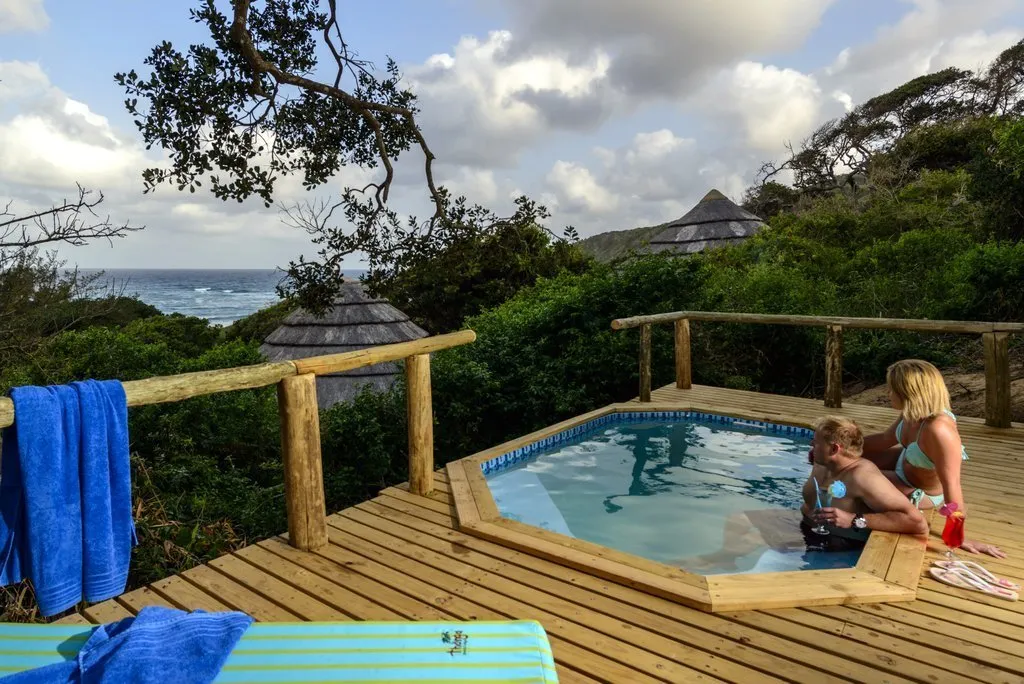 Clinging to the cliffs, with spectacular views across the valley, Phinda Rock Lodge is like an African castle in the wild.

Built adobe-style, and with only six suites, it's a special place. Each suite has its own, private deck, and splash pool. This is the height of luxury and romance.
The views here are breath-taking. In the valley below, there is a waterhole, allowing one to sit and watch as an array of animals come to drink throughout the day and star-filled night!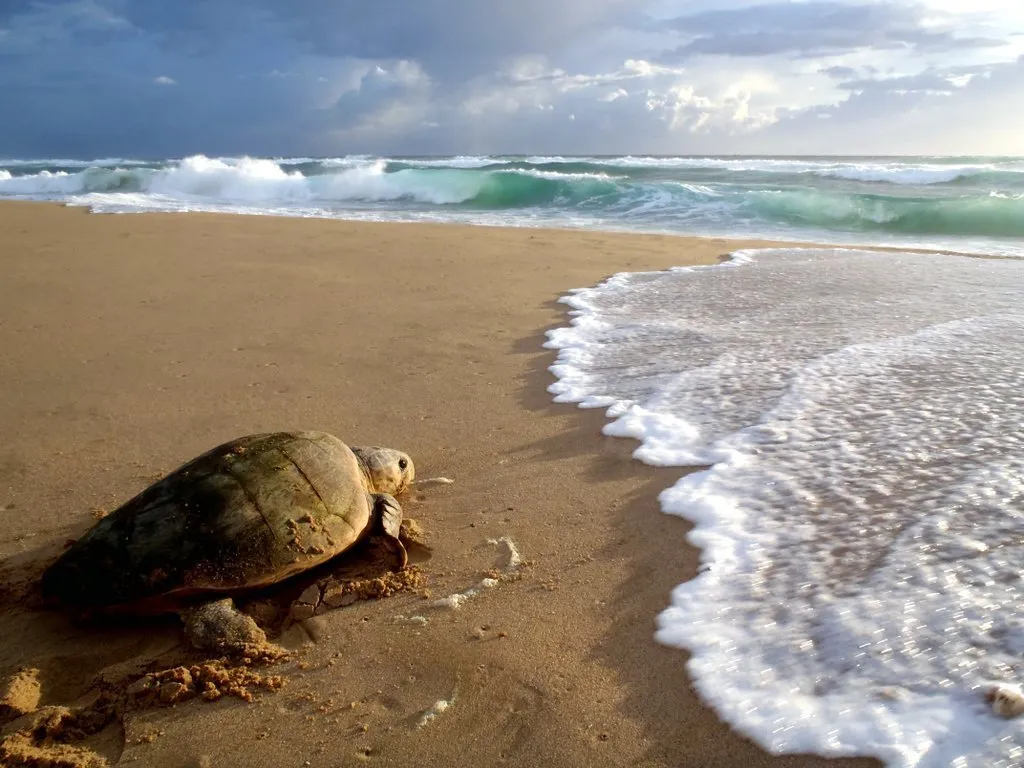 The lodge offers morning and sunset/night safari drives with expert guides, and guided walks, allowing you to get as close to nature as possible.

This is Big Five country, with the added bonus of possible sightings of lion and rhino.
Here you can go with an expert guide and tracker, to see the highly endangered black rhino, in its natural habitat. What a privilege!
Phinda Homestead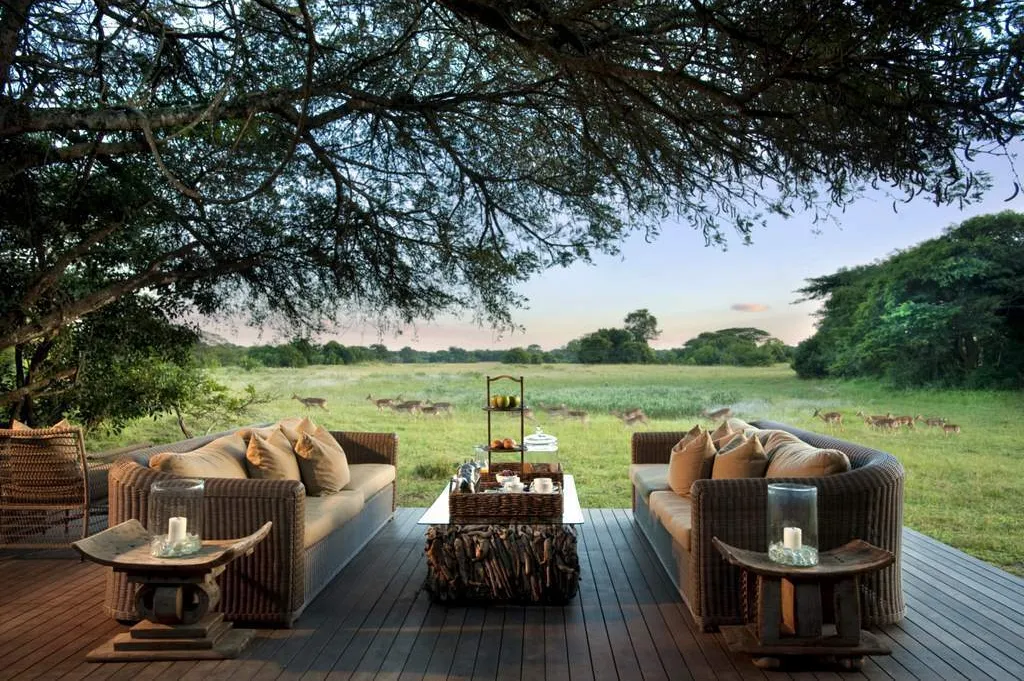 If you're looking for complete privacy for you and a small group, Phinda Homestead is the place to be. This 4-bedroomed house is rented out exclusively and includes all staff – host, guide, butler and chef – to ensure that your stay is as relaxing as possible.

Set in a beautiful bush, the house is designed with plenty of outdoor spaces, and lots of glass, so you get the most of your stay in the wild. A large deck and swimming pool, outdoor showers, and large courtyards ensure that you get as close to nature as possible.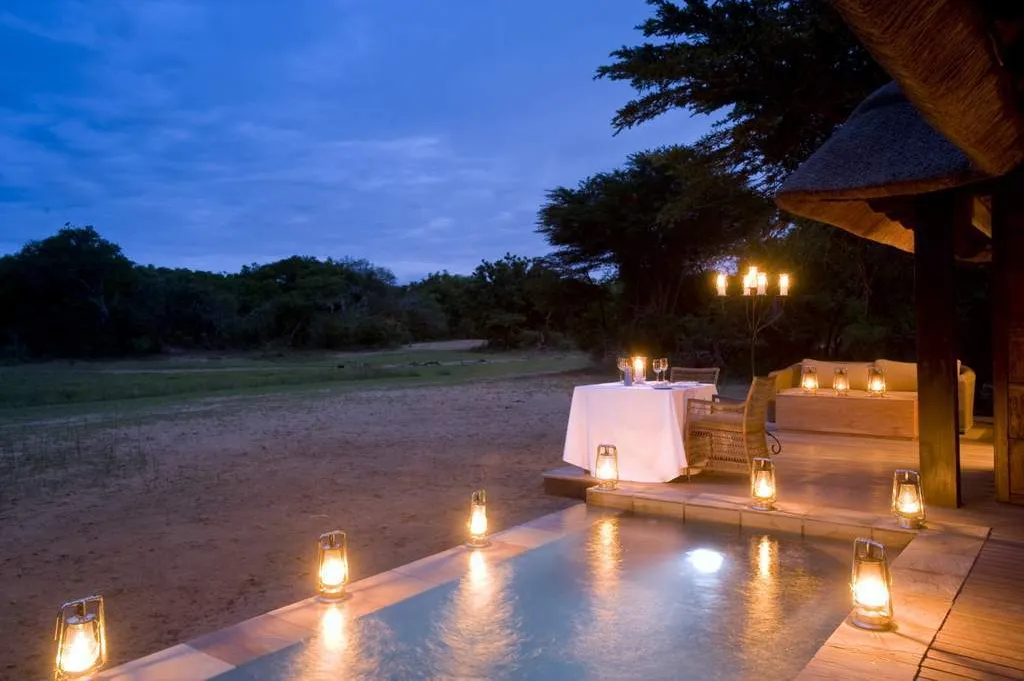 The added bonus of the exclusivity of Phinda Homestead is your own dedicated vehicle, guide and tracker. Game drives can be scheduled as and when you want them.

Get Chef to pack you a picnic brunch and set out in the cool early morning to try and spot The Big Five, a wide range of antelope, lion, rhino and cheetah.
Phinda Zuka Lodge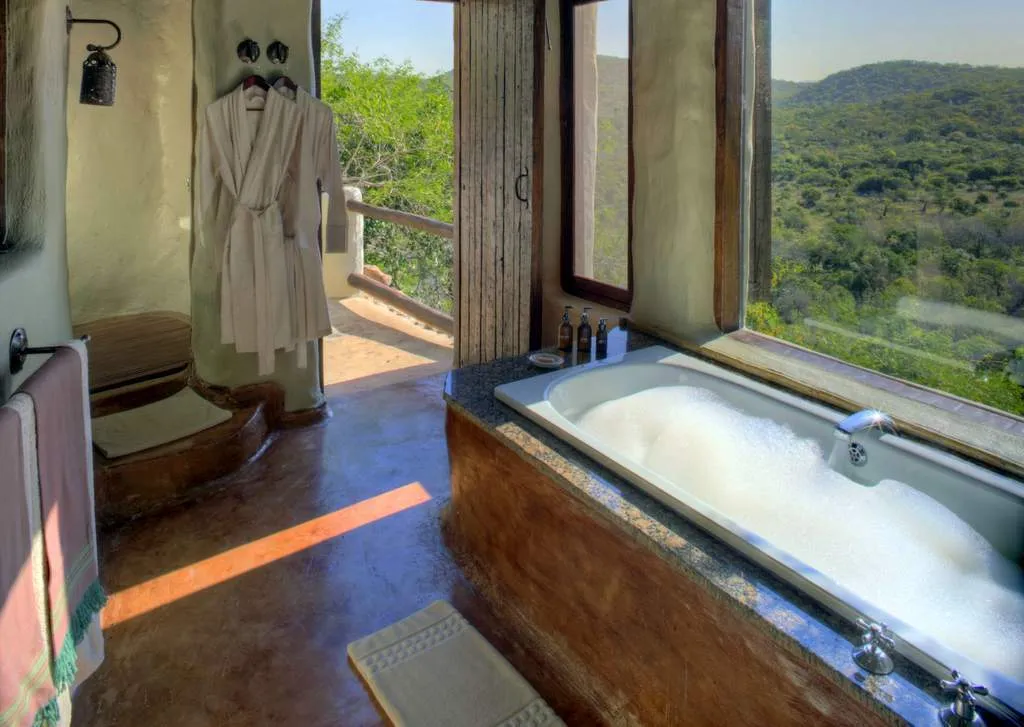 Phinda Zuka Lodge is also an exclusive, single booking lodge that sleeps eight, in four separate cottages. The main lodge boasts beautiful open-plan living areas, with long tables (inside and out) to sit around eating meals and discussing the day's activities.

The lodge is perfectly situated with views over an active waterhole, so if you're wanting to just sit back and relax, you can spend your days lounging at the pool or on the deck, watching the stream of animals and birds coming down to drink.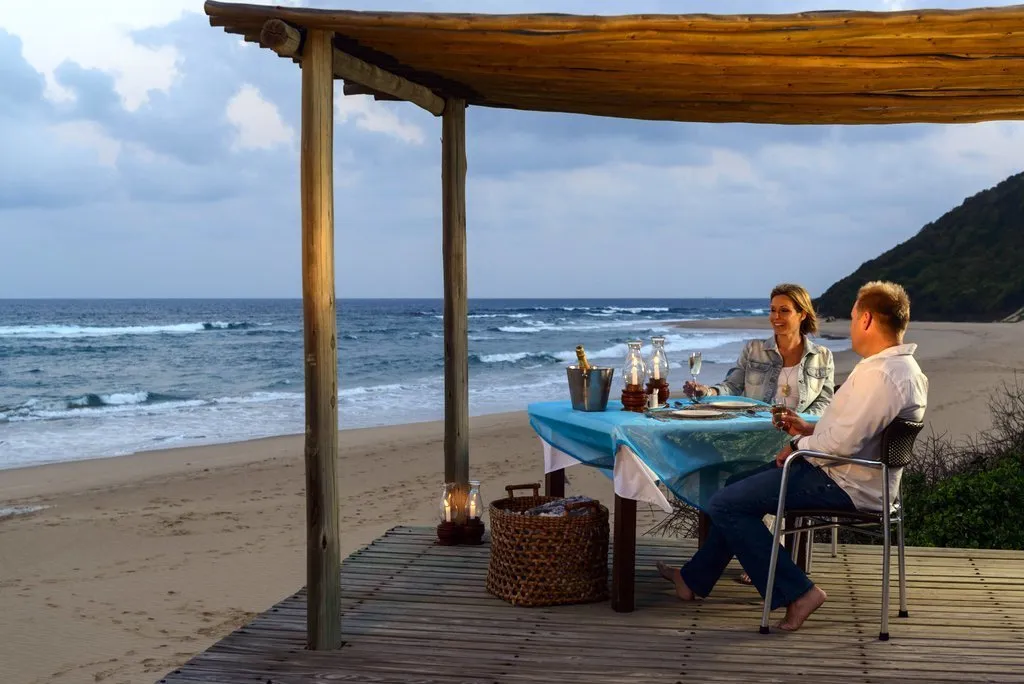 With a full complement of staff at hand, you can be assured that everything runs smoothly.

Phinda Zuka Lodge has its own 4X4 vehicle, tracker and guide, your game viewing drives can be tailored to suit you.
Drive through the bush looking for elephant, lion, rhino and antelope, to name just a few of the animals that call this area 'home'.
This is the African bush at its (uncrowded) best!
Phinda Vlei Lodge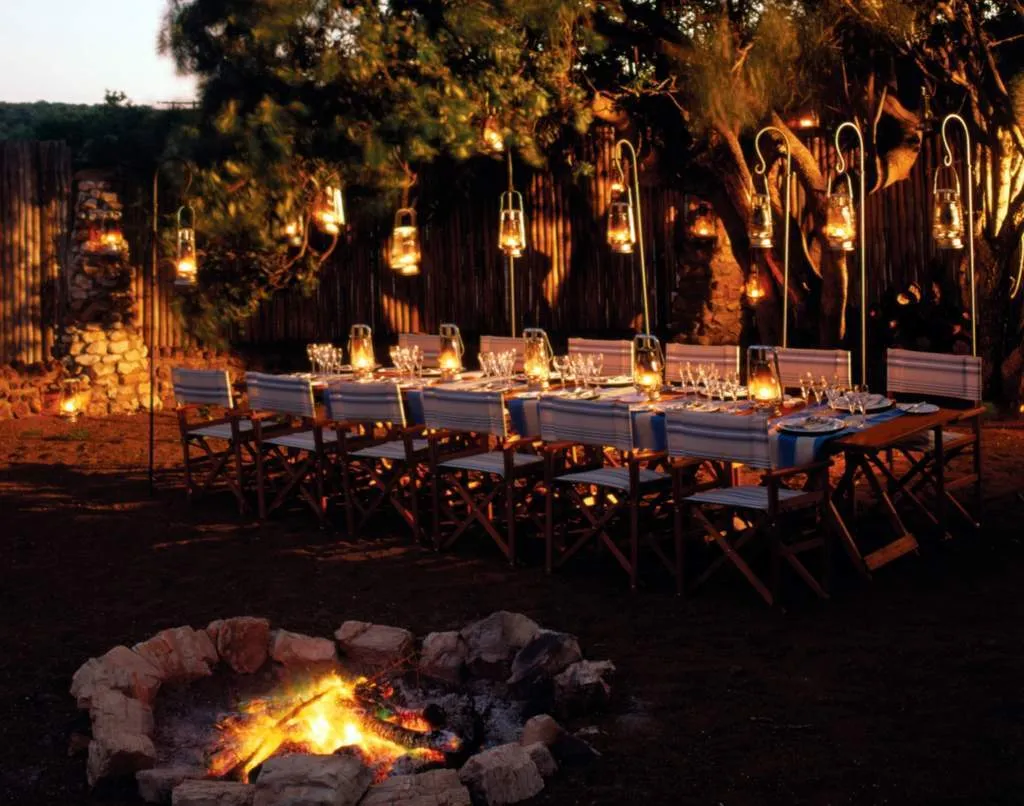 The most special thing about Phinda Vlei Lodge is its position. Situated on the edge of a sand forest, the main lodge and all six suites overlook a wide open vlei (field), and wetland. This means that from pretty much anywhere you are (deck, bedroom, even bathroom!), you can watch the animals that come down to drink.

Each suite opens up onto its own private deck and plunge pool, overlooking the vlei. There's not much that can beat having a dip while watching elephant amble by.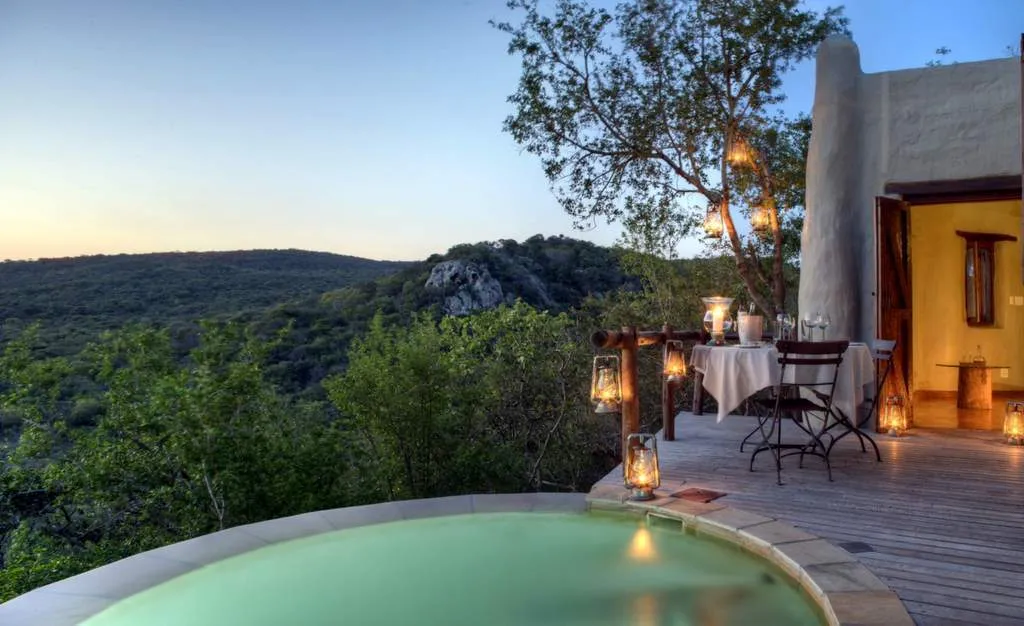 You can choose to eat your meals on your own deck, in complete privacy, or be more social, and enjoy dinner on the dining deck, or al fresco, on the edge of the vlei. At Phinda Vlei Lodge the staff do everything they can to make your stay memorable and comfortable!
Morning and late afternoon/evening game drives are offered, with expert guides and trackers. For a once-in-a-lifetime experience, go on a black rhino (highly endangered) tracking safari on foot.
Have we missed out on any of your favourite spots in iSimangaliso? Let us know in the comments and we'll check them out!
About the author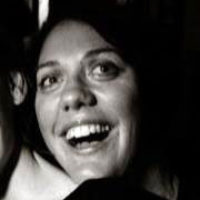 Briony Chisholm
Briony Chisholm has been travelling the back roads of South Africa for as long as she can remember – she's from one of those families. The safari writing, however, only started a couple of years' ago, and she loves it. She can even tell you the difference between safari vehicles now. Briony lives in Cape Town from where she does much armchair travelling and as much real travelling as she can fit in.