The Driftwood Beach Club
The Driftwood Beach Club
Privately owned, The Driftwood Beach Club is near the historical town of Malinda, on the shores of Kenya's tropical coast. Its own private beach looks onto the warm Indian Ocean. There's a rich local history, excellent watersport, diving and snorkelling opportunities, excellent birding and, of course, plenty of time to relax and unwind.
Highlights
Superb windsurfing, kitesurfing and waterskiing
Excellent birdwatching
Notable area for its deepsea fishing and big game fish
Unbeatable diving and snorkelling in tropical seas and coral reefs
Area is home to several species of dolphin and turtle
Choice of cottages and private villas
Rich local historical and cultural experiences
Within easy reach of scenic Watamu Beach
An ancient trading capital, Malindi is a fascinating mix of cultures, races, religions, tribes, languages and customs. From The Driftwood, it's easy to explore these historical surrounds and browse the local traditional shops for curios, Swahili spices, traditional material and popular handmade jewellery and sandals.
Choice of beach-style accommodation
At Driftwood, 70 guests can be accommodated in a choice of light and breezy coastal cottages and private villas. Each is placed for maximum privacy with its own en-suite facilities and small verandah. Nine cottages have a sea view while six overlook the tropical gardens near the swimming pool and the private beach. There's a choice of doubles, twins and triples with extra beds and cots available for children sharing your room.
There are two superior cottages, set apart in a private walled garden with a shared swimming pool. Each has two large en-suite bedrooms, a living room and veranda overlooking the pool. These cottages offer extra privacy and are ideal for families and groups of friends looking for extra seclusion.
Lastly, there are three luxury private villas set in their own private premises directly behind the hotel. Each has two double air-conditioned, en-suite bedrooms and a spacious living room overlooking the private swimming pool. These villas are a few steps away from the main hotel and beach and make full use of the Driftwood facilities.
Range of activities to keep you busy
The long-standing and friendly staff will assist and advise you on a range of things to do, see and visit within a stone's throw of the lodge:
Open-air bar and dining area a few feet away from the pool, private beach and warm Indian Ocean
Driftwood is renowned for its excellent cuisine and outstanding seafood, like red snapper, prawns, lobster and oysters from nearby Kilifi
Terrific windsurfing, kitesurfing and waterskiing on Mida Creek
Excellent local birdwatching in the Sabaki Delta and the fascinating Arabuko-Sokoke forest with its unique endemic species: the Sokoke Scops Owl, Sokoke Pipit, Amanu Sunbird, Clark's Weaver, East Coast Akalat and Spotted Ground Thrush
Explore the many historical sites that include the Gedi ruins and Malindi old town
Enjoy local flavour in Malindi's many eateries and coffee shops
Internationally recognised for its sailfish and broadbill fishing, Malindi's deep waters are home to three species of marlin: black, blue and striped (season is from July to early April)
Overnight trips to the North Kenya Banks for broadbill, marlin, 'big tuna' and shark deepsea fishing
A short walk along the beach takes you to the Malindi Marine Park, home to some of East Africa's finest lagoons, coral gardens and seagrass beds; home to several species of dolphin and turtle
Relax poolside or enjoy some pampering in the treatment room right next to the Indian Ocean
Perfect for families: private beach, toddlers' swimming pool and a range of child-friendly activities
Getting there
By Air - There are daily flights from Nairobi to Malindi Airport. Flying time is just over an hour. Malindi is about 193 km (120 miles) north of Mombasa.
By Road - Driving time from Nairobi would be about 7 ½ hours and from Mombasa, it's about one hour and 40 minutes.
Our take on The Driftwood Beach Club
A perennial favourite, The Driftwood is excellent value-for-money and offers superb hosting, service and accommodation for the price. It's situated in one of the most popular Kenyan coastal areas and offers plenty to do for every taste and age. Great for families who, once they've visited, seem to return year upon year upon year.
Includes
Bed and breakfast
Free WiFi
Free parking
Excludes
Malindi and Mombasa airport transfers
Watersports activities
Excursions
You may also want to look at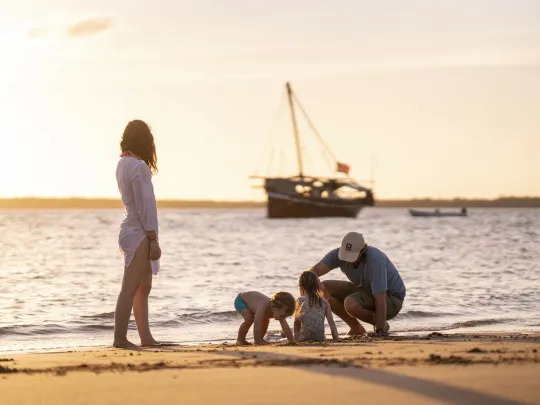 East Africa's Kenya is a favourite "beach and bush" destination - with arguably the best safari destinations and the most perfect tropical beaches. The accommodation - whether bush or beach - ranges from rustic and adventurous to family-friendly, romantic honeymoon hideaways to lavish, exclusive luxury. Whether you want to simply relax after a safari or explore and experience the coastal attractions and water activities, Coastal Kenya has a place just for you.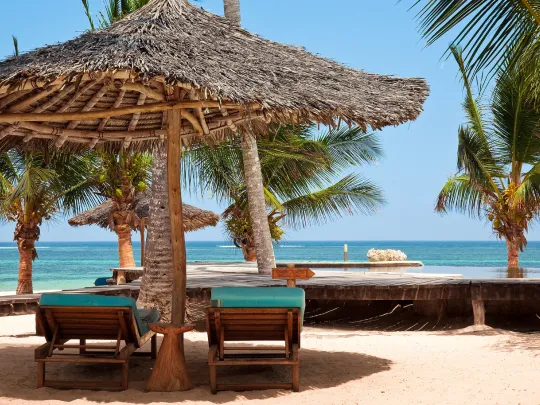 With eight spacious suites and a private villa, WaterLovers Beach Resort on Diani Beach along Kenya's tropical south coast offers a perfect setting for a relaxing beach holiday. Lazy and leisurely or adventure-packed with activities, WaterLovers has something for everyone.