Sasaab, Samburu
Sasaab, Samburu
Sasaab Lodge near the Samburu National Reserve in Kenya's northern district offers you a great chance to view some of the rare northern species. These are locally known as the Samburu Special Six. They are Grevy's zebra, the Somali ostrich, reticulated giraffe, the long-necked gerenuk, Guenther's dik-dik and the beisa oryx.
Highlights
9 luxury rooms with private plunge pools and sweeping views of passing game
Best chance to view the Samburu Special Six
Activities include game drives, camel safaris, birdwatching and stargazing
Cultural visits to local Samburu villages
Walking safaris with fly camping for a taste of the true wilderness
Unique spa experience at unique custom-built Spasaab
Family-friendly for all ages
WiFi
Sasaab Lodge is situated on a rocky outcrop overlooking the banks of the mighty Ewaso Nyiro River in northern Kenya. Set in the heart of Samburu lands, Sasaab is the only lodge in the vicinity and offers a unique and wild safari experience in an area renowned for a wide variety of game.
Luxury cottages offer remarkable views
Sasaab Lodge has 8 cottages, one of which is perfect for families with 2 separate en-suite bedrooms and a shared central area. A total of 18 guests can be accommodated on the premises in total. Each room is cool and airy and offers superb views out over the Laikipia Plateau towards Mount Kenya and the river, where herds of game come to drink and bathe. Each room has four-poster beds, spacious open-air bathrooms and private plunge pools.
Excellent variety of activities
Samburu district has a rich natural diversity with an enormous variety of wildlife from the shy northern Samburu Special Six species to elephant, lion, leopard and cheetah. You can go on safari in open customized safari vehicles or by camel, which offers a unique perspective. Another exciting option is a night or two of fly camping, with 4-to-5-hour game walks each day. At night, you get to sleep under the stars over this remote and untamed corner of Kenya.
You can also enjoy guided bush walks, birdwatching and stargazing or relax at the Spasaab, a spa purpose-built into the rocks with impressive views of the river below and the surrounding wildlife.
Another favourite is to visit local community villages. The Samburu are exceptionally welcoming and hospitable people and will gladly share with you their customs and way of life. The local Samburu guides speak excellent English and love showing children how to make traditional bows and arrows or how to make a toothbrush from the unique 'toothbrush tree'.
Responsible tourism
Sasaab Lodge is located in a community conservancy area which is home to over 600 Samburu families. Since 2004, Sasaab has been working with the local community to build a co-operative conservation area with enormous success. The lodge is involved with a local school and various local conservation trusts. Striving to be eco-friendly, Sasaab Lodge generates its own hot water via solar panels, uses energy-saving devices and has its own vegetable garden.
Getting there
By air - Two daily flights connect Nairobi to the Samburu National Reserve. Charter flights are available to Sasaab's Airstrip from all over the country.
By road - Sasaab Lodge is a 6-hour drive from Nairobi. Road transfers are available if you prefer.
Our take on Sasaab Lodge
A very private, unique and unusual lodge in one of the most unspoiled, untamed areas of Kenya, Sasaab Lodge offers you every chance to see the more unusual northern species. It's a game-rich area of incredible diversity and you are guaranteed great game viewing. Sasaab Lodge prides itself on superb hospitality and its friendly staff will do everything they can to make your safari an unforgettable experience.
Includes
Airstrip transfers
Game drives, guided bush walks, camel walks, fly camping (by prior arrangement only and may require the exclusive hire of a vehicle at extra cost),
Full board, house wines, soft drinks, beers and spirits
Laundry
Bush breakfasts and sundowners

Excludes
Champagne, premium brand spirits, beers and wines
Treatments in Spasaab
Tips
Health insurance
Personal effects
You may also want to look at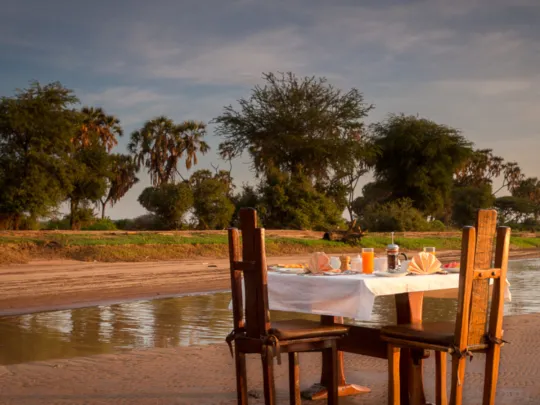 Elephant Bedroom Camp is perfectly situated in Samburu National Reserve to get the best lion, leopard and rare northern species sightings the park is well-known for. There is also a wealth of unusual flora to look forward to.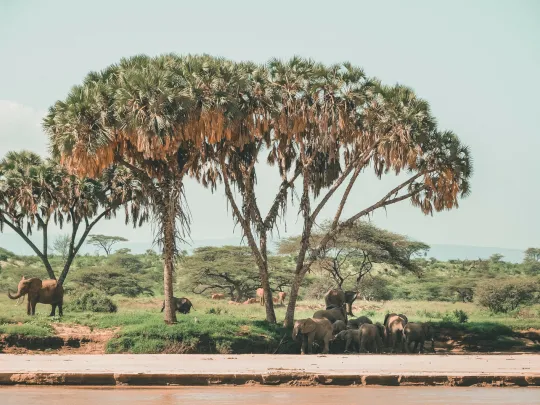 Set alongside the Ewaso Nyiro River, Kenya's biggest northern river, Samburu has the lion's share of wildlife. Besides big cats and African wild dogs, you're likely to see some of the rare northern species such as Grevy's zebra, the Somali ostrich, reticulated giraffe, the long-necked gerenuk, Guenther's dik-dik and the beisa oryx, collectively known as the Samburu Special Six.