Misty Mountain Reserve I Gateway to the Garden Route
Misty Mountain Reserve I Gateway to the Garden Route
Located 230 metres above the Tsitsikamma coastline, Misty Mountain Reserve offers a wide range of accommodation options. From standard, honeymoon and self-catering Ocean View Lodges and Lakeside and Forest View Tented Lodges to three unique outdoor living experiences, the secluded Forest Dome, Ocean Dome and Tsitsikamma Pyramid, Misty Mountain is perfectly positioned for both adventure seekers and those looking for an affordable tranquil escape on the Garden Route.
Highlights
Gateway to the Garden Route
Wide range of affordable accommodation options
Forest Dome, Ocean Dome and Tsitsikamma Pyramid — brand new, one of a kind, private outdoor living eco-experience
Rugged coastal, wild indigenous forest, tranquil lake, lush green pasture and towering Tsitsikamma Mountain views
Loads of on-site adventure and outdoor activities
Within easy reach of various wild animal sanctuaries
Nearby activities include Tsitsikamma National Park canopy tours, ziplining, Segway and more
Flanked by the Tsitsikamma National Park on one side, the Indian Ocean on the other and with views of the Tsitsikamma Mountains in the distance, malaria-free Misty Mountain Reserve has a wide range of accommodation options and outdoor activities to choose from that caters to families and groups of friends of all ages, adventure-seekers and couples looking for a romantic getaway hidden in the canopies of indigenous forest.
Ocean View Lodges
Situated on the fringes of the forest 230 meters above sea level with panoramic views of the Indian Ocean, Misty Mountain's Ocean View Lodges consist of eight two-sleeper timber lodges, three of which are standard en-suite two-sleepers with an open plan bedroom and lounge area. Three Ocean View Lodges are self-catering with an en-suite bedroom and separate open-plan lounge with a fireplace and kitchenette.
There are also two beautifully decorated honeymoon lodges with an ensuite bathroom and a separate lounge and fireplace. All eight Ocean View Lodges have private ocean-facing timber decks as well as outside BBQ facilities. Guests can order picnic baskets with refreshments or they can enjoy breakfast, lunch and ala carte dinner in the onsite restaurant.
Forest Dome
Hidden amongst the trees on a spacious, elevated wooden deck, the star-gazing Forest Dome offers a one of a kind outdoor living experience. The white canvas air-conditioned dome, with its king-size bed and electric blanket, walks into a large bathroom with twin showers and an open-air kitchenette. The kitchenette is equipped with a gas hob, a fridge and a microwave.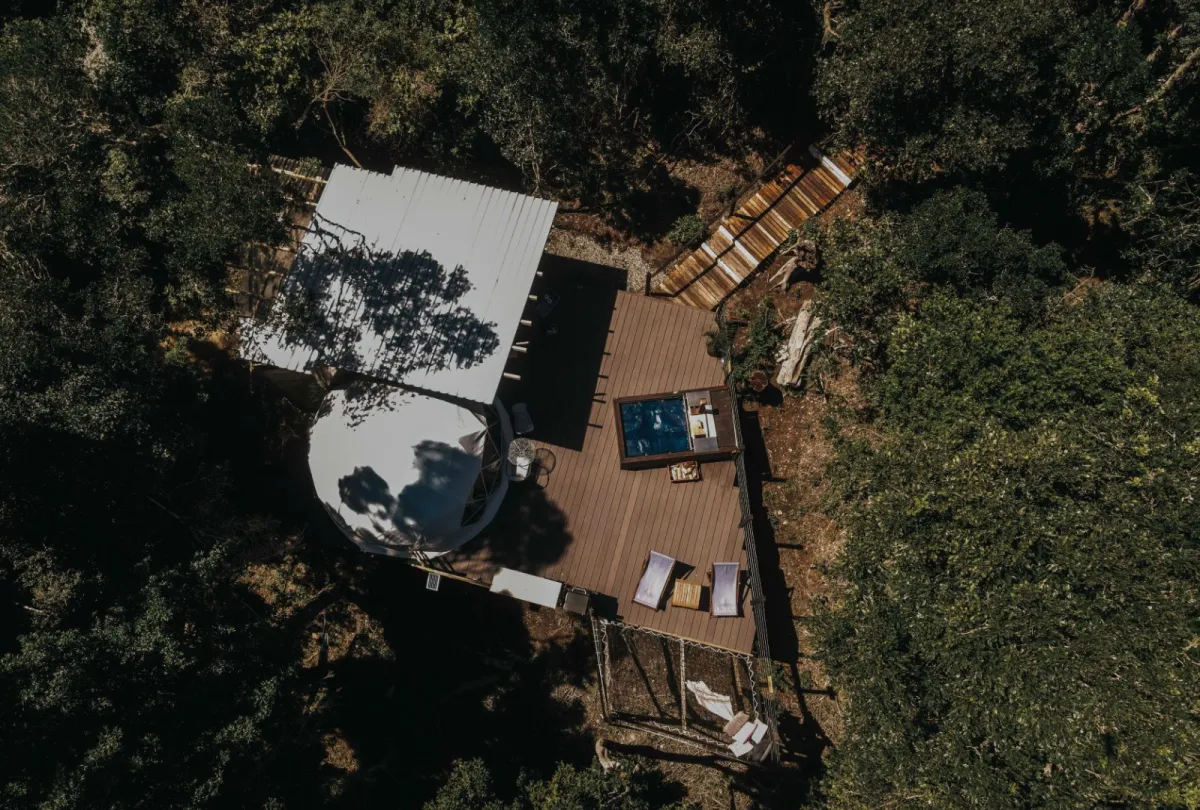 The elevated wooden deck boasts an eco-friendly, wood-fired hot tub, a gas BBQ facility and a suspended laze net. Misty Mountain's restaurant menu, BBQ basket or picnic basket are available.
Ocean Dome
Tucked away amongst the towering forest trees, the clear, hard-cover Ocean Dome offers beautiful views of the Indian Ocean during the day and wonderful stargazing opportunities at night. Private and exclusive, Ocean Dome is perfect for honeymoon couples looking for a unique outdoor living eco-experience.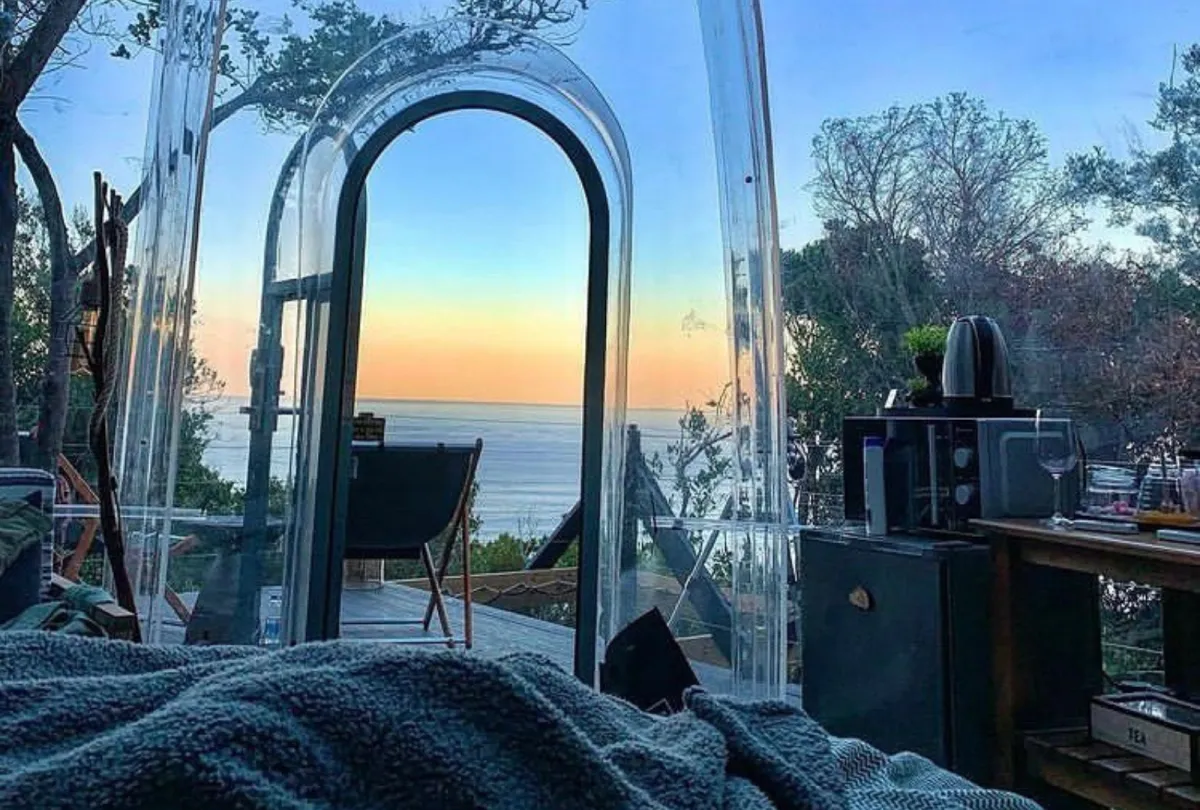 The outdoor bathroom shower is powered by an eco heater and the toilet is separate. The ocean-facing raised wooden deck has an eco-friendly, wood-fired hot tub, a laze net and various seating options.
Tsitsikamma Pyramid
Misty Mountain's Tsitsikamma Pyramid is a see-through pyramid on a secluded platform hidden amongst the indigenous trees. The open-plan bedroom, bathroom and kitchenette are equipped with a cosy king-size bed and electric blanket, two sunken bathtubs, an en-suite toilet, a gas hob and a bar fridge.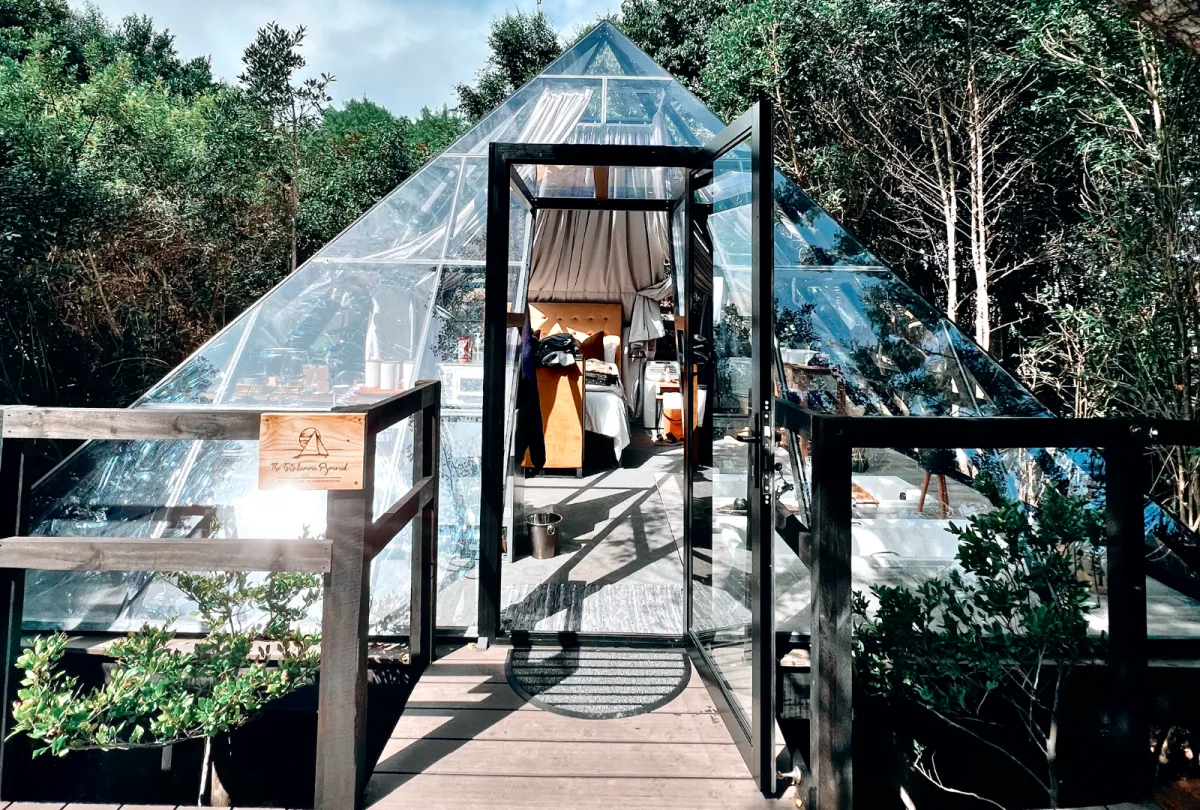 The forest-shrouded outdoor private deck has an eco-friendly wood-fired hot tub, a gas BBQ and a laze net. The Tsitsikamma Pyramid is the perfect romantic eco-friendly escape for couples who want to immerse themselves in nature.
Please contact us for Forest Dome, Ocean Dome and Tsitsikamma Pyramid rates per person per night sharing.
Tented Lodges and Beyond Urban Cottages
Other accommodation options are also available at Misty Mountain Reserve. There are four colonial-style, wooden-framed, open-plan, en-suite tented lodges with canvas sides on raised wooden decks. Three of the tented lodges are lakeside facing and look onto pastures and the Tsitsikamma Mountains beyond. One of the tented lodges is located at the end of a winding boardwalk at the edge of the forest. Misty Mountain's Beyond Urban Cottages are ideal for small groups and intergenerational families who want to be close to one another and still enjoy some privacy. Each of the four semi-detached, farm-style cottages sleeps four guests in two bedrooms with one shared bathroom. The open-plan lounge has a fully-equipped kitchenette and each charming country cottage has an outdoor BBQ facility.
On-site facilities
Misty Mountain Reserve has an on-site restaurant and bar that serves breakfast, lunch and dinner. There is also a guest lounge area, outdoor dining patio, swimming pool and firepit. On-site activities include quad-biking, guided hiking trails and forest walks, footgolf and mashie course, freshwater fishing, mountain biking and the Garden Route Dolphine Hiking Trail.
Getting there
By road - Misty Mountain Reserve is a 165-kilometre drive from Port Elizabeth and a 70-kilometre drive from Plettenberg Bay on the Garden Route.
Includes
Accommodation
Footgolf and mashie course
Freshwater fishing
Excludes
Meals and drinks
Quad-biking
Guided hiking trail and forest walk, footgolf and mashie course
Mountain biking
Garden Route Dolphine Hiking Trail
You may also want to look at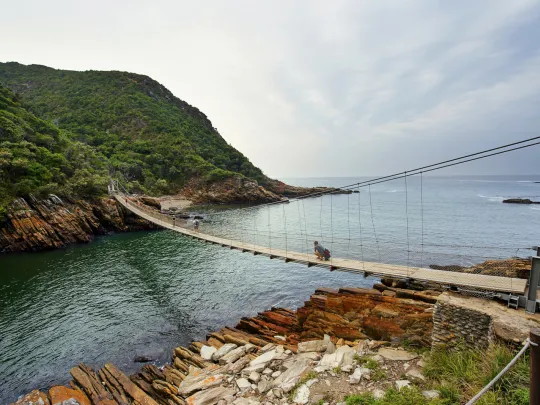 The Garden Route is the coastal area between Mossel Bay and Port Elizabeth along the southern Cape coast of South Africa. It is known for its beautiful scenery, mountains, rivers, lakes, forests and beaches. A number of interesting, laid-back coastal towns add character to the Garden Route, including Knysna, Wilderness, Plettenberg Bay, Nature's Valley, Sedgefield and, of course, George with its regional airport.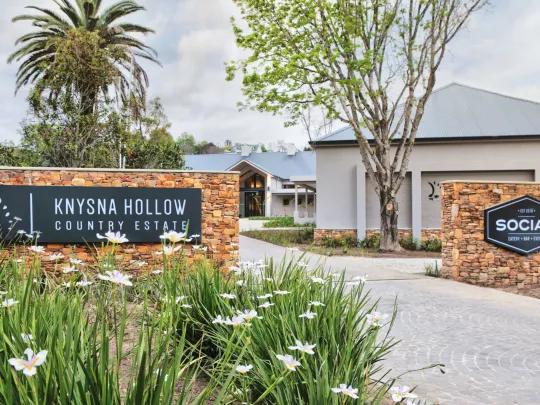 Completely rebuilt after the devastating fires of 2017, Knysna Hollow is superbly located on a secluded 3-hectare country estate, just 5 minutes from Knysna town and its expansive lagoon on South Africa's famous Garden Route. It's the perfect base from which to explore the many attractions and activities this beautiful area has to offer.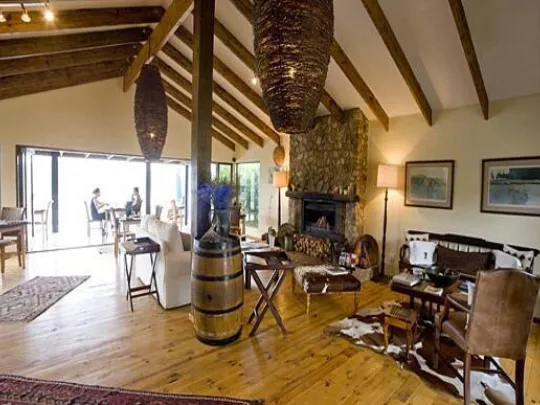 The Elephant Hide of Knysna Guest Lodge is a luxury bed & breakfast guest house situated in an upmarket residential area of Knysna. Perched on top of the Welbedaght Cliff Tops, it offers spectacular views over the Knysna estuary. The lodge offers 5 beautifully-furnished suites and outstanding personal service.