Accommodation in Hluhluwe–iMfolozi Park
Accommodation in Hluhluwe–iMfolozi Park
Hills and valleys in the northern section transform into open grassland in the south of Hluhluwe-iMfolozi Park, making this a beautiful safari destination to explore. Home to the Big Five and other game, Hluhluwe-iMfolozi Park is most famous for its success in rehabilitating its white rhino population, now numbering over 1,000.
The only private lodge located inside Hluhluwe-iMfolozi Park is Rhino Ridge Safari Lodge. Still, there are a number of hotels, self-catering rondavels and forest lodges within a 20 km radius of the park which puts some less than 70 km away from KwaZulu Natal's coastline.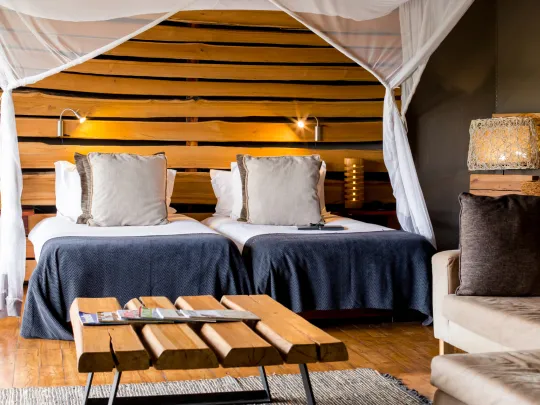 Rhino Ridge Safari Lodge is the first private safari lodge to open in the oldest proclaimed game reserve in Africa: the beautiful and scenic Hluhluwe iMfolozi Park in northern KwaZulu-Natal. Offering the Big 5, this park also offers some of the lesser-known and fascinating wildlife such as nyala antelope, the white and black rhino. This park is world-renowned for its sterling conservation efforts for the rhino which it helped to recover from the brink of extinction.