It will always be very special memory for us!
It will always be very special memory for us!
Dear Clare
Thank you for your email.
We had a most wonderful time - and were so sad to be coming home. A 5-star holiday. It just means we have to do it again!
In terms of arrangements, the transfer to Arusha and Katambuga House, was smooth and easy. A lovely driver - but we were all rather tired from the flights so we were not very chatty.
The accommodation was so comfortable - our 'children' were rather surprised at the level of luxury. The staff were very friendly and attentive - and made a special effort to celebrate the honeymooners. It was much appreciated.
The morning transfer to the airstrip was efficient - we didn't have to worry about timings because we could see that the staff at Katambuga had it all in hand. They made us a lovely breakfast and off we went.
Flights were good - Joe had a chance to sit next to the pilot which made his holiday!
And then the pick up at Seronera was easy - and we were met by our lovely guide, Saiid.
We were spotting animals on the way to Olmara Camp and then arrived to a very friendly welcome. Olmara Camp was just right - so comfortable but not pretentious. Tucked away amongst trees and with nighttime 'visitors' to make us realise that we were really in the Serengeti. The elephants kept drinking all the water so sometimes the shower didn't work - but who cares!
Robert, Lucas and all the staff looked after us like old friends - very relaxed. I was so impressed that they knew us by name immediately - that doesn't happen very often. They picked up on the fact that we loved sitting around the campfire to star-gaze. So, for our last night's dinner together, they set up a table outside, under the stars. That will be a memory I will always treasure.
Our guide, Saiid, was fantastic. He worked so hard - we went on some very long drives. Driving, guiding, spotting and giving us breakfast. His love for the animals and for the Serengeti was clear. But he had such in-depth knowledge of the flora and fauna - and his ability to spot was beyond amazing.
The transfer back to Seronera was easy - more time to spot animals. The only glitch was the ticketing - there was confusion about names and who was going where (Lizzy and James were flying onto Zanzibar). But Saiid dealt with that and off we went and all the luggage arrived in the right place.
So, thank you for arranging it for us. It will always be very special memory for us.
From Liz and Steve, UK, travelled with us during July 2023
Our experience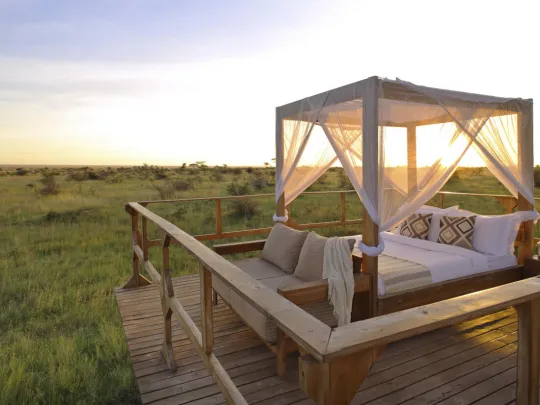 Located in the remote, untouched eastern plains of the Serengeti, Olmara Camp (formerly known as Ehlane Plains Camp) is a beautifully designed, eco-friendly, tented safari camp that offers sweeping views of Tanzania's vast savannahs and provides top-quality, year-round game viewing.