On safari at Tswalu in the green Kalahari – a magical paradise
On safari at Tswalu in the green Kalahari – a magical paradise
Spread over three countries, the semi-arid Kalahari is a magical paradise that offers some hidden gems, both in terms of luxury safari accommodation and wildlife sightings. Our managing director, Onne Vegter, recently visited Tswalu, a luxury safari lodge in a remote part of South Africa's Northern Cape Province in the green Kalahari.
The Kalahari covers the northernmost part of the Northern Cape, a large part of eastern Namibia and much of southern and central Botswana – and it offers an ancient and magical safari experience unlike any other in Africa. To say I was insanely envious would be putting it mildly. I caught up with Onne upon his return to ask him about his experience.
Q: "You've travelled Africa widely and have been to many lodges and safari destinations throughout Africa. What stood out for you on this trip?"
A: "The most striking and unique aspect of this visit was how green and beautiful the Kalahari was! I've never seen the Kalahari like this. The area had a huge amount of rain and experienced some rare flooding about two weeks before my visit, which is very rare for the Kalahari. The result was an explosion of life and growth like you won't believe! We tend to picture the Kalahari as a dry, arid region with red sand dunes dotted with thorny shrubs and a few struggling tufts of grass here and there. You don't expect to find miles and miles of beautiful green grass and lush growth, resembling typical bushveld savanna in summer. It was spectacular to see the Kalahari like this."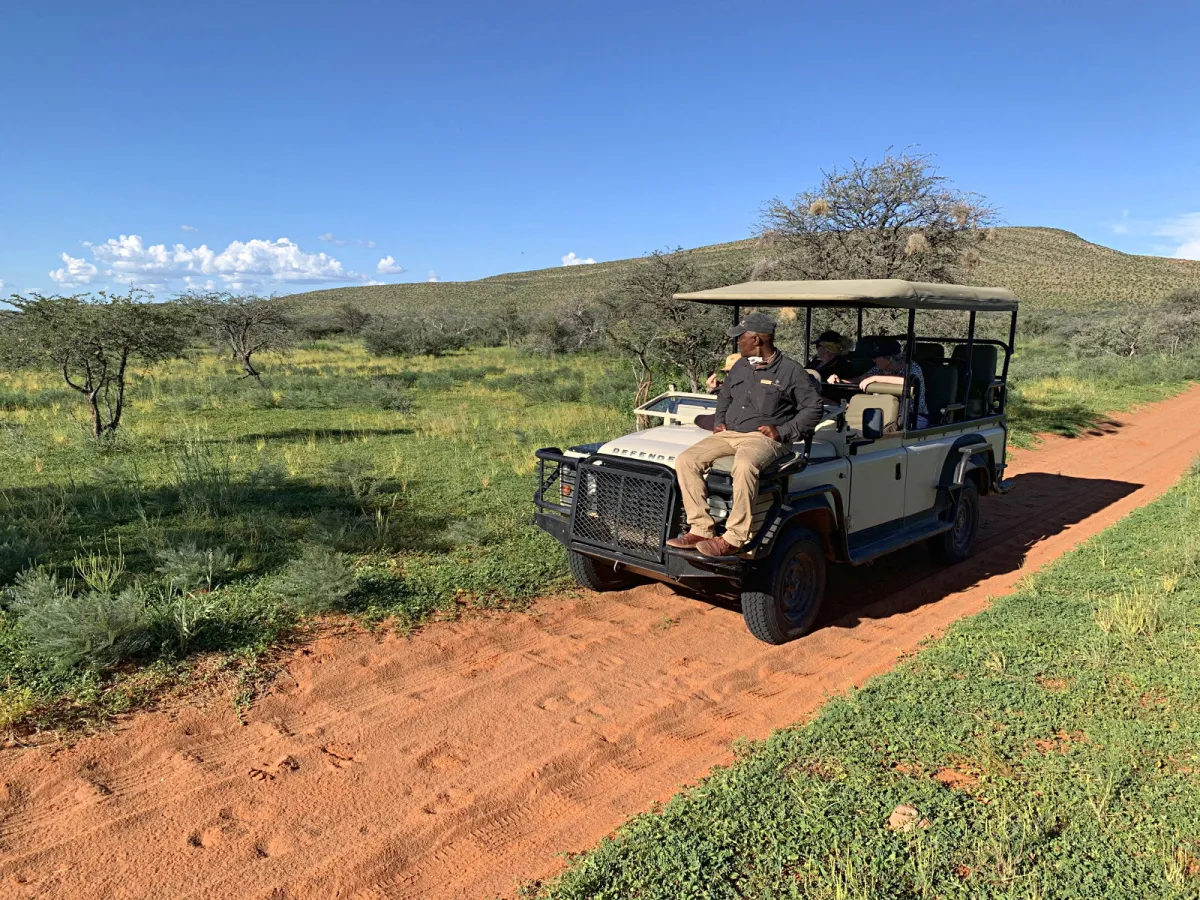 Q: "Tell us a bit more about Tswalu. What did you like about it?"
A: "Tswalu is truly spectacular. It is a high-end luxury lodge (among the most expensive safari lodges in South Africa) so guests arrive with high expectations, and they will not be disappointed. Every detail is crafted to perfection. The fittings, furniture and finishes are top class, and the facilities are superb: two swimming pools (one of them is heated during winter), a library, cosy firepit, photographic studio, gym, spa and curio shop. The wine cellar is amazing and stocks many award-winning wines. They have a brilliant chef and the meals were all delicious and so well presented. And of course, with the opening of Klein-JAN restaurant by celebrity chef Jan-Hendrik van der Westhuizen at Tswalu, it is a paradise for food lovers too, not just for wildlife enthusiasts!"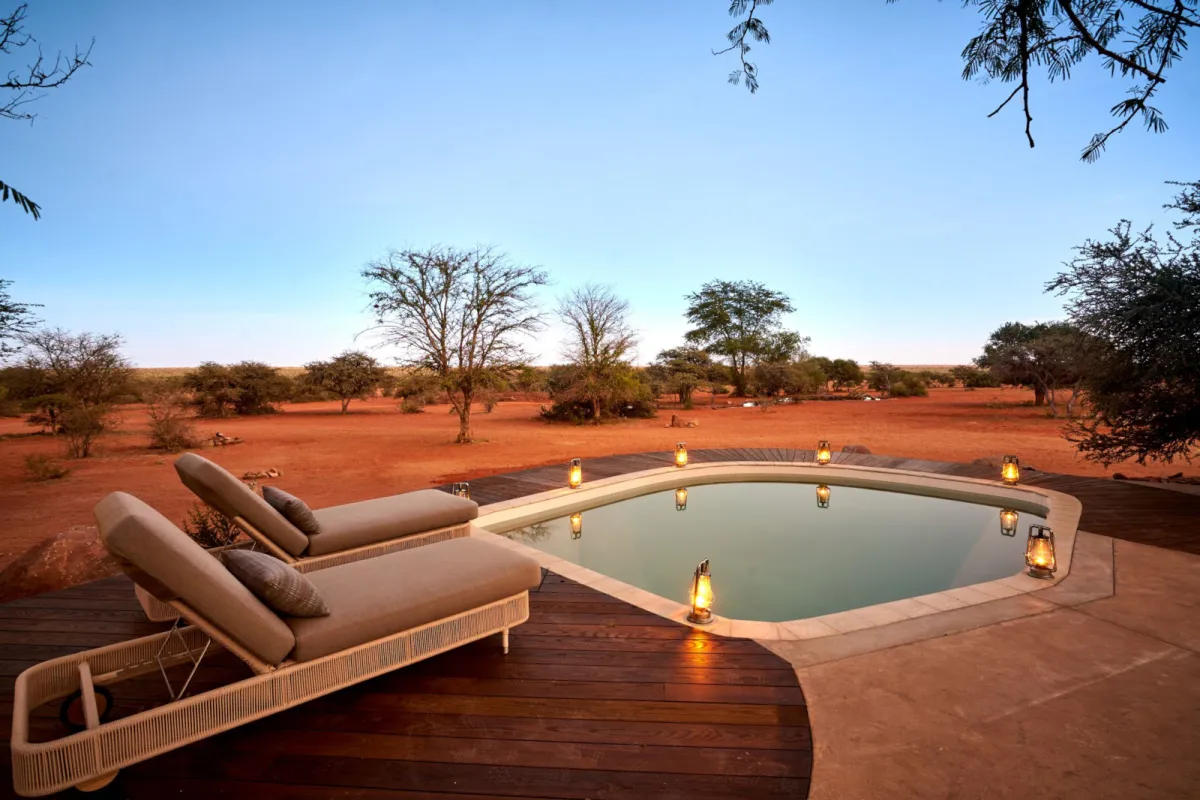 "The main lodge, Motse, has nine luxurious suites, each with a fireplace, private deck and sala, outside shower and well-stocked minibar. Two of the suites are family suites with a separate bedroom for children.
Tarkuni Lodge is a private villa that used to be the Oppenheimer's residence, with five luxury en-suite rooms, a beautiful pool, firepit, sala and its own spa treatment room. Tarkuni is booked as a unit for small private groups and families. You get your own chef, butler and guide. Both Tarkuni and Motse have been recently refurbished completely, and the lodges are simply stunning."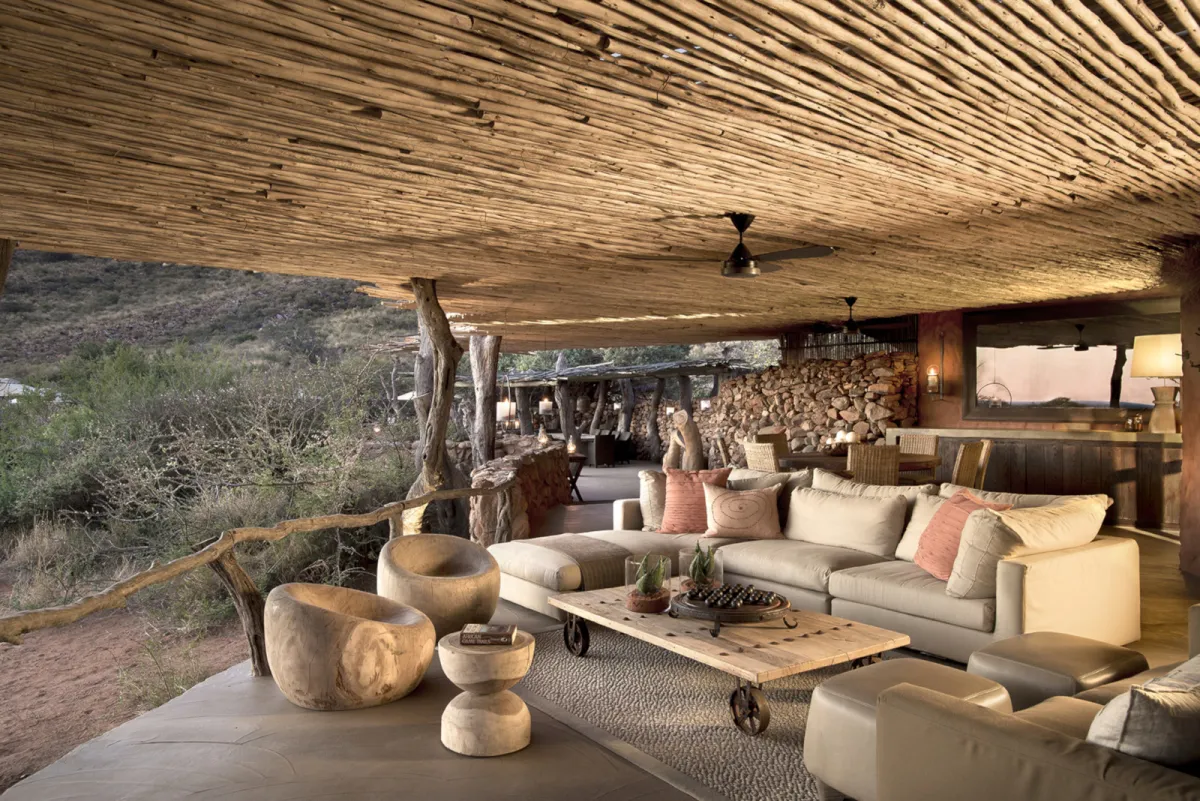 "One thing I really liked about Tswalu is that every couple or family gets their own private vehicle and guide. You don't share a vehicle with strangers (a real bonus right now during the pandemic). This means optimum flexibility during game drives, and the daily schedule at the lodge also allows for maximum flexibility. Guests can eat when they want to and go on game drives when they want to."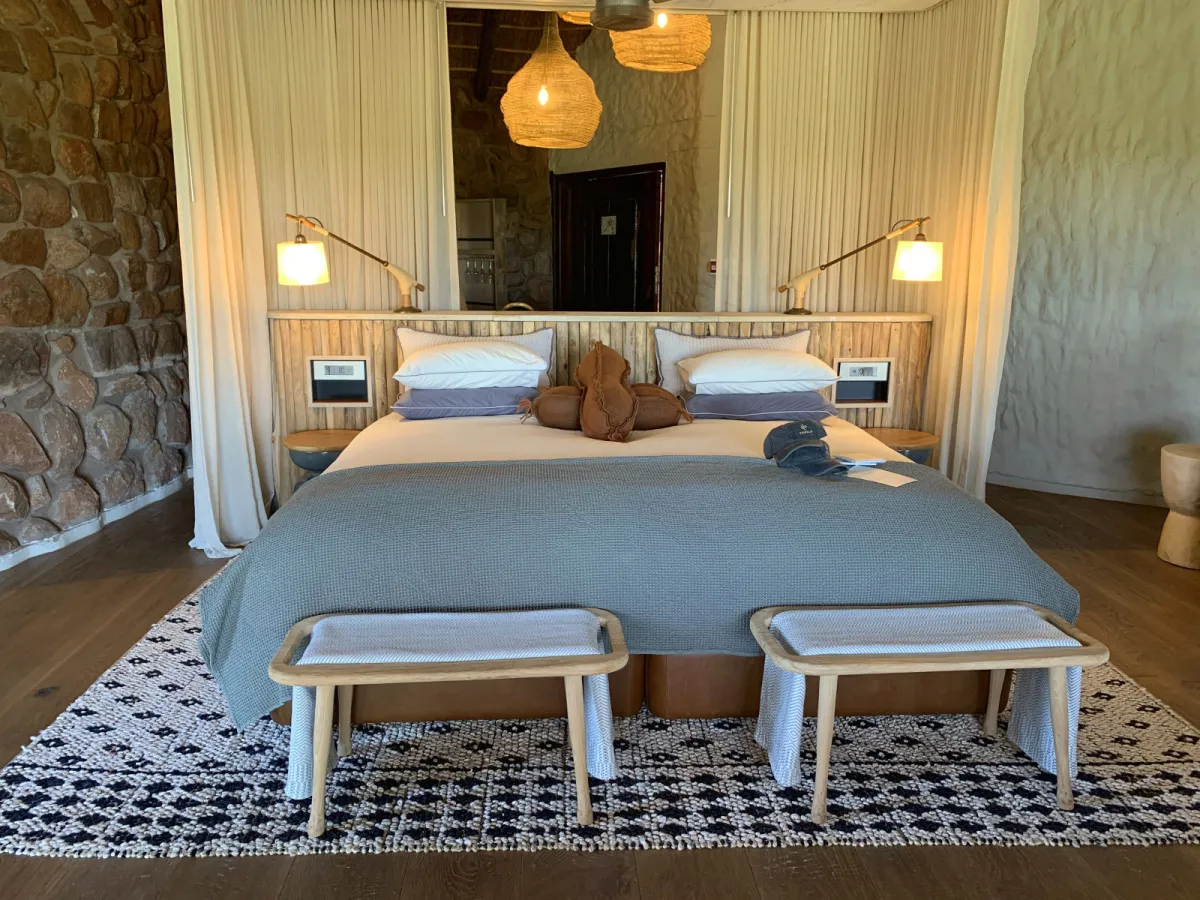 Q: "Speaking of the pandemic, how did you find travelling during Covid-19? What procedures were in place at Tswalu and did you feel safe?"
A: "We absolutely felt safe. Apart from having your own game drive vehicle as I mentioned, all staff wear masks all the time. We were also given a mask on arrival, and a nice Tswalu buff which could also double as a mask. There was hand sanitiser available everywhere, and there were no shared buffet meals. All meals were plated and enjoyed at our own private table. Staff kept a safe distance at all times, everything gets disinfected regularly and yet none of these protocols seemed to impact negatively on our safari experience."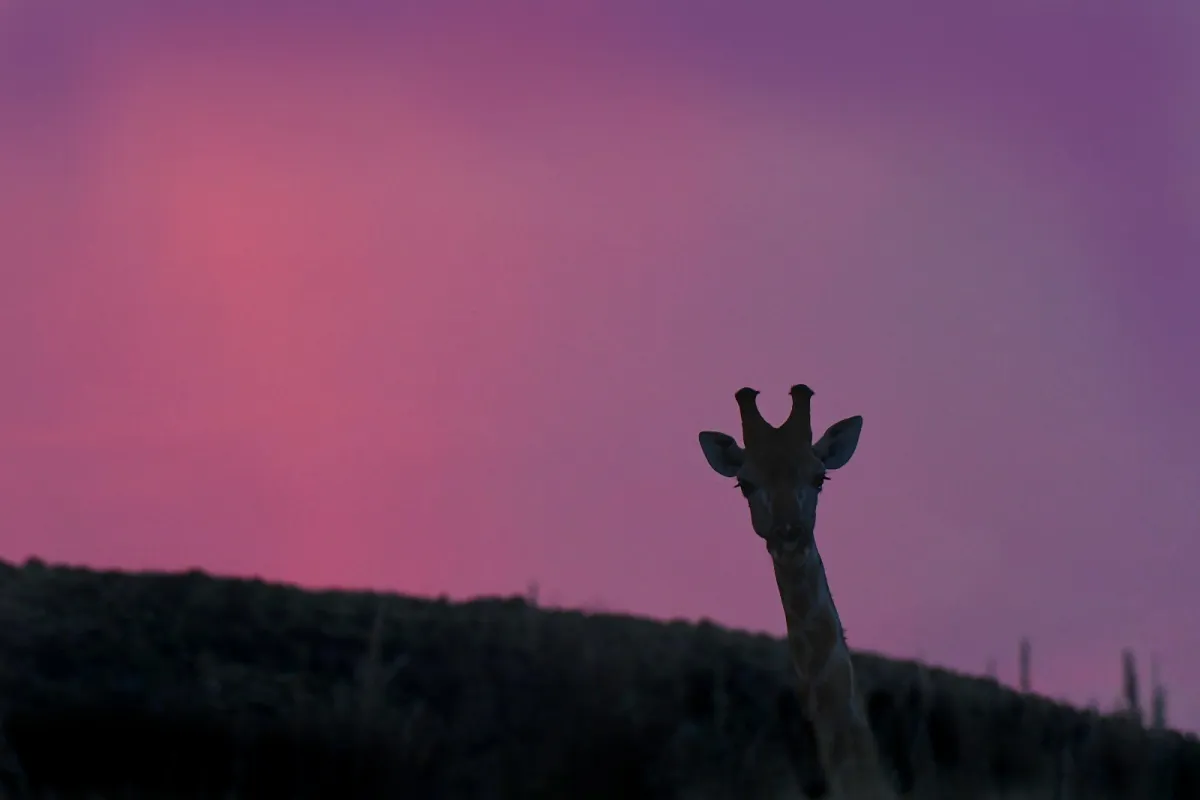 "You're either in your own room or outside most of the time, so the risk is very low. And since there were no other guests on the vehicle, we were free to take our masks off during game drives (although the guide and tracker kept their masks on). The Covid-19 protocols were smooth and well-executed and unobtrusive. They managed to strike a perfect balance between keeping guests safe and minimising the risk of infection, while not impacting negatively on the safari experience or dining experience in any way. It reassured me and proved to me that it is totally possible to travel safely during Covid-19, with sensible precautions in place, without impacting the quality of your trip."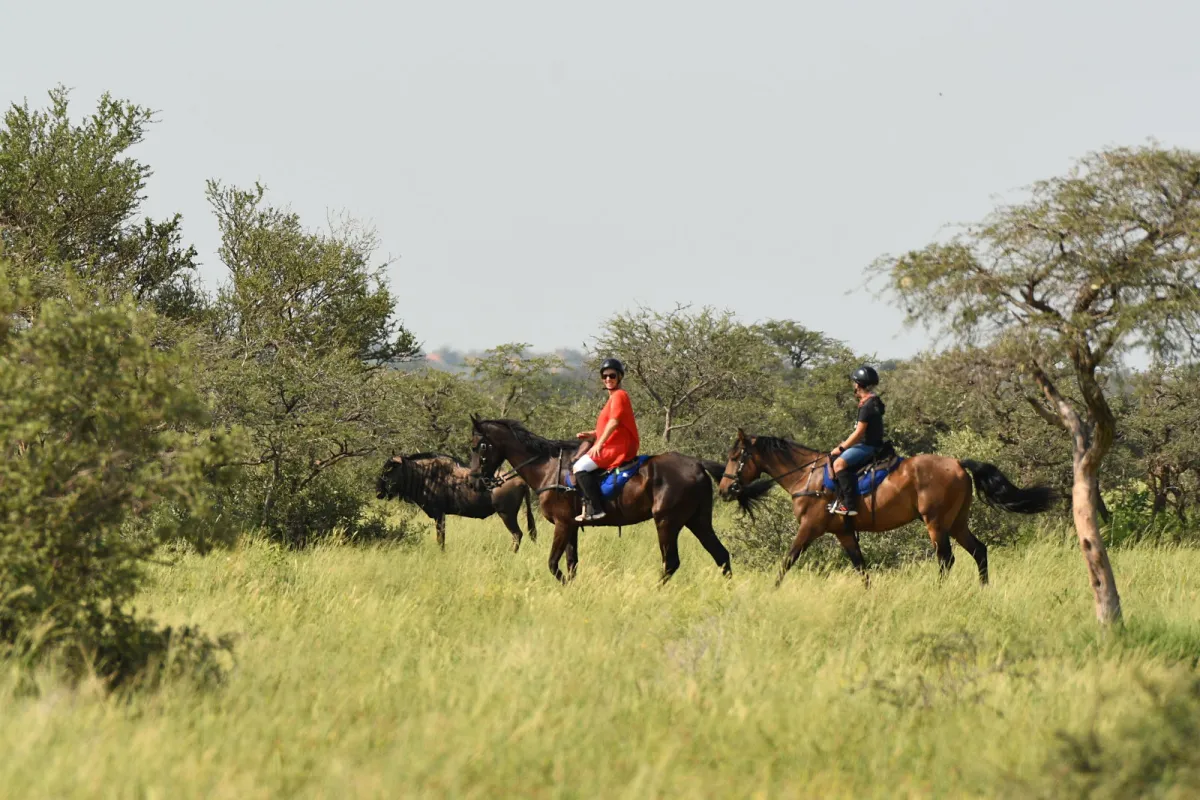 Q: "What was the game viewing like? And how does the game viewing experience at Tswalu differ from a safari in, say, Kruger National Park?
A: "The game viewing was spectacular, in spite of the tall grass. Over the course of three days, we saw a huge variety of wildlife. I'm not one for checklists but I did have one quiet hope, which was to see a pangolin. And I was not disappointed! We had the opportunity to join a researcher working with pangolins and got to follow a beautiful pangolin on foot, late at night.
Our night drives delivered many wonderful sightings, including Cape fox, bat-eared fox, brown hyena (with pup), striped polecat, African wildcat, porcupine, black-backed jackal, various owls and nightjars, and of course scrub hares and spring hares. And did I mention the pangolin we saw? I managed to snap a low quality photo with my phone for the record."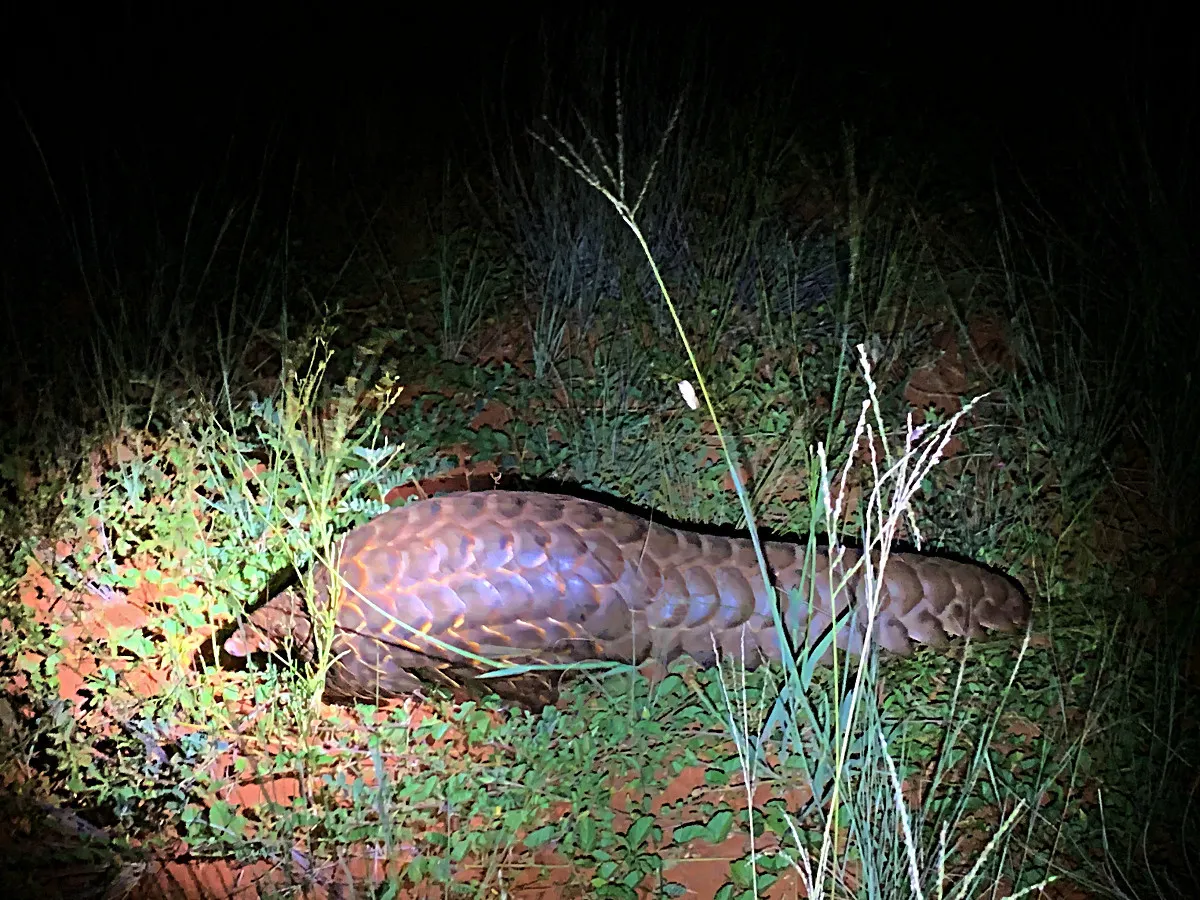 "Our daytime game drives delivered lions, rhino, cheetah mother on the hunt (with cubs), giraffe, zebra, wildebeest, kudu, roan antelope, sable antelope, oryx, impala, springbok, steenbok, meerkat, tortoise and a beautiful Cape cobra entering a sociable weavers nest.
Of course, Tswalu is not a Big Five destination, and that's the biggest difference with Kruger. Elephants do not naturally occur here, and leopards are rarely seen. But the cheetah sightings can be spectacular. I would say Tswalu is best visited in combination with other destinations, particularly if it is your first African safari. For many visitors to Tswalu, it is not their first safari, and they're able to enjoy the unique landscapes and species of the Kalahari without arriving with a checklist or feeling that they're missing out on not seeing elephants. A real drawcard is that there are so many unique species you can see at Tswalu that you can't see in the Kruger National Park. So comparing the two destinations is almost pointless, as they are so different."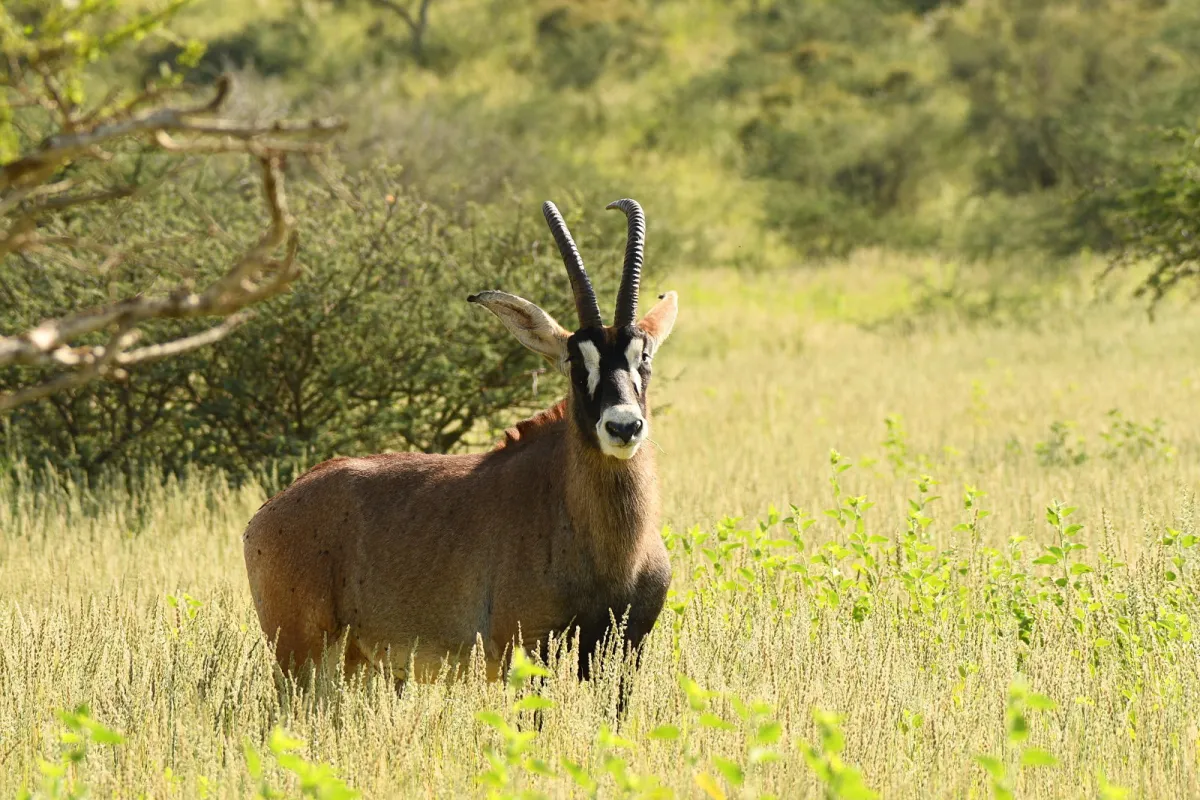 Q: "The meerkats of Tswalu have a reputation of their own. What makes them so special?"
A: "Meerkats are so entertaining to watch. And what makes the experience special is that some colonies of meerkats, while completely wild, have become so used to humans watching them that it is possible to approach them on foot and observe them from close up. We did this during one of our morning drives. If you sit still and wait, the meerkats will carry on with their day as if you are not there, sometimes approaching within touching distance. Of course, no touching or feeding is permitted, but getting so close to these quirky animals is very special, and provides some wonderful photographic opportunities."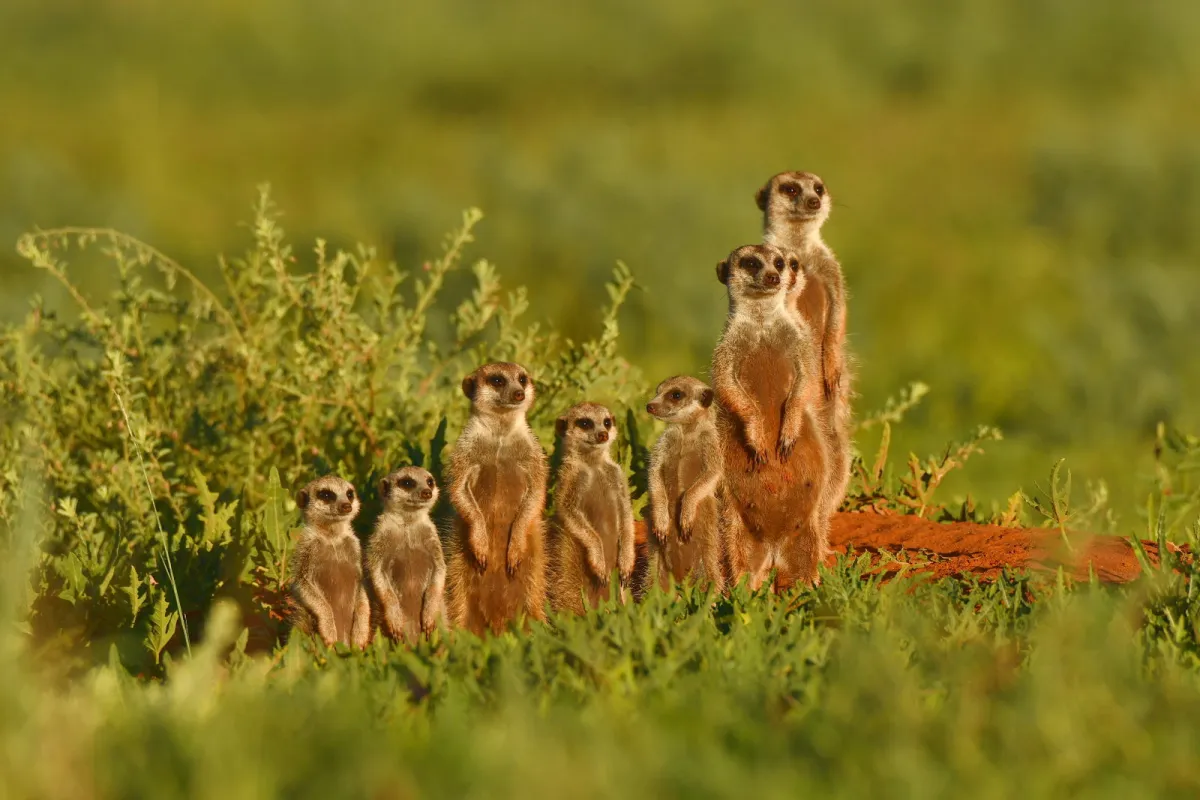 Q: "How accessible is Tswalu from major hubs like Cape Town or Johannesburg?"
A:" Tswalu is a full day's drive by road, but most guests fly to Tswalu's private airstrip. There are daily charter flights from Cape Town and Johannesburg (although flights have been less frequent during the pandemic)."
Q: "Would you recommend the Kalahari as a standalone experience or is it better to combine it with another destination?"
A: "It can be a standalone experience. But many guests combine it either with other nearby attractions (such as the Kgalagadi Transfrontier Park or Augrabies Falls National Park), or with other destinations such as Cape Town, the Kruger National Park, or even Victoria Falls. If it is your first time on safari, I would recommend a fly-in safari and then combining Tswalu with, for example, the Sabi Sand Game Reserve (part of Greater Kruger).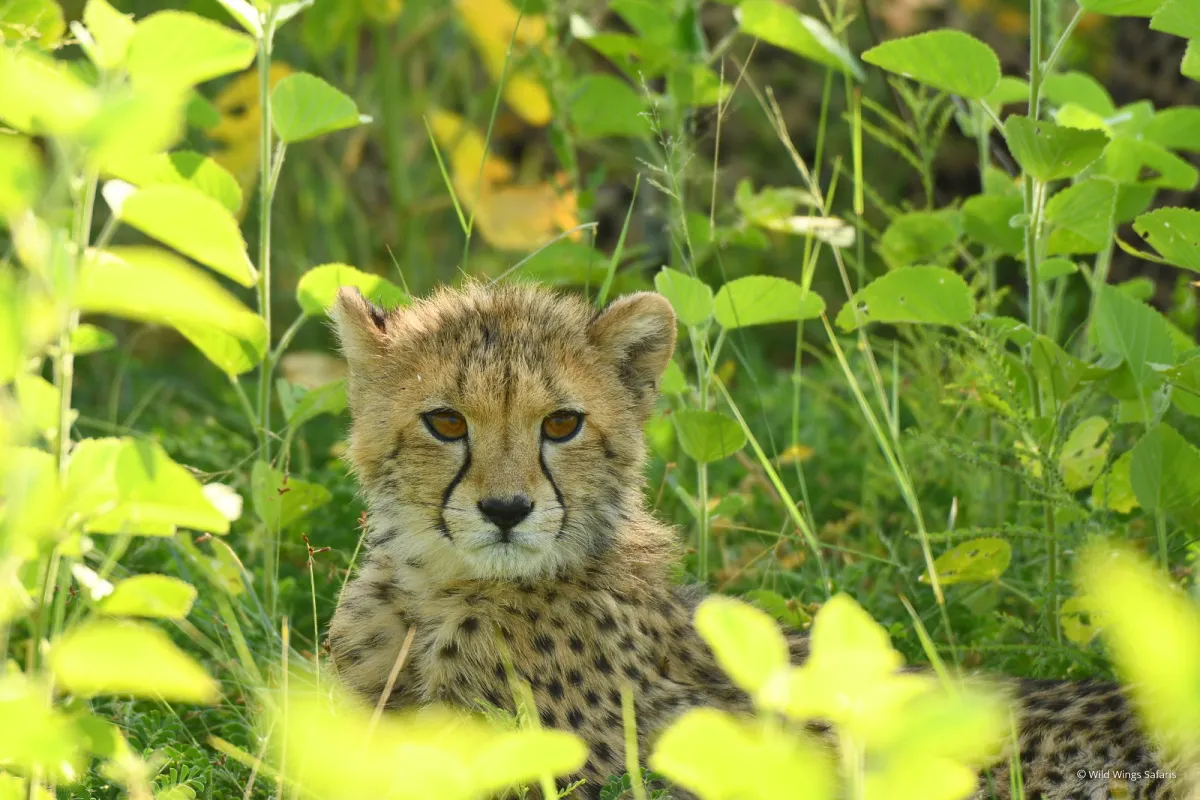 Q: "To experience the true magnitude of the Kalahari landscape, how many nights do you recommend visitors to the area should stay?"
A: "Tswalu is huge, about 111,000 hectares (over 274,000 acres). You can't see it all in one trip. Due to the distance and cost of getting there, I would recommend a minimum of three nights, and perhaps a maximum of six or seven nights (one week). Four or five nights would be ideal. Keep in mind also that due to the vast landscape and the low density of vehicles, you'll find that each game drive is dedicated to one goal or one area, or to try and find one species. For example, you might dedicate one day or one drive specifically to try and find lions, or cheetah, or meerkats, or whatever."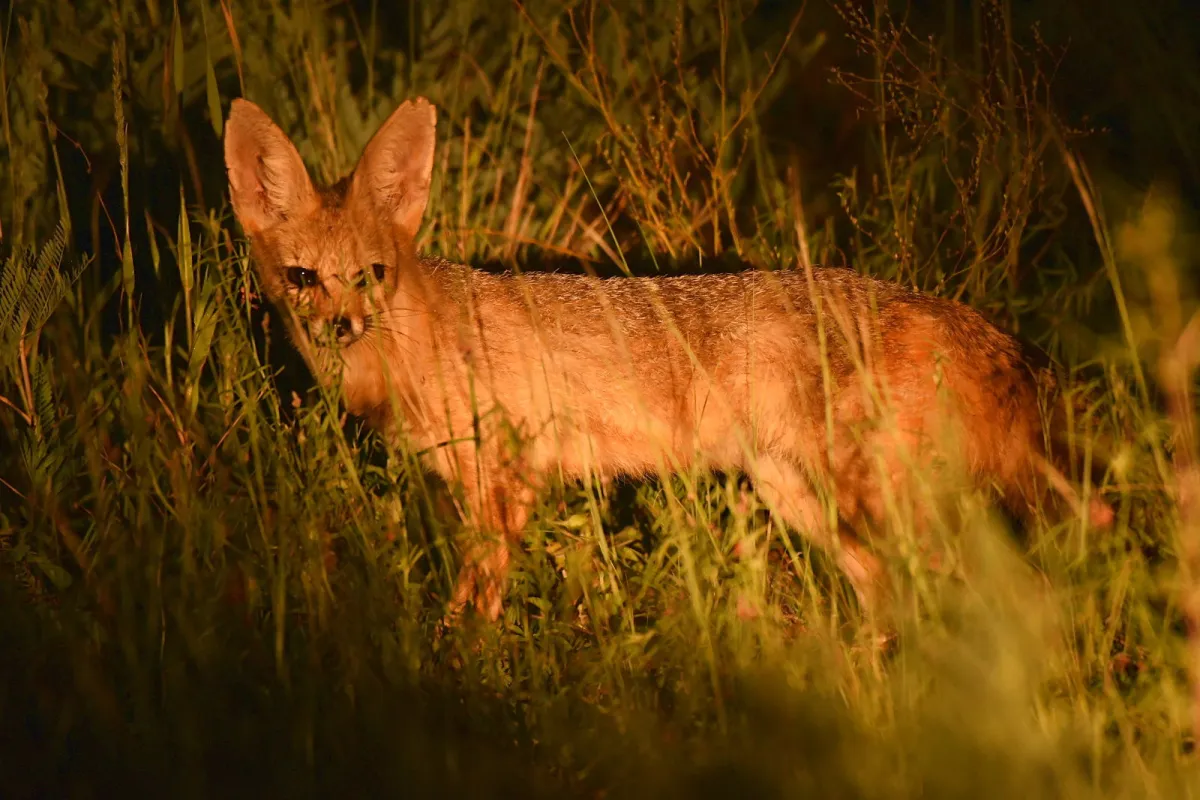 Q: "When is the best time to go?"
A: "Tswalu is open year-round, and the best time to go depends on your interests. If you're interested in plants, birds and bugs, the rainy season would be best (from December to March). This is also when the Kalahari is at its most green. But for general game viewing, the dry season is a bit better, from May to September. Keep in mind that winter nights in the Kalahari are freezing cold, so pack warm clothes for those early morning game drives."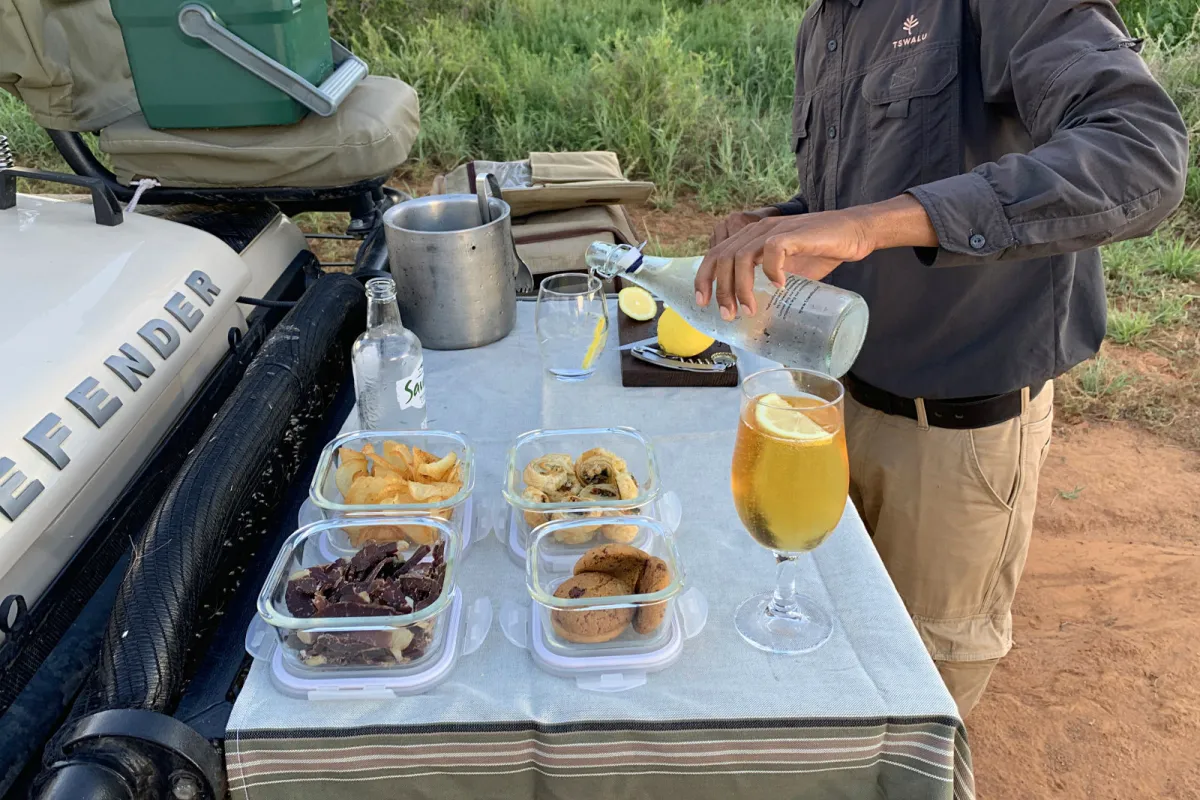 Q: "Thank you for sharing your experience with us, Onne. Any final tips?"
A: "My only tip would be to book early to avoid disappointment. In spite of the pandemic, I have it on good authority that Tswalu is almost fully booked already for the 2021 peak season, from May to September. Smart travellers are the ones who are planning and booking their 2021 trips right now. If you wait until the pandemic is over and demand for travel skyrockets, you may struggle to find availability."
Keen to visit Tswalu? Drop us a line at enquiries@wild-wings-safaris.com and we will secure the best possible price for you. Our safari designers have been crafting unforgettable journeys since 2005.
About the author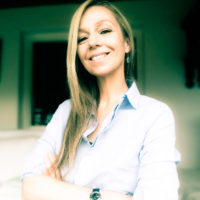 Dianne
Dianne Kokkonidis was born in Johannesburg, grew up in the Transkei and spent years exploring Europe. She returned to South Africa to live on a farm in the Outeniqua Mountains when the call of Africa got too loud to ignore. She comes from a family of storytellers, so it's no surprise she's now found her way into writing about one of the oldest stories known to mankind - the lure of Africa.