9 Great Safari Books to Read Before You Go
9 Great Safari Books to Read Before You Go
Wow. When I was searching for a couple of great guide books to help you prepare for your upcoming safari (even if it's still only on your bucket list!), I had no idea that there were so many. Or so many genres. From overall African safari guides to area specific guides, to reserve/park specific to animal specific … the choice is vast and varied.
There's an enormous range of superb guide books, by reputable authors, that will give you a broad overview on safaris to the top destinations in Africa, or very specific books that will give you information, advice and field guiding in a specific niche area – like Kalahari, Okavango, Kruger National Park, Tangire and Serengeti – in hardcover, softcover or Kindle (I've provided the links to Amazon.com in the suggested titles below) – to wherever your dream African safari leads you …
So while this is by no means a definitive list, (as a quick Google search will show you) it's just some of the top books that will give you an overall, general idea of what to expect – and each one of these has proved its worth over and over again.
Hope you find them useful …
---
African Safari Journal and Field Guide: Spiral-bound [August 20, 2013] by Mark W. Nolting (Author), Duncan Butchart (Illustrator)
This is a great book to help you plan your African safari, especially if you'll be taking photos. It's a comprehensive guide and offers pretty much everything: a wildlife guide, a trip organiser, a map directory, a safari directory, a phrase book, a directory of resources and a wildlife checklist – with beautifully illustrated wildlife, flora and maps. If you only take one book along with you, make sure it's this one!
---
Fodor's The Complete Guide to African Safaris: featuring South Africa, Kenya, Tanzania, Botswana, Namibia and the Seychelles. Paperback [May 2013]
This handy guide gives you comprehensive and fun information on some of Africa's top safari destinations: Kenya, South Africa, Botswana, Tanzania and Namibia. With their typical thoroughness, Fodor's covers everything you wanted to know about safaris: insider, practical advice on how to choose your ideal safari destination, safari itinerary and travel style; handy tips on everything from climbing Kilimanjaro to dress codes in the Masai Mara; which safari reserves are where and how to best enjoy them; where to find the best beaches, and a break-down of where to stay, wine and dine. A worthy travel companion.
---
DK Eyewitness Travel Guide: South Africa. Paperback [July 15, 2013]
If South Africa's on your wish list, this colourful travel guide will show you the best attractions it has to offer, from the iconic Kruger National Park to the legendary Palace of the Lost City and the myriad cultures, languages and history this 'rainbow nation' has to offer. Filled with excellent detail and information, this guidebook highlights the top hotels, restaurants, shopping and entertainment centres. There's a handy 56-page safari guide to South Africa's wildlife, fauna, flora and reserves. Full-colour photos, illustrations and maps complete the package.
---
The Wildlife of Southern Africa: New Edition Paperback [September 1, 2008] by Vincent Carruthers (editor)
An excellent and comprehensive reference guide to the fascinating fauna and flora of this region – with over 2,000 selected plants and animals of all sizes and varieties that are you're likely to encounter on your visit.
Each chapter has been written by an expert in the field. Groups are colour-coded for easy reference and identification. Probably one of the most useful field guides you'll find for the southern African region. Perfect for any outdoors enthusiasts.
---
Africa's Top Wildlife Countries: Botswana, Kenya, Namibia, Rwanda, South Africa, Tanzania, Uganda, Zambia and Zimbabwe. Also including Ethiopia, ... R. Congo, Mauritius, and Seychelles Islands. Paperback [July 31, 2012]
This guide book highlights and compares the various wildlife reserves, safari experiences and major attractions of Africa's best game-viewing countries, giving you the know-how to plan your ideal safari experience. It details how the wildlife reserves stack up against one another – which reserves offer which type of experience and what you're likely to find at each. Very useful for both first-timers as well as seasoned safari goers to get an idea of what you can expect where, and which destinations are most likely to give you the best safari of your dreams.
---
African Safari: Into the Great Game Reserves Hardcover [November 1, 2011] by Peter Pickford (Author) and Beverly Pickford (Author)
More of a coffee table book - or a wonderful memento your travels – this book is filled with wonderful stories and experiences of African Safaris and all they encompass … from horseback safaris to floating above it all on a hot air balloon to the unmistakable sights, smells and sounds of this fascinating continent. It has eight chapters, each detailing a journey through the great wildernesses of Africa: South Africa (Kruger and the Kgalagadi), Namibia (Etosha, Damaraland and Kaokaland), Botswana (Okavango, Chobe and Linyanti), Zimbabwe (Mana Pools and the Zambezi), Zambia (North and South Luangwa),Tanzania (Ngorongoro and the Serengeti), Kenya (Masai Mara, Amboseli and Tsavo), Rwanda and Uganda (Parc des Volcans and Mgahinga). Makes a perfect gift.
---
The Safari Companion: A Guide to Watching African Mammals Paperback [December 1, 1999] by Richard D. Estes (Author), Daniel Otte (Illustrator), Kathryn S. Fuller (Foreword)
Probably more for the naturalist than the casual observer, this is one of the best field guides to understanding and observing African mammals and their behaviour. This guide will help you to recognise and interpret various animal activities, like courtship rituals, ways of marking and defending territories, how they nurture their young, and so on. At least 80 species are detailed, with common behavioural charts providing insights into various animal types such as hoofed, carnivores and primates. Useful maps also show the national boundaries, vegetation zones and the various game parks. There's also an extensive glossary, excellent tips on wildlife photography, a list of wildlife conservation organisations and some great game viewing advice.
(101 things to know when you go) ON SAFARI IN AFRICA [Kindle Edition] Patrick Brakspear (Author), William Sykes (Illustrator)
Rather than a guide book, On Safari in Africa is more of travel companion, one to take with you as you go. Available on Kindle, this 'book' will help you get the most out of your African safari. After giving you a brief overview of Africa, there's a check-list of what to do before you leave, and then great advice on what to expect on your safari. There's loads of interesting facts about the wildlife, landscapes and peoples of Africa – from safari language to what to expect from your safari guide, what to look for, what questions to ask, fascinating insights into the animals and their behaviour, as well as an introduction to birding, identifying trees and the starry African night skies. Wonderfully illustrated, it offers photographic tips, animal checklists, spoor charts and country maps.

Patrick Brakspear once owned and operated a safari business in Mana Pools National Park in Zimbabwe and this bookreflects his intimate knowledge and experiences across the continent.
---
Don't Run, Whatever You Do: My Adventures as a Safari Guide [Kindle Edition] Peter Allison (Author)
More of a good read than a guide book, this is a heart-warming, off-the-wall and very entertaining book about the true-life adventures of a young safari guide living in the Botswana bush. His daily diet consists of dealing with some of the world's fiercest terrain and wildest animals and, most challenging of all, swarms of gaping tourists. Despite the fact that he "has none of the qualities you would expect of a rugged bushman... [is] markedly unco-ordinated, can't repair vehicles or understand how they work, doesn't like guns, and sweats profusely when nervous or excited ..." Peter Allison works as a top safari guide in the Okavango Delta, an oasis of wetland and wildlife. The book is full of 'strange-but-true' tales of the people and animals he has met – the half-naked missing member of the British royal family; the mouse that overdosed on malaria pills; the monkeys with an underwear fetish; and "Spielberg" the video-obsessed Japanese tourist. It's a warm, funny and vivid look into the life of a safari guide's life, underscored by his deep and abiding love and respect for Africa's wildlife. Enjoy – preferably with friends around a campfire.
Once you know exactly where you'll be going on your safari, it's a good idea to be on the lookout for some park and area specific guides to your area – and you can often get these at the entrance gates to the various reserves.
Are there any books you've read or used on your safari that you feel should be added to this list? Please let us know in the comments below …
You may also want to look at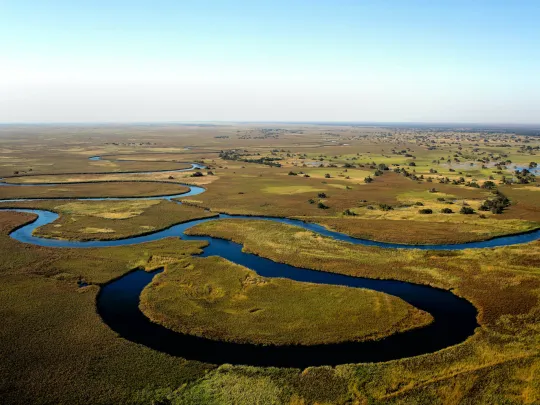 Botswana
There are few wild places on Earth that offer the same unique combination of spectacular wildlife, beautiful scenery, palm-fringed waterways, remote islands and vast unspoilt wilderness as Botswana's Okavango Delta. The Okavango swamps are formed by the annual flooding of the Okavango River, which opens into a vast life-giving oasis in Botswana's desert. The delta attracts huge numbers of wildlife due to the permanent water available here.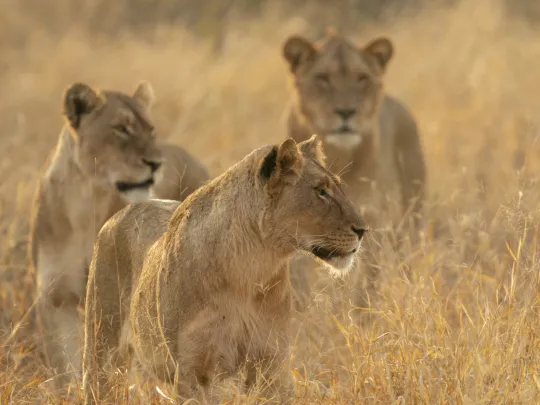 Including private reserves
The Greater Kruger National Park is South Africa's premier safari destination: it's the largest wildlife conservancy in Africa, set in one of the most accessible yet unspoilt wilderness areas in South Africa. It encompasses the Kruger National Park and a number of adjoining private reserves which share unfenced boundaries with the park; including Sabi Sand, Timbavati, Klaserie and Balule Game Reserves, which are home to a wide variety of private game lodges, each with its own brand of style and luxury.
About the author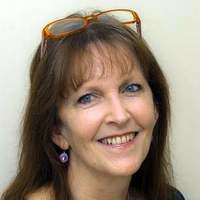 Alison
A 'word smith' or copywriter with over 25 years experience, love travelling, wildlife and conservation; fascinated by alternative energy, alternative building and alternative health. Consummate reader and traveller, both internationally and southern Africa. Have two remarkable daughters that continue to amaze and teach me daily. Consider myself privileged to live on the best continent on the planet.