Kwando Nxai Pan, Central Botswana
Kwando Nxai Pan, Central Botswana
Set on the western side of a massive fossil pan, Nxai Pan is the only permanent camp within the Nxai Pan National Park. It has easy access to the famous Baines' baobabs. Overlooking sprawling grasslands and wide open spaces, Nxai Pan is home to the massive annual zebra migration, second only to the great migration of the Serengeti.
Highlights
Small, intimate camp, sleeps maximum of 18 people
Overlooks an active, year-round waterhole
Day trips to Baines' baobabs with picnic lunch at the site
Home of second-largest wildlife migration in Southern Africa
Encounters with San bushmen that share their extensive knowledge of the wild
Incredible vistas and wide-open spaces
Only camp in Nxai Pan National Park
100 percent solar powered
100 percent citizen owned
Facing out eastwards over the wide-open grasslands of Nxai Pan in Nxai Pan National Park, Botswana, each luxury suite is spacious and comfortable, built to keep you cool in summer and snug in winter. Each unit has a full indoor bathroom, an outside shower and a private patio looking out over the permanent waterhole.
There are eight en-suite units, one of which is a two-bedroomed family room.
Main Camp
There is a spacious open-air lounge and dining room with a bar, curio shop and inviting swimming pool. Meals are often taken al fresco to enjoy the perfect stillness and isolated beauty of this unique safari camp. This camp is 100 percent solar powered.
Game Activities
Each game drive is accompanied by an experienced driver/guide and a local tracker: two sets of seasoned eyes, accustomed to spotting the slightest movement in the bush. Each vehicle has three rows of three seats and takes a maximum of six guests; assuring you better guide attention, space and comfort for you and your gear. This is a popular photographic safari destination.
A day-trip to the nearby Baines' baobabs is well recommended. This is usually a full-day trip with a picnic lunch enjoyed at these magnificent, ancient trees that have changed little since the days they were immortalised in oils by Thomas Baines in 1862.
Nature walks with San bushmen are also offered. Their culture is ancient and their lifestyle is nomadic. You'll be shown how they used to hunt, gather food, find scarce water sources, source medicinal plants and so on. This is a fascinating interaction and often a safari highlight for many guests.
Stargazing is spectacular in this region with almost zero light pollution.
Nxai Pan Area
Declared as a game reserve in 1970, Nxai Pan National Park once formed part of a mighty lake that covered most of central Botswana. As the camp is inside a national park, off-road driving and night drives are not permitted.
The landscape is largely grasslands with scattered acacia trees and mopane woodlands. In the rainy season (November to late March), the grasses become green and lush, attracting huge herds of antelope. Large numbers of springbok, oryx, zebra, giraffe and elephant can be seen, which attract predators to the area. Expect to see lion, cheetah, jackal, brown hyena and spotted hyena, and even the occasional pack of wild dogs or a leopard. Birdlife is prolific, a veritable twitcher's paradise.
The biggest drawcard is the annual zebra migration, the second-largest land animal migration in Southern Africa and arguably the longest.
Getting There
By road: Nxai Pan is remote but accessible for self-drives. However, once you have arrived, all further excursions will only be permitted on their game drive vehicles.
By air: Kwando Safari's sister company, Moremi Air, operates small charter flights as part of their transfers from Maun and Kasane. Strict baggage weight restrictions apply (maximum 20kg including hand luggage). Helicopter charters are also available.
Our Take on Nxai Pan
It's the perfect place to really relax and unwind. No cell phones, no laptops, no power points. Just pristine, open bush and wildlife in abundance. As it's 100 percent citizen-owned, Kwando staff offer friendly, personal service, and are always willing to go the extra mile. The standards of guiding are excellent and the San bushman nature walks are unforgettable. Nxai Pan is an excellent combination with one of their Okavango Delta camps to experience the best of both worlds.
Includes
Accommodation with all meals and beverages, including premier brands (alcoholic and non-alcoholic)
All game-viewing activities
Daily laundry.
Emergency medical evacuation cover
Meet and greet in and out of Maun airport when being transferred with Moremi Air, by a Kwando Safaris and/or Moremi Air representative
Excludes
Personal travel and health Insurance
Flights
Items of a personal nature

You may also want to look at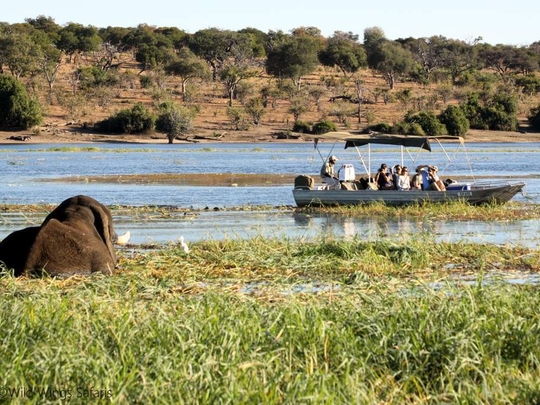 Botswana is arguably the world's best safari destination. Here, you will find some of Africa's largest and wildest game reserves with landscapes ranging from semi-desert to forest and dry savannas to watery swamps – all teeming with wildlife. There are hundreds of safari lodges in Botswana, most situated in prime safari areas and priced in US Dollars.