Kosi Forest Lodge, northern KwaZulu-Natal
Kosi Forest Lodge, northern KwaZulu-Natal
Kosi Forest Lodge is a 16-bed wilderness lodge located in the Kosi Bay Nature Reserve, almost on the South African/Mozambiquan border. Set in a beautiful, unspoilt sand forest on the banks of the Kosi Lake, the lodge offers a variety of unique experiences, including turtle tracking and exploring this pristine wetland environment in guided canoes and vehicles.
Highlights
Set in the unspoilt wilderness of the Isimangaliso Wetland Park, a World Heritage Site
Guided canoe trips and boat cruises on the lakes
Seasonal turtle tracking
Raffia Palm forest walk
Excellent birdwatching
Superb snorkelling - sub-tropical fish
8 thatched beach chalets with unique 'open-air' bathrooms
Swimming pool overlooking the lake
Excellent cuisine
The Kosi Forest Lodge is the only private lodge within the Kosi Bay Nature Reserve. The lodge offers comfortable accommodation in romantic thatched suites set in white beach sand on the forest's edge, each carefully positioned to give you the most privacy and to enjoy the tranquil surrounds.
Island-style chalets with unique 'open-air' bathrooms
Each unit is raised on a wooden deck with a private balcony and a unique open-air en-suite bathroom in a reed-enclosed boma. The bedrooms have low wooden walls with mosquito nets and roll-up canvas blinds. Meals are served alfresco on the deck under large Albizia trees. Because of its unique style and romantic setting, Kosi Forest Lodge is fast becoming a popular honeymoon destination.
Varied activities for every taste
There are a number of exciting activities on offer for you to enjoy. A popular highlight is a guided canoe trip on the Kosi Lakes with a walk in the magnificent Raffia Palm forests. Visit the beautiful Kosi Bay Mouth for fantastic snorkelling in warm, crystal-clear waters, surrounded by shoals of colourful tropical fish. In season (mid-November to mid-January), you can witness giant leatherback and loggerhead turtles making their epic journey back to their birthplace to lay their eggs and continue the cycle of life. Thembe Elephant Park is only an hour's drive from the lodge and offers fantastic elephant viewing opportunities and birding from the game hides. If you'd like to immerse yourself in the local culture, you may be in the right place at the right time to enjoy a Lala-palm wine tasting and cultural experience at a nearby village. There is no charge but it is dependent on season and whether the wine is available. Caution: the wine can be very strong!
Getting There
By road - The lodge is accessible by 2WD until the last 30 minutes' drive. There is a collection point in Manguzi (KwaNgwanase), from where you'll be transferred in an open 4x4 vehicle to the lodge (no charge, twice daily). From Johannesburg, it's approximately a 9-hour drive (680 km), Richards Bay - 4 hours (250 km), King Shaka International (Durban) - 5 hours (368 km).
By air - Regular flights are available from Kruger National Park and surround, Johannesburg and Richards Bay. Private charters can be arranged to Manguzi landing strip, 9 km from the lodge.
Our take on Kosi Forest Lodge
Kosi Forest Lodge is a small piece of paradise. You feel that you're safely off the beaten track, able to experience some beautiful places which not many people get to see. At Kosi, it's not about game viewing, rather canoeing, forest walks and snorkelling at Kosi Mouth. It's rustic and comfortable, rather than luxurious, but the service, food and whole experience is great - one you'll never forget!
Includes
Accommodation
All meals
Coffee and tea
Guided canoe trips and guided walks in Raffia Forest
Kosi sundowner excursion at Lake Shengeza
Excludes
Alcoholic beverages and soft drinks
Personal expenses
You may also want to look at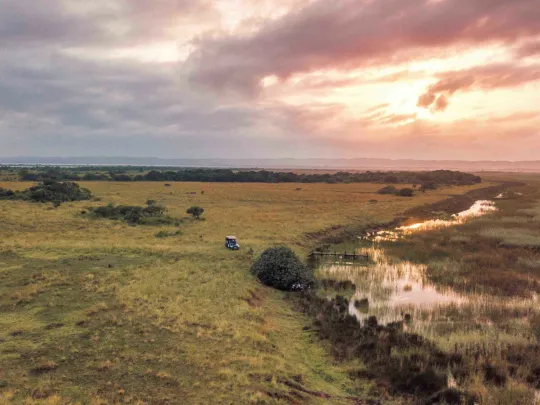 This 332,000-hectare park has three major lake systems, eight interlinking ecosystems, 700-year-old fishing traditions, the majority of South Africa's remaining swamp forests, Africa's largest estuarine system, 526 bird species and 25,000-year-old coastal dunes – among the highest in the world. The name iSimangaliso means miracle and wonder, which aptly describes this special and scenic place.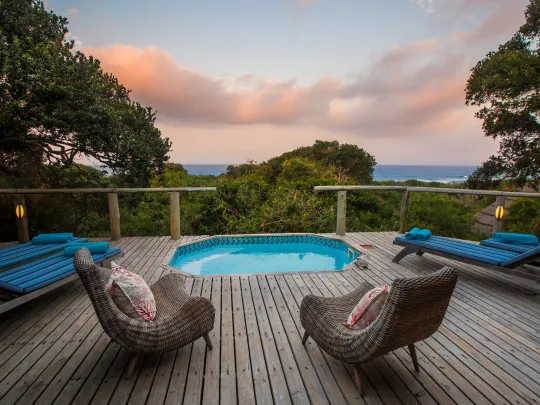 Our unique Battlefields, Bush and Beach Safari takes in the highlights of South Africa's exciting Kwazulu-Natal Province. From spectacular scenery and the fascinating history of the British/Zulu/Boer wars to unforgettable Big 5 safaris at Phinda Game Reserve and a pristine beach lodge with endless beaches, warm waters, incredible snorkelling and scuba diving, this itinerary includes cultural visits to local tribal villages. Scenery, history, culture, wildlife, sunny beaches, our Battlefields, Bush and Beach has it all in spades.