Elsa's Kopje
Elsa's Kopje
Named for Joy Adamson's famous lioness, Elsa's Kopje in Meru National Park reflects Joy's "Born Free" legacy and era. The park is wild, remote and wonderfully uncrowded. Situated in a very scenic part of Kenya, just 10 km north of the equator, between Mount Kenya and the Nyambeni Mountains, its landscape is incredibly diverse, ranging from open plains to dense thickets and wooded grasslands, which also attracts a surprising variety of game.
Highlights
Vast wildlife conservation area spanning 370,000 acres
Made famous by Joy Adamson's bestseller, Born Free
Uncrowded, superb game viewing with incredibly diverse species and habitats
Home to rare endemic species like Grevy's zebra and long-necked gerenuk
Incorporates rhino sanctuary – one of Kenya's prime rhino viewing areas
Over 400 birds listed
As the only lodge in Meru, you'll virtually have the entire park to yourself
Elsa's Kopje has been awarded "Gold Level" by the Ecotourism Kenya in recognition of its commitment to environmental responsibility. Mostly solar powered with generator standby, all timber used by the camp is from renewable sources. Every effort has been made to reduce its carbon footprint and be a positive impact on its surrounds.
Luxury, exclusive accommodation
Overlooking George Adamson's original campsite, Elsa's Kopje offers 3 en-suite Honeymoon Cottages (clearly a romantic safari destination!), 6 en-suite cottage suites, a family cottage with 2 en-suite bedrooms and a shared living area. The separate private house has 2 en-suite bedrooms and a shared living room, its own private garden and swimming pool.
Superb, varied game viewing
You've got an excellent chance to see some of the rare northern species that are resident here; Grevy's zebra, gerenuk, Somali ostrich and reticulated giraffe, as well as buffalo, elephant, hippo, lion, cheetah and leopard. Other more unusual sightings include caracal, melanistic (black) serval cat and both lesser and greater kudu. There's great rhino viewing at the 84 km² sanctuary incorporated within the park. Birdlife is abundant, with over 400 species already listed.
Meru is one of the most untouched, uncrowded and unknown safari destinations in Kenya; perfect if you prefer a more peaceful, unhurried, safari experience away from the masses.
Social responsibility and Goliath conservation efforts
From 1980 to the late 1990s, poachers ran amok in Meru. Most of the elephant and all the rhino were slaughtered. Despite rumours that the park was on the verge of de-proclamation, the Chelis used their passion and vision to build Elsa's Kopje in 1999, managing to turn Meru's reputation around to become one of the best wilderness areas on Kenya's safari circuit.
The community trust works closely with the local community, supporting the schools with educational materials, building community infrastructure, supporting local farmers and raising future generations of 'wildlife warriors' with its conservational education scholarships.
Getting there
By air - Mughwango Airstrip is a 5-minute drive and Kinna Airstrip is a 45-minute drive away from Elsa's. Daily scheduled flights connect to Nairobi's Wilson Airport. Private charters can be arranged and there's a helicopter pad one minute away from the lodge.
By road - It's approximately a 4½ hour drive from Nairobi. Road transfers can be arranged.
Our take on Elsa's Kopje
Elsa's Kopje has a superb location, a rich history and is an incredible conservation success story. The safari experience is out-of-this-world. It offers luxury, excellent cuisine, superb guiding and a variety of unusual and rare game in some of the most untouched, beautiful Kenyan scenery.
Includes
Full board
Water, tea and coffee
Safari activities, including game drives
Local airstrip transfers
Limited laundry
All statutory taxes (approx. 25%), including VAT
Excludes
All other drinks
KWS Park fees
Massage treatments
Extra lunch or picnic lunch
Exclusive use of vehicle
Bush walks and night game drives - KWS fee (subject to availability)
You may also want to look at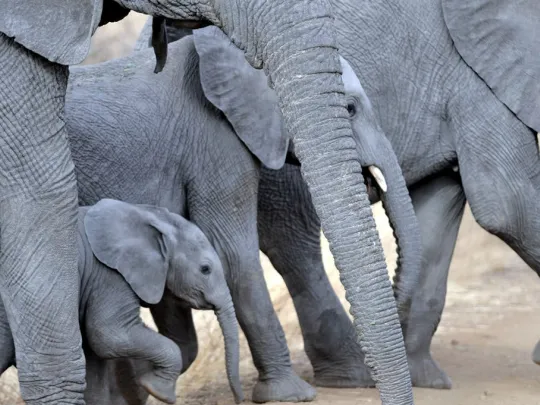 Although Meru National Park was made famous by Joy Adamson's "Born Free" books, it remains largely undiscovered and untamed. With its rugged jungle, rivers, swamps and grasslands, game viewing opportunities are excellent. Neglected on safari bucket lists for years, it has been restored to its former glory while evading the hordes of safari visitors.