Ongava Safari Camps, Etosha
Ongava Safari Camps, Etosha
Set on the private, established Ongava Game Reserve, these three safari camps: Little Ongava (flagship), Ongava Tented Camp and Ongava Lodge, offer the best of both worlds: unhurried private game viewing within Ongava and excursions into the world-famous Etosha National Park. Aside from elephant, all the larger game are free to roam between the two parks, known for healthy numbers of black rhino, white rhino, black-faced impala and lion.
Highlights
Three different safari stays on the private Ongava Game Reserve
Two of the lodges offer unbeatable views over the endless, game-rich plains of Namibia
Well-located to enjoy game viewing in the private Ongava and public Etosha National Park
Private open safari vehicles and activities available by arrangement
Plentiful plains game and lion within the reserve
The largest populations of endangered black rhino and black-faced impala outside of Etosha
Day and night game drives in open 4x4 safari vehicles with each guest ensured of an outside seat
Half- and full-day game drives into Etosha National Park and picnic lunches
Guided bush walks (seasonal and if a qualified walking guide is available)
Tracking white rhino on foot (minimum age 16) if qualified walking guide is available
Stargazing with a laser pointer
There are three different private camps at Ongava Game Reserve near Etosha National Park, each offering a unique and exclusive safari experience. Choose the style that suits you best:
1. Little Ongava
Perched high on a rocky outcrop, with incredible views over the surrounding African savanna, Little Ongava has only three sumptuous units, offering one of the most luxurious and exclusive safari stays in Namibia. Each secluded unit has its own private deck and plunge pool, a sala or sitting area and a luxury en-suite bathroom with both indoor and open-air outdoor shower – all of which offer spectacular views from every angle.
Sumptuous Main Area
Once again, the common deck, lounge and dining areas offer unbeatable views onto the plains below as well as overlooking the active waterhole which is often teeming with wildlife. It's a unique, magnificent setting where you may be forgiven if you forget, just for a moment, that you're not the only one enjoying this destination.
2. Ongava Tented Camp
Tucked into a hidden valley at the foot of a dolomite hill, Ongava Tented Camp can accommodate a maximum of 16 guests, two children and four guides/pilots/tour leaders, depending on availability and concession numbers. There are six twin-bed luxury canvas tents, a honeymoon tent and a family unit with two en-suite bedrooms.
Stone, Canvas and Thatched Main Area
The spacious main area has a bar, lounge and dining area with an open deck, a sparkling pool and campfire overlooking a floodlit waterhole to which animals beat a path to quench their thirst, day and night. It's not unusual to see lions coming down to drink. There's also a library and curio shop.
3. Ongava Lodge
Set near the top of a hill, Ongava Lodge offers wonderful views over the plains and active waterhole below. This camp can accommodate 28 guests plus two children and four guides/pilots/tour leaders, depending on concession availability. Altogther, there are 14 units: 13 twin-bedded rock chalets and one family rock unit with two twin-bedded rooms, each en-suite.
Split-Level Thatched Main Area
There's a lounge, dining room and bar offering views over the waterhole. A swimming pool, library corner, curio shop and private sala with a spotting scope complete the picture. This camp is constructed on various levels and there are multiple steps throughout the lodge. Regrettably, there is no wheelchair access.
Enormous Variety of Wildlife
Ongava Game Reserve offers most of the usual wildlife you'd expect to see in the area: springbok, gemsbok (oryx), wildebeest, both Burchell's and Hartmann's mountain zebra, waterbuck, red hartebeest, giraffe, Damara dik-dik, eland and the rare and endangered endemic black-faced impala. Lion and rhino (both black and white) move freely between Ongava and Etosha – only elephant remain exclusively within the national park. At Etosha, you'll often see various species gathered together around the waterholes, particularly during the dry season. Ten of Namibia's 14 endemic bird species have been recorded here, together with the other 340 bird species found in Ongava.
Game Viewing Activities
Most activities revolve around day and night wildlife-viewing drives and guided bush walks with experienced guides – either on the private 30 000-hectare Ongava Game Reserve – or daily excursions into neighbouring Etosha National Park. There's also an excellent hide at the Ongava Lodge waterhole which provides superb photographic opportunities. You can even book a private safari vehicle at an extra cost (subject to availability).
Conservation
Ongava is involved in many local conservation and environmental efforts. Firstly, most endemic game has been successfully reintroduced to the area. There is an ongoing research and conservation programme which closely monitors all wildlife – particularly endangered species – with great success. Today, there are healthy populations of black-faced impala and black rhino in Ongava.
Getting There
By air: Private or charter aircraft can fly directly to Ongava's airstrip within the reserve. A daily air taxi service also connects to Windhoek (one-and-a-half-hour flight)
By road: It's approximately a four-hour drive from Windhoek via Okahandja and Otjiwarongo. Transfers are available by arrangement from Windhoek for groups of four or more.
Our Take on Ongava
All the best of Wilderness Safaris' ethos of service, hospitality, luxury and passion for conservation and wildlife have been bundled up and presented here in three varied safari lodge styles. It's a personalised, exclusive safari experience that highlights the stark beauty of this unique land.

Includes
Accommodation
All meals
Twice-daily scheduled camp activities
Park fees
All local drinks
Laundry
Excludes
Scheduled charter flights
Transfers to camp
Premium imported brands
Champagne
You may also want to look at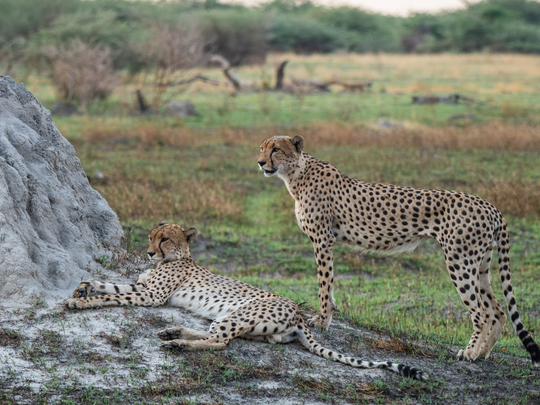 Etosha National Park is Namibia's top game-viewing destination and is rated as one of the best safari destinations in Africa. Covering some 22,270 square kilometres of dramatic landscapes in northern Namibia, Etosha is home to a rich diversity of wildlife and birds, despite its stark appearance. The open terrain and sparse vegetation are ideal for spotting animals, especially when they congregate at watering holes during the winter months from June to August. The unique Etosha Pan stretches out over about a quarter of the park in an endless dry expanse where mirages rise in the heat. When the rains come, the barren desert transforms into shimmering, shallow lakes.