Kicheche Bush Camp, Maasai Mara
Kicheche Bush Camp, Maasai Mara
Kicheche Bush Camp is located in the Maasai Mara, within the prime wildlife area of the Olare Motorogi Conservancy which borders the Reserve. Guest numbers are strictly limited, giving you incomparable game viewing, without the crowds, right from your tent' s verandah.
Highlights
One of the prime wildlife areas on the plant
Perfectly located to enjoy the annual wildebeest migration
Open safari vehicles for game viewing
Guided bush walks offer a unique perspective
Overnight 'fly-camping' walking safaris
Horseback riding excursions
Hot air ballooning over the Maasai Mara
Visits to local Maasai cultural villages
Kicheche Bush Camp is in Olare Motorogi, the first private conservancy in the Maasai Mara eco-system. Not only does it offer outstanding wildlife viewing, it's also a haven from the overcrowding that can occur within the reserve, particularly during the Great Migration. The Conservancy is a ground-breaking venture between the local Maasai landowners and a few small eco-camps, such as Kicheche Bush Camp.
Kicheche Bush Camp is closed in April and May.
Luxury tented accommodation
Kicheche Bush Camp only has six spacious, luxury tents. All are fully insect-proof, have en-suite bathrooms and a flushing toilet, running cold water and hot safari showers. There's 24-hour solar power provided to your tent and at night safari lanterns create a nostalgic, romantic atmosphere. The tents all sleep two people, although one can be converted to a triple for families.
Comfortable main camp
The main camp is simple yet luxurious and well-furnished. There is a relaxing lounge and dining area although, wherever possible, meals are served al fresco to let you enjoy the great views over the game-filled plains.
Great walking safari country
The Olare Motorogi Conservancy lends itself to excellent walking safaris which one of the best ways to really experience its beauty 'up close and personal' in the company of experienced and knowledgeable bush guides. You can include an overnight stay in a 'Fly Camp' which is a fully-staffed basic but comfortable mobile camp consisting of 2-man dome tents with camp cots. The walks aren't strenuous (about 5 km) and allow you to appreciate the finer details of the African bush with all its plants, grasses, insects, animal spoors, burrows and, on occasion, close encounters with big game.
Various game activities
Early morning and late afternoon game drives in open safari vehicles are the most productive for good game sightings. Watching wildlife at close range, without encroaching on their space, is always fascinating and your guides have excellent experience and instincts and will do their best to find any particular animals on your wish list. There are no rigid schedules and guests decide on the duration and frequency of game drives. Picnics, packed lunches and sundowners are easily arranged to let you prolong your game viewing experience. Hot air ballooning (optional extra) is an exceptional experience that allows you to get a feel of the enormity of the Maasai Mara and the many animals that make it their home.
Cultural visits and community projects
You can visit local Maasai villages to gain an insight into their way of life, and perhaps be lucky enough to witness their traditional dancing. Kicheche and the Olare Orok Trust support a number of schools and projects in the area and visits to these are also welcome.
Getting there
By air - There are regular, scheduled 1-hour flights from Nairobi's Wilson Airport to Mara OL-KIOMBO airstrip, followed by a 40-minute game drive to get to Kicheche Bush Camp. Other flights are available from Nanyuki, Naivasha and Mombasa. Charter flights are possible to Olare Airstrip.
By road - The Camp is a 5½-hour drive from Nairobi.
Our take on Kicheche Bush Camp
The camp is located in a prime game viewing area and excellent sightings are literally on your doorstep. It's a great place to experience the incredible wildebeest migration. Small, personal and private, Kicheche Bush Camp offers a special and unique safari experience with great comfort, superb food and the nicest hospitality you're likely to find.
Includes
Full board including picnics
Beverages, non-branded drinks and house wines
Unlimited shared game drives
Escorted bush walks
Courtesy airstrip transfers
ALL CONSERVANCY FEES and Trust contributions
Laundry
Excludes
Premium-branded drinks and champagne
Fly camping
Transfers from non-designated airstrips
Late departure surcharges
Items of a personal nature
You may also want to look at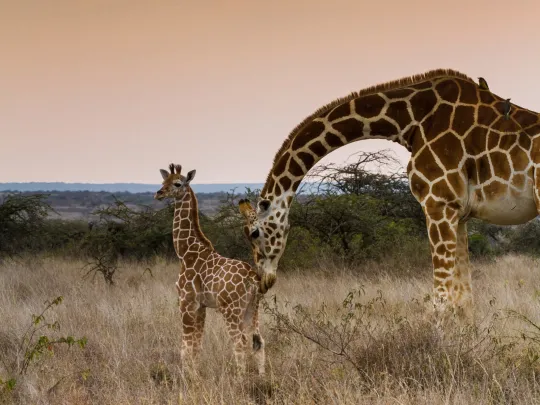 Our 7 Day Classic Kenyan Conservancy Safari combines two of the most popular travel regions in Kenya — Laikipia and the Masai Mara. The Ol Pejeta Conservancy in Laikipia, central Kenya, offers 365 km² of quality game viewing. Spend three nights at Kicheche Laikipia, situated at an active waterhole with frequent visits by elephant, black rhino, plains game and a wealth of birdlife. Then fly down the Rift Valley to an exclusive conservancy near the Maasai Mara National Park. Only a few vehicles are permitted here. Enjoy unhindered views of spectacular wildlife in some of the most breathtaking African scenery.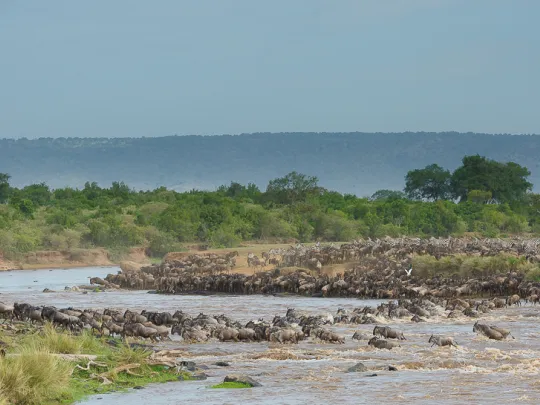 The Maasai Mara, Kenya. Also sometimes written as the Masai Mara. It's said that you won't find a greater abundance of game anywhere in Africa, as you will in Kenya's Maasai Mara National Park. Apart from the Big Five, the reserve is home to an incredible variety of wildlife in large numbers like the annual wildebeest migration involving over 1.5 million animals.